Large Tents for Sale
Summer camping trips can be some of the most fun memories that you make during the year, and they are made even more fun when you can enjoy them with loved ones. There are plenty of awesome tents on the market that are perfect for large group camping trips. You can find these tents made from all kinds of different materials and in various shapes and designs. Listed here are some of the best quality group tents that you can find, all of which are sure to make your camping trips more enjoyable, relaxing, and memorable!
Elk Mountain Tents
Elk Mountain Tents has several great canvas wall tents to choose from, and their 13 x 20 option is amazing for group camping. This high-quality tent is made from some of the best canvas material you can find. Elk Mountain uses a unique 100% polyester fabric in its canvas, which offers many great advantages over traditional cotton canvas. This material is much stronger and more durable than cotton, with a breaking strength of 382 lbs. (fill direction) and 449 lbs. (warp direction). In contrast, cotton has a breaking strength of 241 lbs. (fill) and 382 lbs. (warp). The tear strength is also significantly higher, at 40 lbs. (fill) and 67 lbs. (warp), approximately double the strength of the cotton you would usually find in canvas tents.
This material should also last a lot longer, as it doesn't grow mold or mildew like cotton does and is much more resistant to ultraviolet rays and rough weather. The tent is waterproof on its own without a rainfly, and it doesn't absorb water as cotton does.
Other aspects of the tent include a stove jack for a wood stove, 6 windows with mesh that can be Velcroed shut or tied open, reinforced seams and extra fabric wherever the material touches the poles, and a sod cloth of extra material at the bottom to keep water from leaking inside. The 13 x 20 tent can fit 7-8 people inside with a wood stove and 9-10 inside without, and it can be purchased from Elk Mountain's website starting from $995. If you want a group tent that you can rely on for the rest of your life, this tent is worth it!
Winterial Teepee Tent
If you are looking for a perfect tent for group outings but want something with a unique design, have a look at the Winterial Teepee tent. This tent takes the form of a traditional teepee but capitalizes on space, enough to fit 6 or 7 people. It is easy to transport from place to place (a claim not many large tents can make), packing down nicely in a 15 lb. bag. It is also remarkably simple to set up, and it should only take 5 minutes to do so. The 210T tent material is made of is quite strong as well and should be more than capable of keeping moisture out. You should stay dry when it is raining as well with a rain-cap on top of the tent and a waterproof tarp on the bottom. You can purchase this tent online for about $150, and the cozy, classic, teepee design, it is certainly worth it.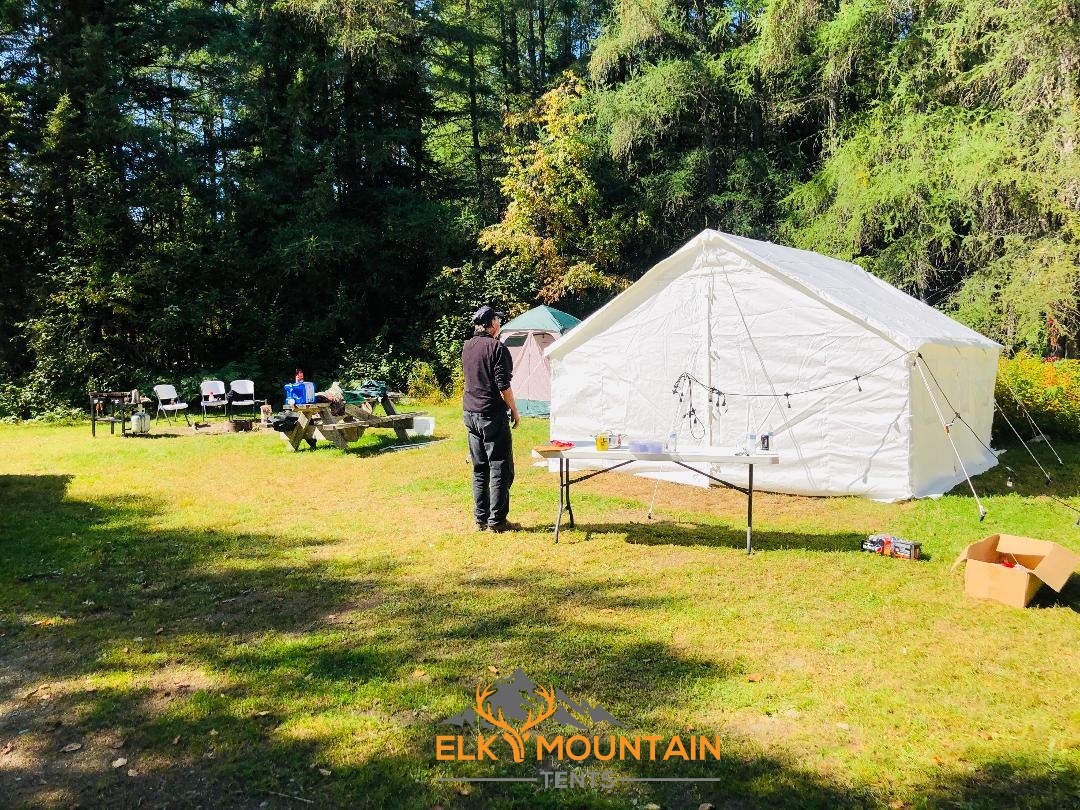 Coleman Octagon 8-Person Tent
A perfect tent for mid-sized groups is the Coleman Octagon 8-Person Tent. The tent is 13 ft. x 13 ft. and makes as much use of this space as possible, with near-vertical walls and a center height of 6 ft. 10 in. This tent is built to be a durable option no matter what the weather throws your way, so if you want to take a group on an outdoor adventure during the fall or even winter months, you can count on this tent (It has proven capable of withstanding winds up to 35 mph). It is an especially great tent to have if you anticipate rain during the trip, as the waterproof tent is sure to keep you dry, with features like a vented rainfly, inverted seams, and welded floors. The steel frame is sturdy, and the tent is remarkably simple to assemble with a convenient color-coding system. The inside of the tent is designed for maximum comfort and functionality, with gear pockets, cupholders, and a removable wall divider for extra privacy if so desired. 2 large doors, windows, and a mesh roof add to the design, keeping the tent very well-ventilated while keeping insects outside. The tent is available online for just $280 and is one of the least expensive large tent options on the market when it comes to weatherproofing.
Ozark Trail 20 x 10 Dark Rest Instant Cabin Tent
A great 12-person tent worth looking into if you don't want to break the bank is the Ozark Trail 20 x 10 Dark Rest Instant Cabin Tent. It is quite roomy, offering plenty of space for each person as well as room for gear and other things (especially with 4 gear pockets). There are 2 room dividers included with the tent, so several people can enjoy some privacy in 3 different rooms. The tent is large enough to fit 4 queen-sized mattresses inside, plenty of room for a group to camp in luxury. For its size, the tent is remarkably easy to set up since the poles are already attached to it. It usually shouldn't take more than 2 minutes. This tent utilizes sun-blocking technology, which is amazing for anyone wanting to sleep in or take a nap during the day. It also features ceiling panels that can be removed for stargazing, a rainfly with sealed seams, and excellent ventilation through the ground vents. Included with the tent is also a convenient carry bag. The best part about the Ozark Trail Instant Cabin is that this large 12-person tent can be purchased for just $300!
Ozark Trail 14-Person 4-Room Base Camp Tent
If you need just a bit more room than that, you might consider another Ozark Trail tent, the 14-Person 4-Room Base Camp Tent. As the name implies, there is not only a lot of room in the whole tent (20 ft. x 20 ft., with 235 sq. ft. of total floor space), but also in 4 spacious individual rooms. Conveniently, each room has its own door, so you can get in and out of your room without disturbing anyone else. No need to worry about waking everyone up when nature calls during the night! There are 12 windows as well as a mesh ceiling in the tent, so you can count on having good ventilation. 5 queen mattresses can fit inside this tent, so everyone involved can have a comfortable, relaxing time in the great outdoors while keeping to themselves if so desired. It also has a port that an extension cord can fit through if you have any technological needs. It weighs about 50 lbs. total and takes a bit longer to set up than some other Ozark Trail tents (about 20 minutes), the comfort and quality of the tent more than make up for that. And while the tent might not hold up too well during extreme winter conditions, you will find that it is perfect for nice weather campouts and activities. Taped seams do help prevent leakage, so the tent should perform adequately during light rain. The few hang-ups that this tent does have can be overlooked when you consider that it is available for just $250.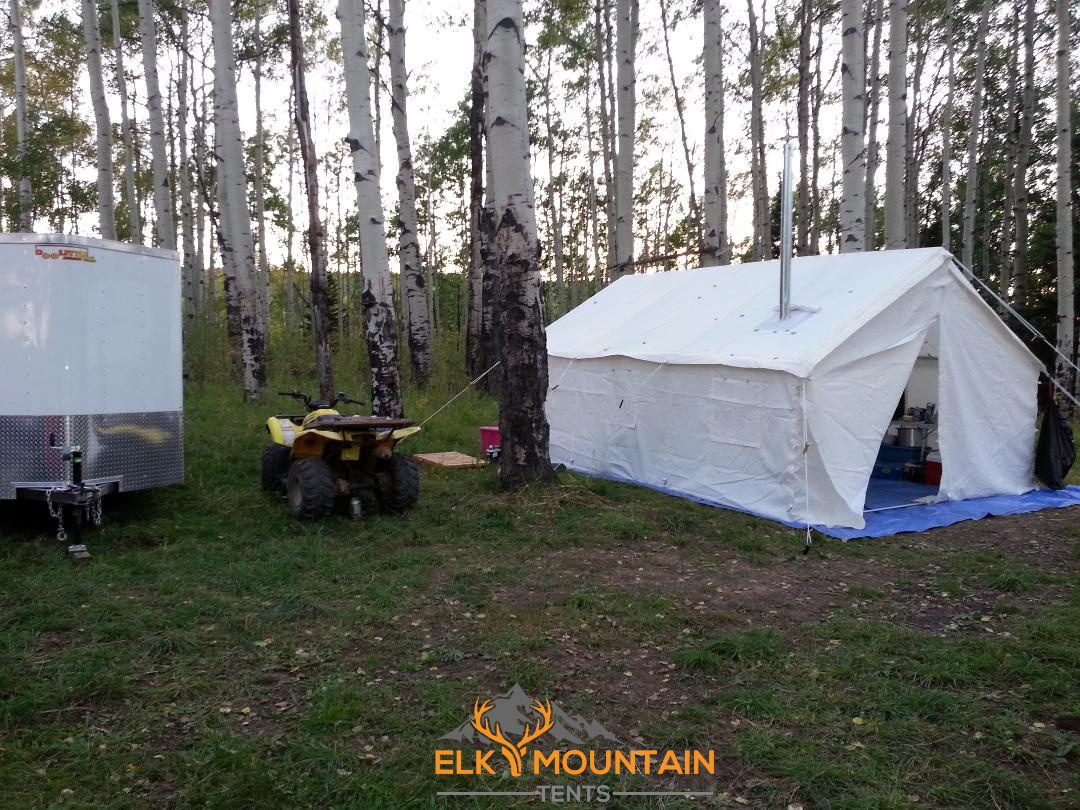 Tahoe Gear Ozark 16-Person Family Cabin Tent
In the next size up you will find the Tahoe Gear Ozark 16-Person Family Cabin Tent. Not only can this tent fit an incredibly large group of people inside, but it is also built with convenience in mind. It is quite easy to set up (with a pin and ring system as well as shock-corded poles), has a 7 ft. center height, and two rooms, one more open and airier than the other. The tent is extremely well-ventilated, with a mesh design, plenty of windows, and floor vents (this offers a nice cross-ventilation system). It is more waterproof than many other options you might find, as included rainfly is rated 1200 mm, has reinforced seams, guy ropes to keep it steady during windy weather, and extra coverage over the door. For just $280, this high-quality tent is sure to fit your whole huge group and all the gear you bring with you!
Ozark Trail Hazel Creek 20-Person Tunnel Tent
If you plan on having a group even larger than that, you'll find that the Ozark Trail Hazel Creek 20-Person Tunnel tent is perfect for reunions and get-togethers of every kind. In addition to having tons of space, you will find that the tent is surprisingly easy to set up and take down. The tunnel design of the tent becomes immensely helpful when heavy winds start blowing, so you can count on it holding up to a few gusts of wind and a bit of rough weather. The tent has 2 doors (one at the front and one at the rear), a mesh roof and sidewalls, gear pockets, and even a 55-inch movie screen! The outer design overall is quite simple, but that isn't necessarily a bad thing, as the most important quality is its ability to fit so many inside comfortably with ample space. The tent can be purchased online for around $270 and is an absolute no-brainer to anyone who often camps with massive groups.
There are plenty of amazing options for large tents on the market, many of which don't even break the bank. Figure out how big your groups will be and buy the best tent for you!
Sources:
https://www.familyvacationcritic.com/10-best-extra-large-family-camping-tents/art/