Preparing for the Worst: Med Kits for Gunshot Wounds
Be Prepared!
Nobody wants to think about it, but everyone knows it can happen – gunshot wounds while hunting. You can be very careful and freak accidents can still happen. My ecclesiastical leader back in college was paralyzed from the legs down because of a little accident involving a shotgun.
For the most part, a safety course and adhering to proper protocol around guns can prevent this sort of thing from ever happening, but YOU ARE NOT THE ONLY ONE OUT THERE! Just because you know what's best and know how to handle a rifle properly doesn't mean that everyone else does!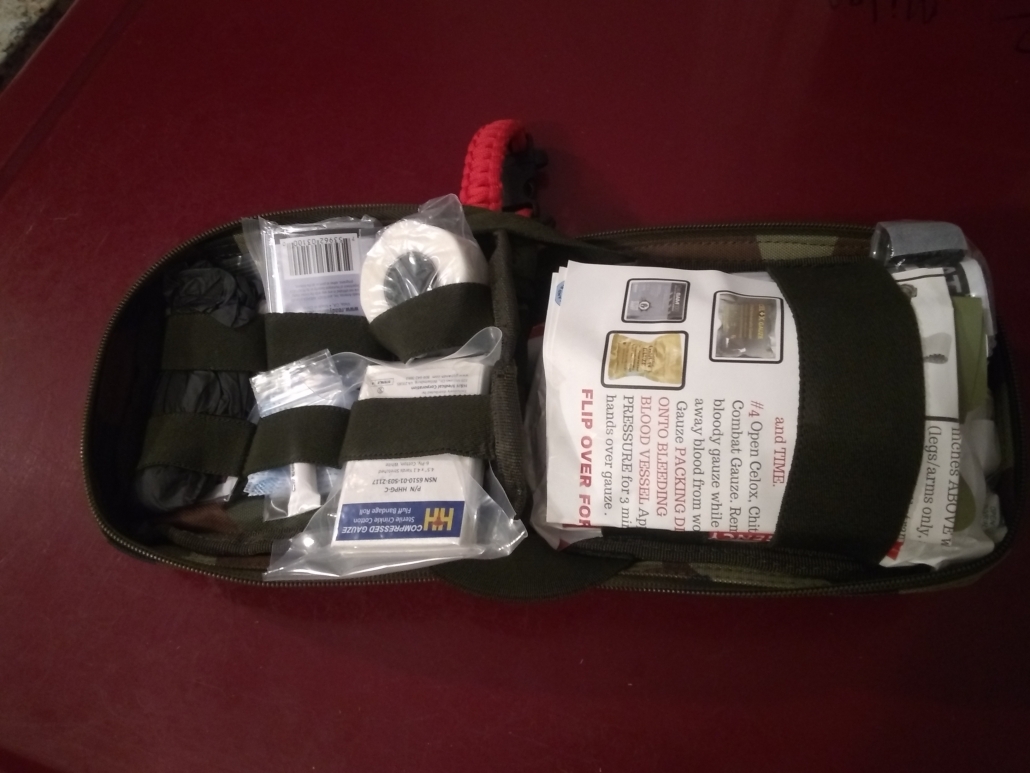 Which is why I was excited to learn that the kind folks at Doom and Bloom wanted to show me one of their med kits. They have a variety of types to suit whatever your needs may be, and it just so happens they sell a military grade gunshot wound kit.
Yes, I already had some emergency supplies, but after seeing their complete package, I realized how woefully lacking my little box of band-aids was. Basically, what I'm saying is that I was not ready for the worst.
Contents
They manage to pack a ton into their kits. It's insane! And all of it is top-notch medical and military grade. Borrowing from their website, check out just how much they are able to pack into an 1lb 11 ounces pouch:
1 Bandage Scissors (EMT shears), to expose areas of injury quickly
1 SOF-T OR CAT Tactical Tourniquet, to control bleeding (default is SOF-T, Option to change to CAT Tourniquet brand above)
1 ChitoSam 6 Feet Hemostatic Gauze (same ingredient as Celox, but softer and easier to pack in wound; or QuikClot option available (blood clotting gauze, to control bleeding and is easily flushed out during the wound cleaning phase
1 6 inch Israeli Battle Dressing (known in the US as "The Emergency Bandage"), to provide compression
1 Hyfin Vent Chest Seal Twin 2 pack (2 seals for entry and exit wounds)
1 14 gauge Decompression Needle sterile
1 H & H compressed gauze dressing
2 Roller gauze 6 inch sterile dressings
2 ABD 5 x 9 inch sterile dressings
1 Curved Kelly clamp, to close off bleeding blood vessels
1 Scalpel #10 sterile
1 Mylar blanket 84 x 54 inches, for shock
1 Cloth medical tape roll, to fasten dressings in place
4 Venom brand Black Nitrile gloves (non-latex)
1 Surgical Face Mask
1 Ammonia Inhalants
4 Alcohol wipes
4 Betadine (Iodine) antiseptic wipes
1 CPR mask
1 Combat Casualty Card with RED sharpie marker
1 Red 550 Paracord Keychain
Summary
Accidents are going to happen whether you're ready for them or not. And the stakes can be extremely high. Kits like these are extremely handy and should be part of every hunting trip.