Different Types of Tents
Looking to buy a new tent? Congratulations! There are so many excellent tents on the market, it can be hard to pick which one to get. It all depends on what you are looking to get out of your camping experience. Are you planning on using it for summer campouts with a group? Do you want something simple that you can easily take on a hunting trip? Are you hoping for something warm to make winter camping more comfortable? There is a lot to consider when purchasing a new tent, and there are hundreds of different options, so hopefully, we can break down which tent would best help with your individual needs.
---
Wall Tents
Going on a camping trip with a group can be extremely fun if you plan correctly and comfortably. A wall tent is a great option for this purpose. Depending on the size of the tent, you should be able to comfortably fit around 6-10 people inside. As you look around, you will notice plenty of high-quality wall tents, but Elk Mountain Tents is home to some of the best that are both reasonably priced and durable. Elk Mountain has 3 different size options available for their canvas wall tents, 13 x 13, 13 x 16, and 13 x 20. The 13 x 13 tent has 4 built-in windows, while the 13 x 16 and 13 x 20 have 6.
The polyester material these tents are made out of puts cotton canvas to shame. It is much stronger than most other cotton canvases with a higher break and tear strength. Polyester canvas is also incapable of mildew and rot since it is a synthetic material. Although it is still pretty heavy when compared to the thin nylon in a dome tent, it is still lighter than cotton canvas. The material is also praised for its resistance to water and doesn't even require a rainfly when it's pouring outside.
Besides being great for camping with a group, what makes these wall tents stand out is their warmth in the wintertime. Each Elk Mountain wall tent comes with a stove jack built-in, with different sized circles sewn into the canvas so you can cut a hole appropriate to the size of the wood stove you will use. There are so many options for wood stoves that you can purchase to make your tent a warm refuge from the winter weather. You can usually find a great stove for around $150-300. Some are more lightweight and are perfect for when you need to hike out to your camping spot, and some are heavy duty and will be able to keep your tent warm throughout the night.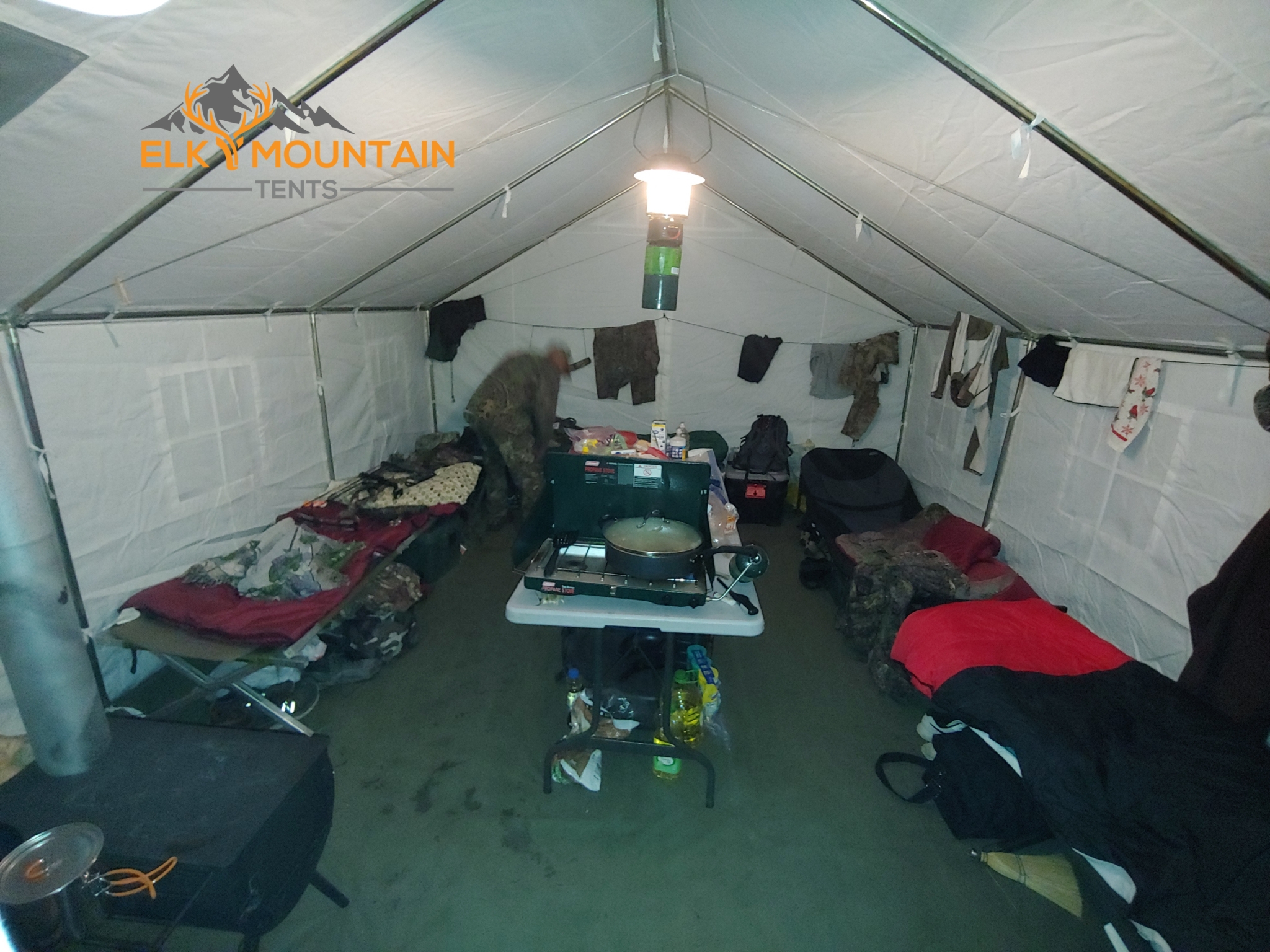 ---
Dome Tents
The most common tents you will see in the great outdoors are dome tents. The dome shape of these tents is great for when it is raining, as the water will hit the rainfly and run right off the edges. There are a lot of other advantages to having a dome tent, including the light material they are made from, which makes them very easy to transport from place to place. They are also some of the easiest tents to set up, as it only requires two poles through the top, crossing over each other to the opposite corners of the tent. These qualities make them popular for quick and simple campouts and hunting trips. For how light and compact they are, they also have a surprisingly large amount of headroom, thanks to the high center point where the poles meet. Many dome tents also come with a convenient vestibule in front of the door which helps with removing dirty shoes and gear, keeping it from being tracked into the tent. However, there are some cons to this type of tent. They are quite small and can usually only fit a couple of people inside, and they can be blown over in the wind when you aren't inside.
Similar to dome tents are tunnel tents. They have a lot of the convenience of dome tents but can typically fit a few more people inside. Multiple poles wrapping around one another across the tent gives it something of a wide, rounded shape. The way the poles are structured allows for the tent to have a high-level of stability. Like dome tents, their high center points offer a relatively tall ceiling. For how much space they have, they are remarkably lightweight, making them great for a big group that needs to take a bit of a hike to reach their camping spot. The downsides of these tents include their difficulty to pitch and the fact that they aren't the best at handling strong winds.
Geodesic tents are also very similar to dome tents. The tent poles cross over and intersect with one another at various points and form triangles, giving these tents a lot of stability and making them great to use when you are expecting extreme weather. Like dome and tunnel tents, they have a high ceiling that provides a lot of vertical space. The cons with geodesic tents include that they are quite bulky when packed, requiring a lot of room in your vehicle, and their difficulty in setting up.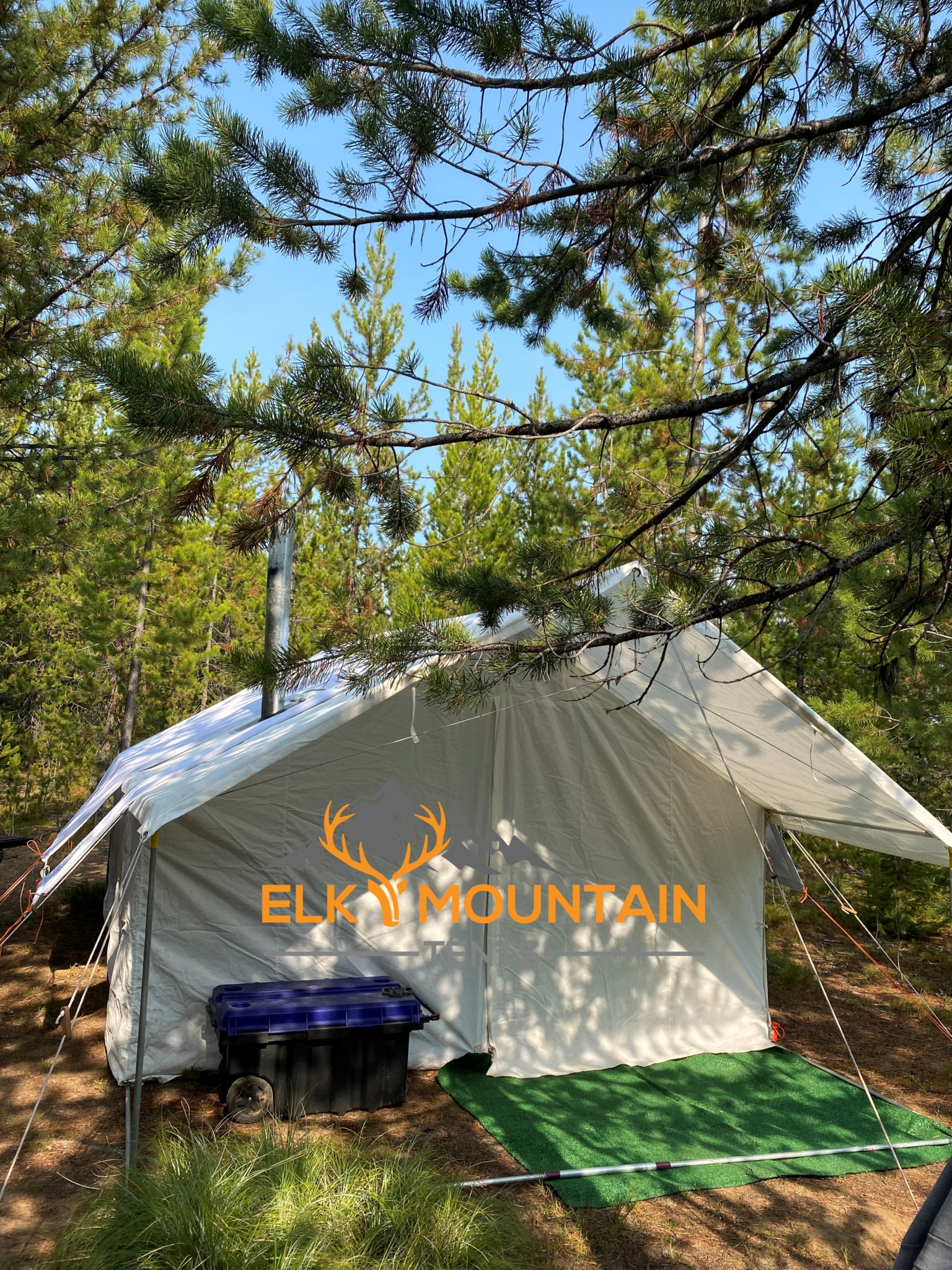 ---
A-Frame Tents
While not as common as they used to be, there are still some good options available for A-frame tents, sometimes called wedged tents. These tents are supported on either end by a steel pole, forming (you guessed it) an "A" shape. After setting up the frame, you will tie ropes down to every corner and stake them into the ground. An A-frame tent is a great option if you are looking for something simple and don't want to worry about buying another tent for a long time; the strong steel poles that make up the frame should last you years. Other pros of these tents are their stability and easy setup. They come in all sizes, so no matter how large or small your group is, you should be able to find an appropriately sized tent. The disadvantages include a lack of headroom and general bulk and heaviness. Because of this, they are best for when you can park right next to your camping spot and don't have to backpack out to it.
---
Pop Up Tents
If setting up a tent is one of the biggest stresses to you when you go on a campout, or if you want to spend as much time having fun as you can and not worry so much about setting up a tent before dark, you can opt for a pop-up tent. The poles in these tents are spring-loaded and can easily pop into shape in no time at all. Not only are they extremely simple to set up, but they are very lightweight and easy to transport to a nice camping spot. If you have a last-moment urge to go camping, you would benefit from one of these. These tents also pack quite small, not taking up too much space, and they are nice for not having to worry about poles. There are a few cons, particularly that they aren't meant to be used for an extended period. They also aren't the most sturdy or stable, and they can't handle strong weather very well. Use them for an overnight campout when you know the weather is supposed to be great!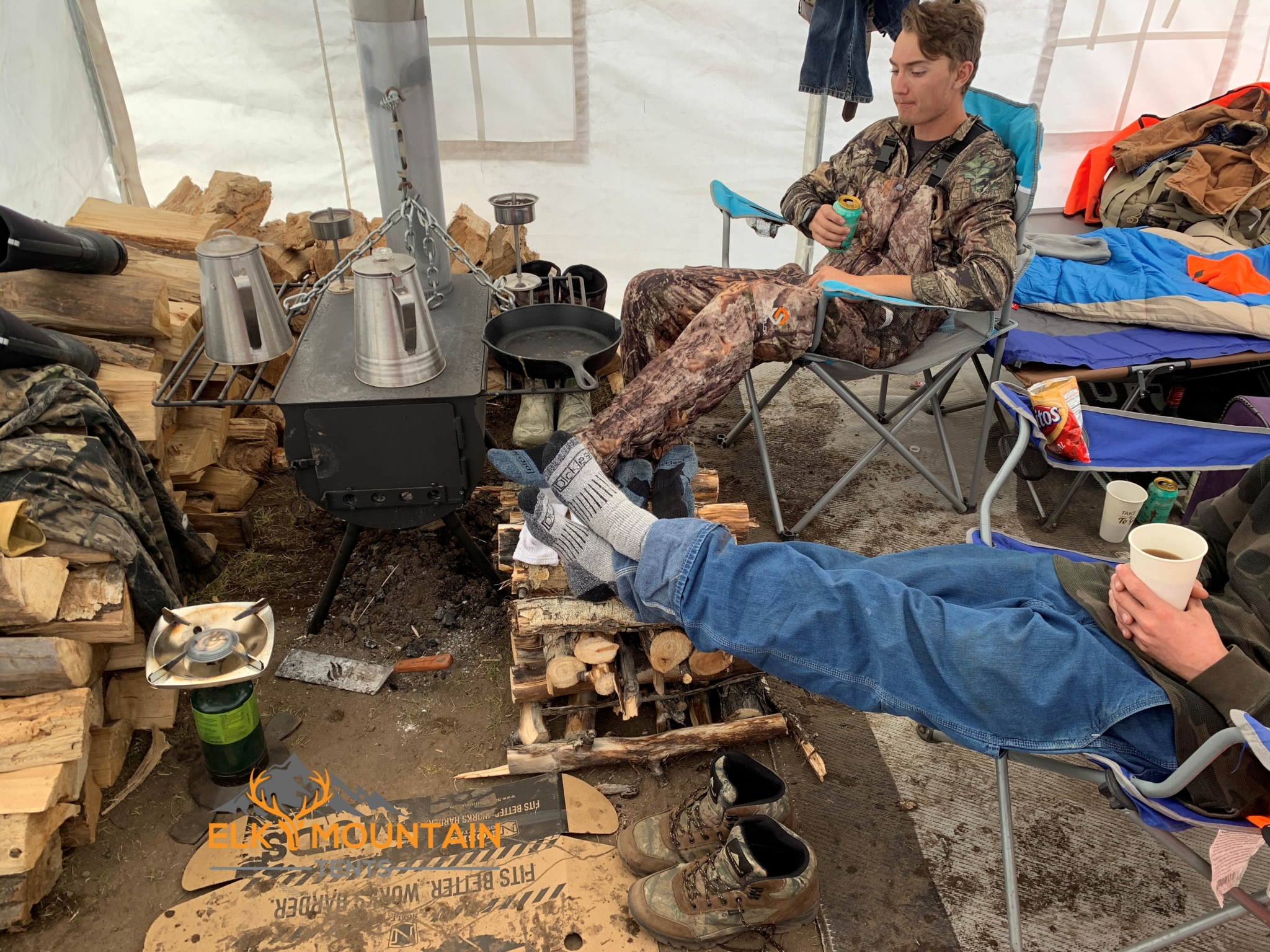 Backpacking is one of the most popular adventures one can take while in the great outdoors. The amount of gear you need to carry with you while backpacking varies, but it can often amount to a lot of weight on your back. Because of this, you will want to cut down on as much weight as you possibly can. One way that you can reduce the amount of weight you are carrying (as well as precious backpack space) is by bringing a backpacking tent. Not only are they compact and lightweight, but they are quite strong. They should be able to handle whatever kind of weather you come across. The best backpacking tents can be a little expensive, but not without good reason, as they are made from the highest-quality material to give it needed durability. To conserve space, they can usually only fit about 1 or 2 people, so if you have a bigger group you may need a few of these or opt for a larger tent. They pack smaller than almost any other tent on the market and they only have a few small poles, capitalizing on space-saving in every way. The major con to these tents other than the low capacity is that they have very little headroom.
Hopefully, this guide has given you an idea of what kind of tent would best suit your needs. If you plan on going for a backpacking trip by yourself, a backpacking tent might be your best option, or if you are taking a big group for a winter campout, you might want to pick up a wall tent. There is such a wide variety of tents that you are sure to be able to find some excellent and comfortable ways to camp!
Sources: