Canvas wall and bell tents are a popular choice for outdoors enthusiasts who want a spacious and comfortable shelter while camping. With proper care and maintenance, these tents can last for many years, providing a reliable and comfortable place to sleep in the great outdoors. In this article, we will provide five tips to help you care for your canvas tent, so you can enjoy it for years to come.
Tip #1: Protect Your Tent from Sunlight and Moisture
One of the most important things you can do to care for your canvas wall or bell tent is to protect it from sunlight and moisture.
First and foremost, if you want your tent to last as long as possible, we recommend getting a rain fly. While the unique material used by Elk Mountain Tents can take a beating and is already naturally waterproof, nothing will protect your tent more, whether from the sun, the weather, or fire embers, than a rain fly.In particular, sunlight can cause any material to fade and weaken over time, even thick and fully synthetic material.
The canvas will not naturally grow mildew and cannot rot, mold can still grow on any surface, which can compromise the appearance and integrity of the material.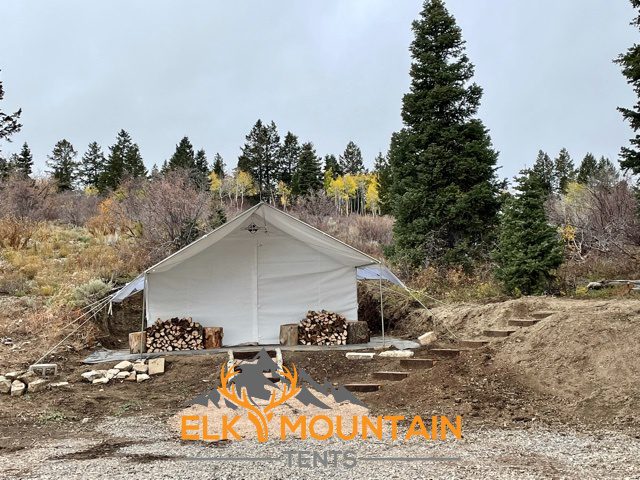 To prevent these issues, keep your tent out of direct sunlight (or use a rainfly) and allow the tent to fully dry before puting it away.
No waterproofing treatment is needed but it can provide an additional layer of protection.
FAQ: How often should I reapply a waterproofing spray or sealant to my canvas wall or bell tent?
Again, this is not needed, and is almost redundant if you already have a rain fly, but if you want maximum protection, you should reapply a waterproofing spray or sealant to your tent every year or as needed, depending on how frequently you use it and the conditions it's exposed to.
Tip #2: Keep Your Tent Clean and Dry
Another important aspect of caring for your canvas tent is keeping it clean and dry. Dirt, debris, and moisture can all damage the fabric and lead to problems down the line. You can also use a mild soap and water to spot clean any stains or spills.
To dry your tent, it's important to avoid packing it away when it's still wet. This can lead to mold and mildew growth on the surface (wlthough not within the fibers themselves since it is synthetic). Instead, allow your tent to air dry completely before packing it away. You can hang it up, lay it out, or leave it set up to dry. If you are using the lay it out method, make sure to turn it over to dry both sides.
FAQ: Can I machine wash my canvas bell tent?
I'm not even sure how one would machine wash a tent, so I'll just say that in general the more gentle you can be with the material the longer it will last. So if you want to use a power washer or something, maybe just not use the high setting. That said, it's best to just spot clean with a mild soap and water and to hang the tent up or lay it out flat to dry.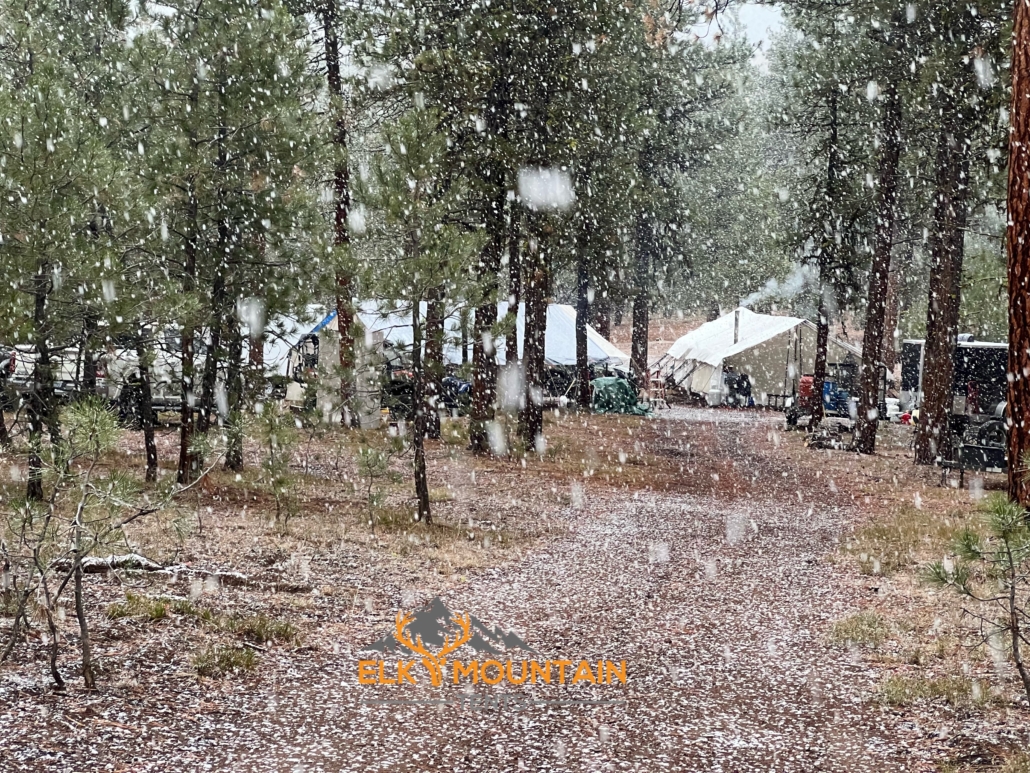 Tip #3: Store Your Tent Properly
Proper storage is key to maintaining the lifespan of your canvas wall or bell tent. When not in use, you should store your tent in a cool, dry place, away from direct sunlight and moisture. If possible, store it in a cotton or mesh storage bag, which allows the fabric to breathe and prevents condensation from building up.
FAQ: How should I pack my canvas wall or bell tent for storage?
Before packing your tent away, make sure it's clean and dry. You can fold it neatly and place it in a cotton or mesh storage bag. Avoid storing it in a plastic bag, as this can trap moisture and lead to mold and mildew growth.
Tip #4: Be Careful with Fire and Heat Sources
Canvas wall and bell tents are not flame-retardant unless properly treated, so it's important to be careful with fire and heat sources when using them. Avoid using candles, stoves, or heaters inside your tent, as these can pose a fire hazard and damage the fabric unless you take proper precautions such as a stove mat and heat shields.
It's also important to be mindful of where you set up your tent in relation to fire pits or other sources of heat. Make sure there's a safe distance between your tent and any open flames or hot surfaces.
FAQ: Can I use a wood-burning stove inside my canvas tent?
Absolutely. All models of tents sold at Elk Mountain Tents come with a stove jack already installed for just this reason. However, you will want to either treat the tent for fire using one of our recommended products designed for polyester canvas or use a stove mat and heat shield.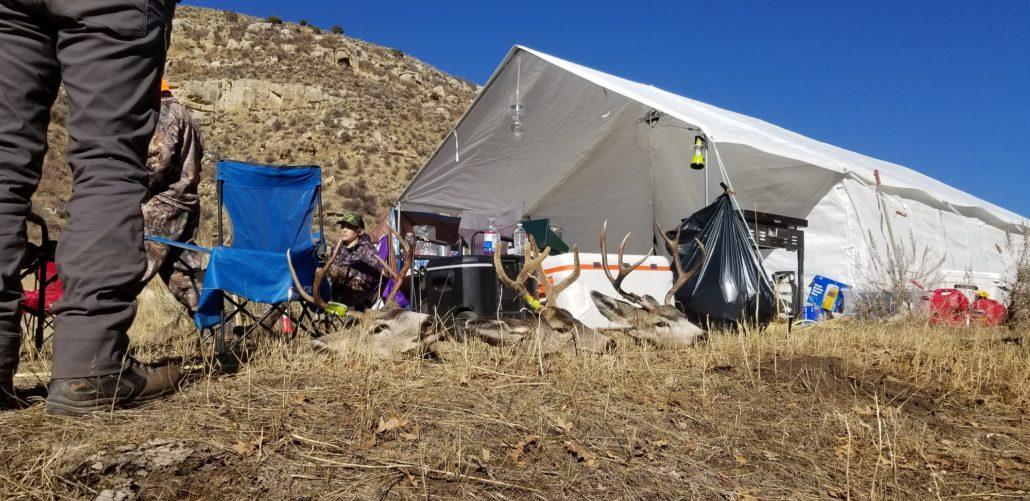 Tip #5: Repair Any Damage Promptly
Finally, if you notice any damage to your canvas tent, it's important to repair it promptly. Small tears or holes can quickly become larger if left untreated, and can compromise the integrity of the fabric. To repair any damage, use a canvas patch kit or a strong, waterproof tape.
FAQ: Can I repair a tear in my canvas tent myself?
Yes, you can repair a tear in your canvas tent yourself using a canvas patch kit or a strong, waterproof tape. However, if the damage is extensive or if you're not comfortable with DIY repairs, it's best to contact a professional tent repair service.
Conclusion
Caring for your canvas wall or bell tent is essential to ensuring it lasts for many years of outdoor adventures. By following these five tips, you can protect your tent from the elements, keep it clean and dry, store it properly, be mindful of fire and heat sources, and repair any damage promptly. Whether you're a seasoned camper or just starting out, a canvas wall or bell tent from Elk Mountain Tents can provide a comfortable and reliable shelter for all your outdoor excursions.
https://elkmountaintents.com/wp-content/uploads/2023/03/1-1.jpg
1080
1920
Jason Little
https://elkmountaintents.com/wp-content/uploads/2019/09/ELK-new-300x128.png
Jason Little
2023-06-09 12:00:23
2023-08-01 09:29:38
5 Essential Tips for Caring for Your Canvas Wall Tent or Bell Tent: A Guide for Outdoors Enthusiasts