Best Camping Tents for 2023
With each year comes all kinds of excellent new products to buy, and tents are no different! Tent technology is increasing all the time to make lighter, easier to set up, and more durable options for you to take on your camping adventures. If you want to know what the latest models outdoor gear brands have to offer, then you have come to the right place. There are all kinds of great new tent designs available, so if you are in the market for a tent, why not get the latest and greatest? Without further ado, let's take a look at the best camping tent options for the year 2023!
In recent years, glamping has become a much more popular trend, and in 2023 there are all kinds of great tents to use for glamping! One of the best out there right now is the Yukon Bell Tent from Elk Mountain Tents. If you want a luxury tent model that is durable enough to use during any time of year, this is the tent for you! The polyester canvas fabric used by Elk Mountain Tents is stronger and longer-lasting than traditional cotton canvas, so this can be a glamping go-to for many years, making it well worth the buy. As a general rule, the more polyester in a canvas the less you need to worry abotu rain, run, and rot. This tent is made from 100% polyester canvas and therefore requires no rain, sun, or mold treatments. It is essentially a super heavy-duty portable yurt and is large enough that you can fit a full-size mattress inside. It also includes a stove jack if you want to be able to keep warm and toasty during the night. It is available from Elk Mountain's website starting at $650, and it comes in 3 sizes, 13 ft., 16 ft., and 20 ft. diameters.
If you are looking for a roomy family-sized option, you should check out the Eureka Boondocker Hotel 6 Tent. With a floor area of 82 sq. ft., there is plenty of room inside for 6 people to sleep comfortably and cozily. There is a generous amount of storage space as well, with a 36 sq. ft. front vestibule (large enough to fit camp chairs and bicycles) and a 24 sq. ft. rear vestibule. The sturdy design of the tent makes it waterproof and leakproof, so you can be at ease knowing you and your gear will be able to remain dry throughout the night. Its 6 ft. center height and almost vertical walls make it convenient for setting up a cot inside, maximizing comfort. It has excellent ventilation, thanks to breathable material and a large window that can conveniently be zipped up from the inside. Additional storage can be found inside as well, with 6 gear pockets, enough for each person if the tent is at full capacity. The main drawback to the Boondocker is that it may not hold up very well in winter weather, but for 3-seasons out of the year, this is one of the highest-quality tents you can find, and it is available online for $650.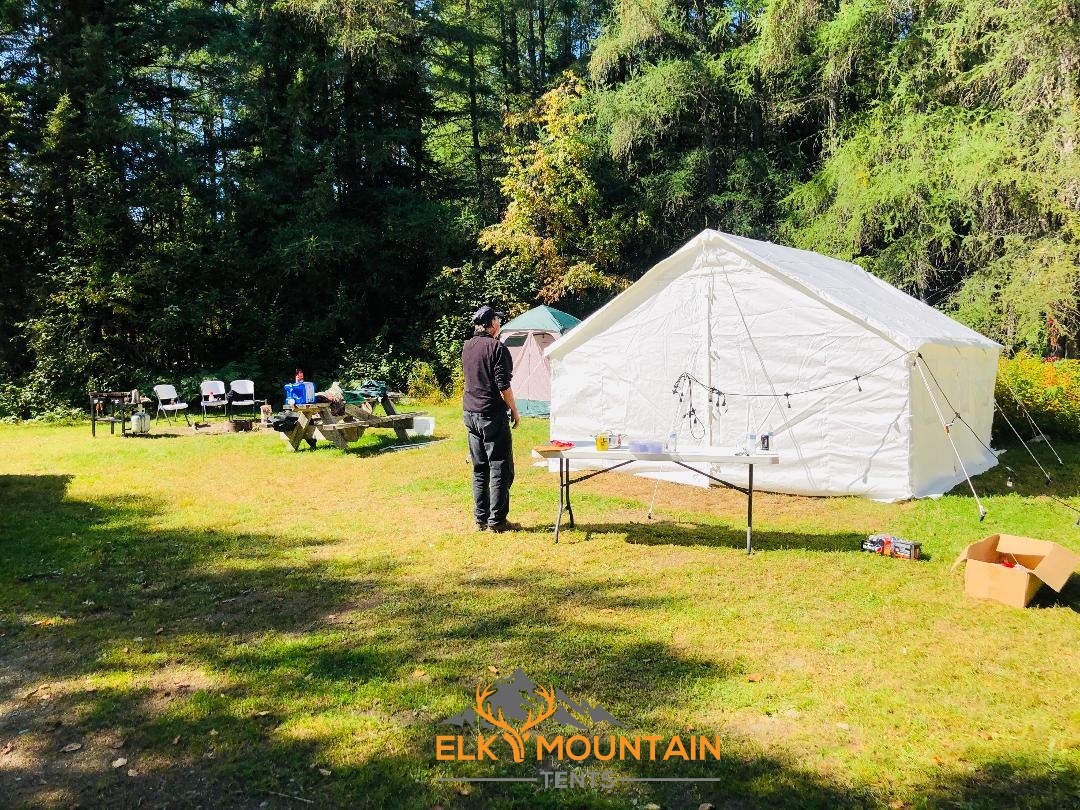 Another roomy family-sized tent is the REI Kingdom 6. This tent is built to help you keep as comfortable as possible, and the spacious hut design allows 6 people to easily sleep inside with room left over for all their items and gear. One of the biggest pros to the Kingdom is the room divider, which allows you to split off into two rooms for a little more privacy and/or organization and can be shifted to create bigger, smaller, or equal-size rooms. There are plenty of other conveniences with the tent as well, including the zippers in the roof that allow you to access the pole clips from the inside, so you don't have to go through the difficult process of reaching and climbing over the tent to get to the top. The 2 doors are both exceptionally large, making it easy to move cots and mattresses in and out. You are given plenty of storage space in addition to the large floor area, with over 20 gear pockets throughout. The material is very waterproof, and heavy rain shouldn't have to deter you from going on a campout. The big disadvantage however is that it doesn't stand up well against heavy winds. If you are anticipating strong storms during an outing, it may be best not to use this tent. It is available for $500 online, and there are 4- and 6-person options as well if you are looking for something a little smaller.
You may be looking to buy something a little less expensive for your new tent. If so, you might want to consider the Eureka Copper Canyon Tent. This is a spacious option that 4 people can enjoy, with a center height of 7 ft. and a floor area of 64 sq. ft. The tent is best for summer use, but it is well-suited for the milder parts of spring or fall as well. Setup is relatively quick, usually only taking about 10 minutes whereas similar models can take up to 30 minutes. There are plenty of pockets on the inside to store gear inside of, including a hanging mesh pocket in the center. The rainfly includes a pocket for each of the guy lines, preventing them from getting tangled together. The major con to the Copper Canyon is that it won't hold up very well against extreme bad weather. If you are a casual camper who wants something cheap yet high-quality to camp in on the nicer days of the year, this is one of the best options you will find. The Copper Canyon can be purchased online for around $200.
Casual Camping Tents
---
A great family-sized tent to look into if you are on a tight budget (or are just looking for a casual camping option) is the Coleman Sundome. Coleman is one of the most popular tent and outdoor gear brands around, and for good reason! They continue to make reliable products year after year. While it doesn't have a vestibule, this 6-person option has 100 sq. ft. of space (with a center height of 6 ft.), offering plenty of room for you and a few other people to enjoy while keeping your gear safe inside. For just $100, this tent is an absolute bargain even if you just go camping once or twice a year. If you want an even cheaper option, it is also available in 2 and 3 person sizes. It is sturdy enough to hold up during the warmer seasons of the year, though you may not want to count on using it during the heavy winters, especially since it isn't the most waterproof model around.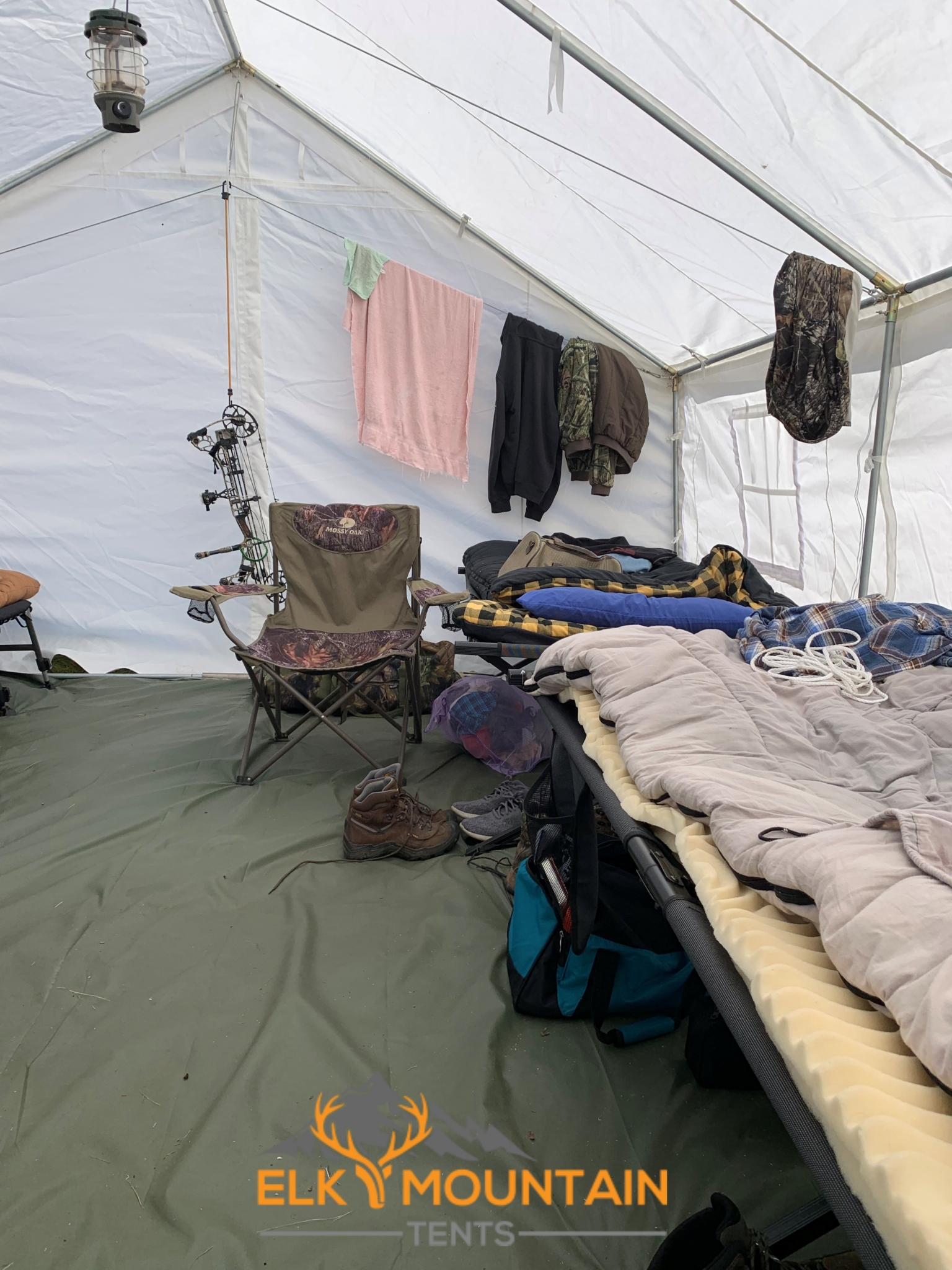 The Alps Mountaineering Lynx is one of the most versatile new models around. If for your new tent you need something that can work great for backpacking or more casual camping adventures, this is the tent for you. It has a 64 sq. ft. of floor space, making it a reasonable size for 4 people, and it has 25 sq. ft. of vestibule storage space. It is larger than many other backpacking tents, which is why it could make for excellent camping trips, but it is also lightweight and durable enough for more adventurous outings. It should last you for years, so if you need something small for just a few people to comfortably enjoy, you are certainly getting a bang for your buck with the Lynx with how long it will last in addition to its low price. Alps Mountaineering is famous for its inexpensive yet versatile gear, and the Lynx is no different. You can purchase it online for about $250.
If you are looking for what the latest in tent technology has to offer, you may want to get a fast pitch tent. These spacious and sturdy yet easy-to-assemble options are becoming more and more common and increasingly impressive as innovations occur all the time. One of the best mid-sized fast pitch tents on the market right now is the Kelty Night Owl 4. While some fast-pitch options aren't extremely spacious or stable, you will find the Night Owl to be much more reliable, with a 54.75 sq. ft. floor area, 2 13 sq. ft. vestibules, and heavy resistance against heavy rain and windy weather. It has double-doors, offering ample ventilation and making getting in and out easy, and thanks to the simple, color-coded setup design, it should only take 5 minutes for 2 people to pitch. There are instant tents out there that can be set up more quickly, but they won't offer as much protection in bad weather. You'd be hard-pressed to find a sturdier tent that can be set up in less time than this one! While it is a bit heavy for a backpacking tent, it isn't the worst tent to take on a hike if you need to. For less than $300, this tent can be your new go-to option!
If you want to buy a new tent, why not opt for the best? One of these new models could make 2023 your best year for camping yet! No matter what you plan on doing in the great outdoors this year, you are sure to find a new tent that is perfect for you and your needs!
Sources:
https://www.treelinereview.com/gearreviews/best-camping-tents