Camping in the Dead of Winter
Camping in the dead of winter can be a truly amazing experience. The world just seems so still and peaceful with everything covered in an undisturbed layer of snow. You don't have to worry about the campgrounds being crowded with people. After all, it is extremely difficult to enjoy the clean, and pristine feeling of nature if the neighboring campground is blaring their music at obnoxious levels. Another bonus of camping in the winter is you also get to avoid any bugs and either dry or humid heat. In many ways, it is so much easier to bundle up in the winter than try to cool off in the summer. The other bonus of camping in the winter is most predators like bears will be hibernating.
Now to make your next winter camping trip a reality there needs to be a large amount of research and preparation done before you can go camping. While this may sound tedious it is the only way that you can not only stay warm and dry but also stay safe. Just because the big predators are hibernating does not mean winter camping is not without its dangers.
The first thing you need to research is a good campsite. You will want to study maps you are familiar with, since you won't want to stay at your campsite the whole trip. Once you select your location you can start figuring out when to go and what kind of gear you will need. A good campsite should have trees to help protect you and your tent from wintry winds. But it is important to camp near trees not under them. If it is your first time camping in the dead of winter it is highly recommended to car camp. That way if weather conditions get too cold or snowy you can easily pack up and head home. It also makes it easier to haul in all the necessary gear you will need. The other important thing a good campsite should have is a nearby source of water unless you either plan to boil snow (which shouldn't be done for long periods of time as it lacks necessary minerals) or bring your water with you.
The second thing you need to do before packing your gear is study the weather forecast. The old saying hope for the best but prepare for the worst holds true with winter camping. Even after you have selected the days you want to go winter camping you should keep monitoring weather forecast reports right up until you are leaving for your trip. This will ensure you don't start a camping trip in particularly frigid cold weather or a blizzard. You don't want to put all this preparation into a trip and have to give up the trip part way through.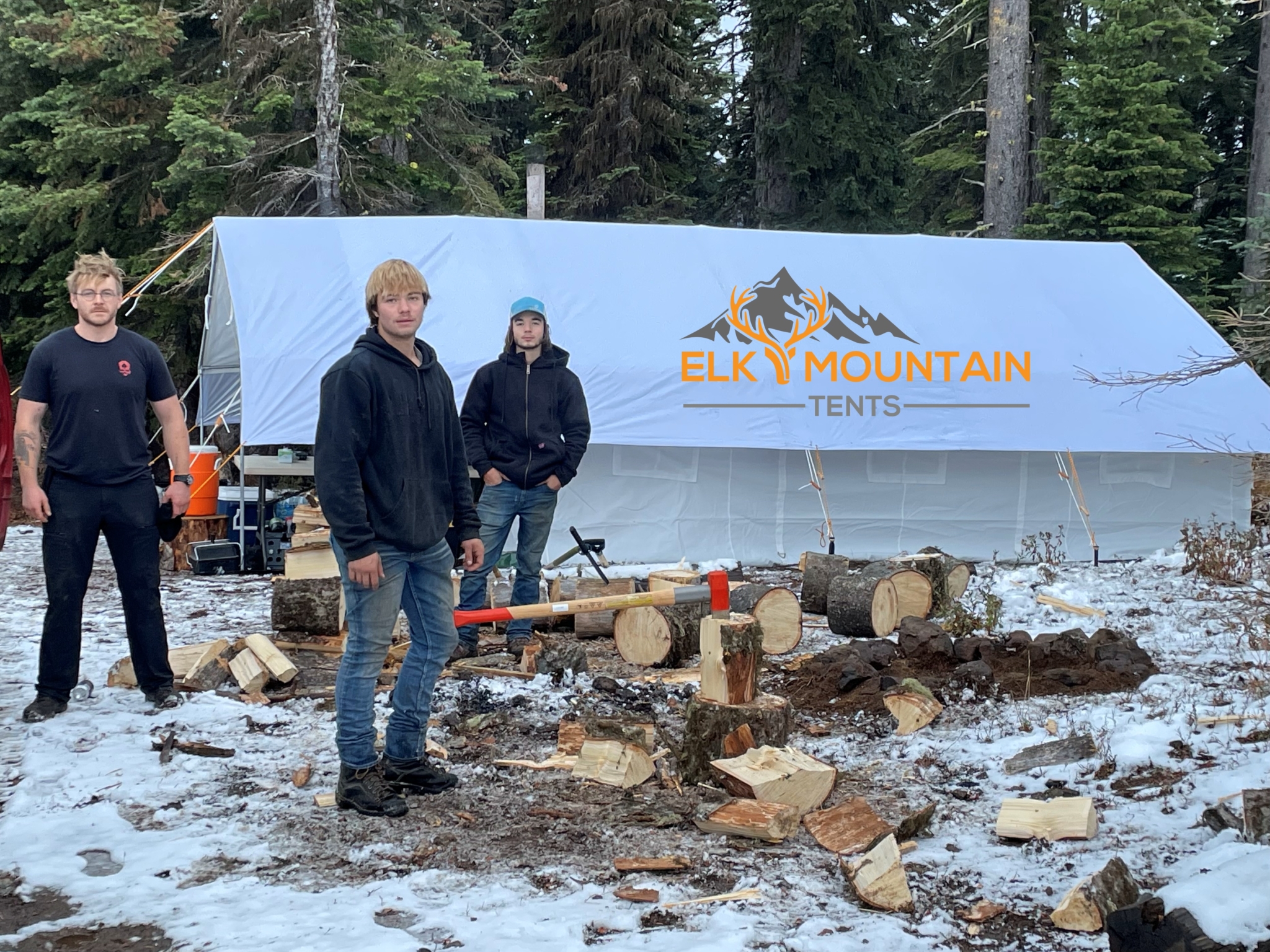 Once you have selected a good campsite and decided on when you are going then the last big preparation is packing the right gear. You need to start getting the right gear for your winter excursion. One of the most important things you will need is a solid four-season tent. One that works well in the middle of the winter is the Elk Mountain Yukon Bell Tent. This tent is extremely roomy so you will have plenty of room for you, your friends and all the necessary gear. This tent is extremely durable as well. It can handle high winds and some snow loads, though probably not as much as their wall tents. Anyway, this added strength is because it is made out of a unique polyester canvas that has a breaking strength of 449 pounds (warp direction) and 382 pounds (fill direction). As a general rule, the more polyester in a canvas the lighter, stronger, more waterproof, and more resistant to mold it is. And Elk Mountain Tents uses exclusively 100% polyester canvas to maximize the benefits of teach of these.
Condensation is a real problem when camping in the winter and can make your tent cold and unwelcoming. Any kind of moisture like that would quickly end any winter camping trip. Polyester used to struggle in this area which is why some people preferred cotton canvas, but these days polyester canvas can be just as insulating and breathable as cotton canvas. EIther way, any tent can experience condensation and the best remedy is proper ventilation. The Yukon Bell Tent not only has four screened peak vents but also has four screened windows too.
Lastly, it also has an uncut stove pipe jack so you can easily make your tent cozy with a stove in the tent. This tent will cost between $745- $1,095 but this tent is made to be used for winter camping. Not only that but it is one of the most affordable canvas tents out on the market.
While a tent's primary job is to protect you from the elements it also needs to be a welcoming place to warm up after a day out in the elements. An easy way to keep your tent warm regardless of the temperatures outside is to have a stove in the tent. There are two great stoves on the market right now, the first being the Mr. Heater. It is a propane-burning stove that is not only mess-free but has a thermostat on it. You can easily control the temperature inside your tent. It also has an automatic low oxygen level system to give you added security and peace of mind. This propane stove costs $250 on the Elk Mountain website.
If you are more of a traditionalist then the second stove option is a better choice. Elk Mountain sells a heavy-duty cylinder stove that will burn wood. While it is heavier than the Mr. Heater it has some amazing features on it. First, all of its pieces like the stove pipe can all fit inside the stove to keep it from taking too much room when hauling it around. It also has a wide drying rack that is attached to the stove. If you get wet or sweaty you can easily dry yourself and your gear in front of this cozy stove. You can also easily add a water tank so you can have hot water for cooking, cleaning, or bring a hot water bottle to bed with you. The legs on this stove also adjust so if your campsite isn't the most even due to the snow you can easily continue to safely use this stove. Since it is such a good wood-burning stove it is currently out of stock but hopefully, more will become available soon.
One of the most important pieces of gear you will need is a warm sleeping bag. At night is when temperatures plummet you will want a comfortable place to sleep. A good mummy sleeping bag for a winter camping trip should have some or all of the following features: a hood, draft collar, foot box, draft tube, and strong zippers. A hood will help keep your head warm especially if you cinch it uptight. It also will keep warm air in and cold air out. Another way to help keep your sleeping bag from getting drafty is having a draft collar. It is an insulated ring near the top of the bag that keeps cold air from entering through the top of a sleeping bag. A draft tube will also keep cold air out because there is extra insulation along the zipper. A foot box is a space at the end of your sleeping bag. If you are not a back sleeper then having extra room to move around as necessary. Not only that but if you want to keep your electronics (will lose battery life faster in the cold), your boot liners, or your socks warm store them in the foot box. A sleeping bag that checks all of these boxes is the Nemo Sonic o. At REI, this premium waterproof sleeping bag will cost $499.95 but you can stay comfortable in this sleeping bag down to temperatures of 0 degrees (F). Regardless of what kind of mummy bag you don't forget to also invest in a good sleeping pad and cot. You do not want to be directly sleeping on the cold hard ground. It will first make you colder and will likely melt the snow under you as well.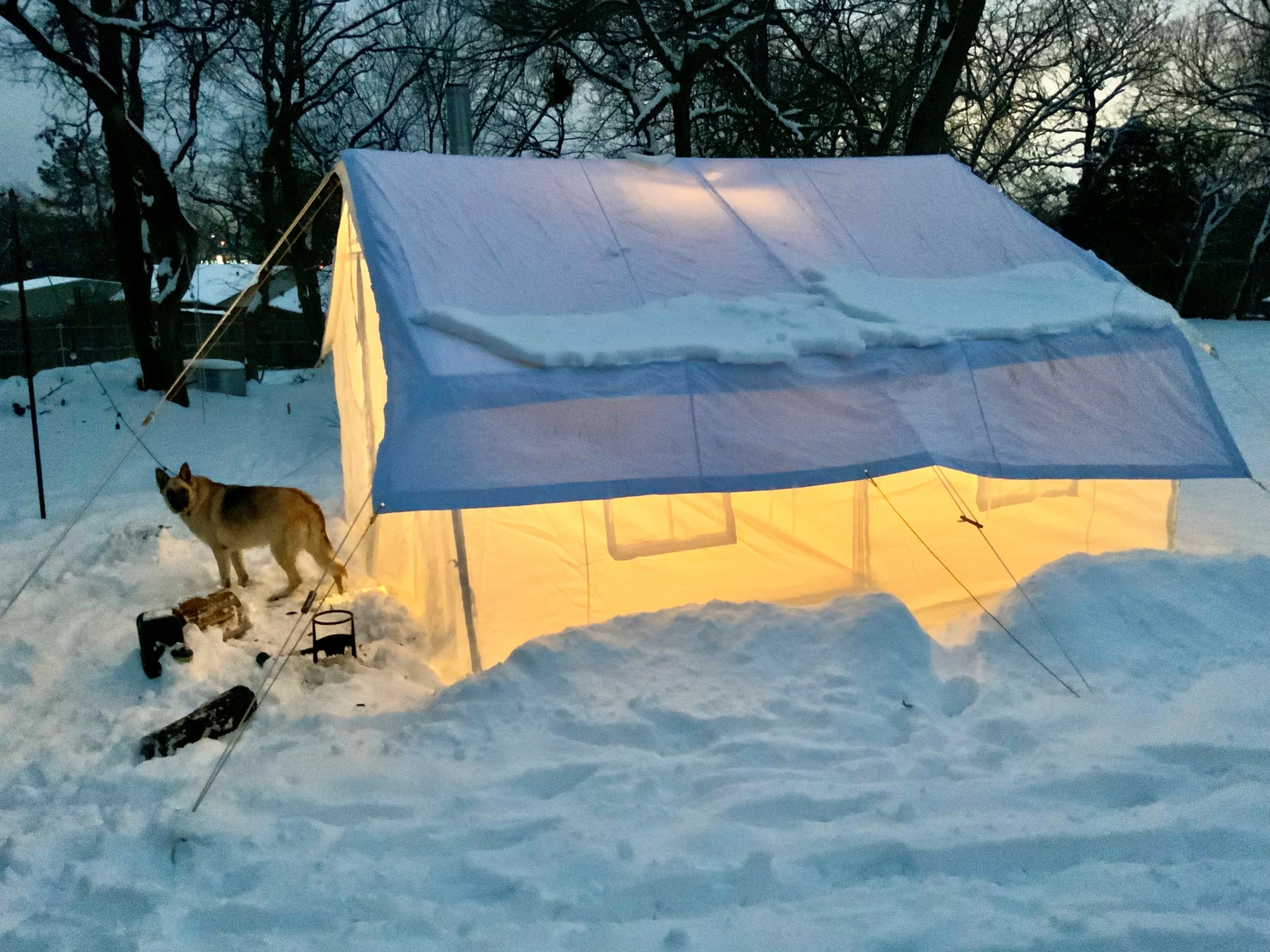 Another important piece of gear you will need to bring plenty of clothes and coats. The key to staying warm in the winter is wearing plenty of layers. But you don't want to overdo it because if you over-layer then you will be sweating which will ironically make you colder and force your body to burn more calories to keep you warm. The best rule of thumb is to wear three layers of clothes first a base layer (like a long sleeve wool shirt or long underwear), second a mid-layer (like a lightweight down jacket that can be easily removed in case it gets warmer), and finally an outer layer (like a heavy waterproof coat). Once you also put on your hat, gloves, and boots you will easily stay warm even in the middle of the winter.
While this article does not extensively cover everything necessary for a camping trip in the middle of the winter. It does outline some of the most important steps and gear you will need in order to enjoy the beauties of winter that so many people miss due to the cold. If you are properly prepared the cold won't keep you away from all the fun that can be had camping in the winter.
Sources:
https://www.backpacker.com/skills/beginner-skills/winter-camping/cold-weather-camping-sleep-better-than-a-hibernating-bear/
https://www.campingmaniacs.com/winter-camping-tips