How to Hunt Better with a Better Tent
Hunting is something that people have done from the beginning of time. It was absolutely essential for survival in ancient local communities. Many places around the world still hunt to help maintain their communities. It has and still does shape the world around us. Here in the United States hunting has become an incredibly popular hobby. It not only is something fun to do outside but it also prevents overpopulation of particular animal species due to lack of natural predators. Since you usually need to either draw or purchase a tag to go hunting, you want your hunting trip to be as successful as possible. For you to be a successful hunter you first need to decide the type of tent you want to sleep in.
Now first you want to consider when and how often you plan to go hunting. The most popular time to go hunting is between September and November but there is some summer hunting (depending on your state and what animals you plan on hunting). Fall is a beautiful time of year to be outdoors but the weather can be incredibly unpredictable as well. It can be warm and sunny in the mornings and frigid in the evenings. Therefore having the right tent will make all the difference between being a sharp and well-rested hunter and a groggy and stiff hunter.
If you plan to backpack into where you will be hunting then you want a tent that is small and lightweight but is also tough enough to be able to handle the high winds and storms. Tents that meet this criterion tend to be under four pounds and are only one or two-man tents. So while you will be able to travel anywhere for your hunt you will have to do everything like cooking outside of your tent in the elements. But being so lightweight you can easily break camp and track animals without alerting them to your presence.
Hilleberg Niak
One of the many high-quality backpack tents on the market is the Hilleberg Niak. This Swedish tent comes from a very reputable company that makes tough and durable tents. Not only that but the packed weight of this two-man tent is only three pounds 12 ounces. This three-season tent is incredibly easy to set up due to the self-supporting dome design. To keep moisture out and still keep it breathable, it has an inner and outer layer. It is made of Kerlon 1000 which is known for being tough yet lightweight. The only downside to this tent is that it is a three-season so if you anticipate snow on your hunt either bundle up or look for a different tent. Overall, this is a good backpacking tent, but to have this high-quality tent will not be cheap: it will cost $800 according to their website.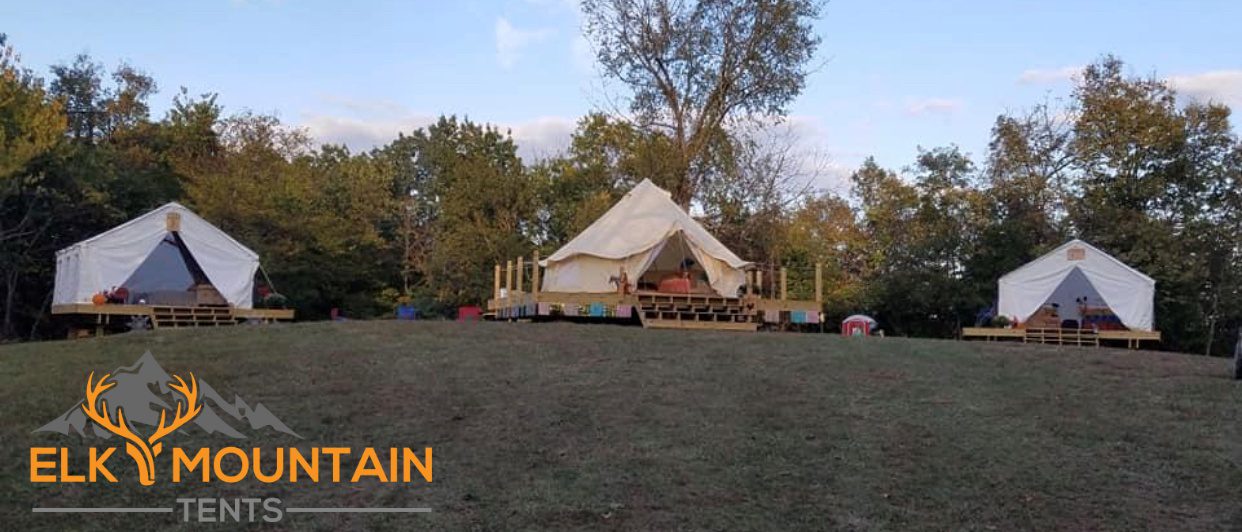 Tarpent Double Rainbow Tent
If that price point seems a little steep for a two-man tent another more affordable option is the Tarpent Double Rainbow Tent. This three-season tent is lightweight, weighing only two pounds 10 ounces. It is incredibly easy to set up and can be done in the rain without the inside of your tent getting wet. It is also made free-standing by using trekking poles as supports. While this tent is waterproof it is recommended to buy a kit to seal the seams completely. Still, this tent on their website costs $319 which is one of the more affordable lightweight tents on the market.
If backpacking all your gear in does not sound appealing to you or you are new to hunting a mid-size tent would probably be a better choice. Most decent mid-size tents are four-man tents that have a double-wall construction. If you plan to go for a bigger tent don't plan on hiking too far to your campsite. If you are not sure if hunting is for you then starting with a three-season mid-size tent is the obvious choice. Instead of lugging all your gear while tracking the animals, you can instead set up a base camp. Then you can go tracking animals and at the end of a long day of hunting, you can come back to camp to eat and rest.
Papa Hubba NX 4-Person Backpacking Tent
One of the more lightweight mid-size tents on the market is the Papa Hubba NX 4-Person Backpacking Tent. This three-season tent weighs only six pounds seven ounces and due to the compression stuff sack can be packed up to be very compact. It is also very easy to set up due to the unified hub-and-pole system with color-coded clips. It is also waterproof and comes with a rainfly to give it the double-wall construction needed to make it a good hunting tent. It also has comes with a vestibule where you can store your gear and give you additional space inside your tent. Another convenient feature is it has two doors making it easy for people to get out without having to crawl over others. Overall it is a good lightweight tent for someone who is beginning to explore hunting as a hobby. This tent will cost $359.93 at REI, which is pretty affordable for such a lightweight tent. And if you end up not becoming a full-fledged hunter this is a great tent to take on a camping trip too.
Traditional Cotton Canvas Tent
Now if hunting is your passion and something you plan to do as often as you can then the best tent option would be a canvas tent. There is a reason serious hunters prefer these tents. They are a tough four-season tent that is large enough for anyone to feel comfortable. The problem you run into with backpacking tents is that they are made smaller to keep them lighter. You lose the ability to stand up straight in your tent and are forced to slouch over. This is not so with a canvas tent. You will have room to sleep in a cot and you can also store all your gear and have room to prepare your meal within the tent. Not only do you have that, but most reputable canvas tents on the market have a stove jack so you can heat your tent with a stove. However, if you plan to use a canvas tent you better plan to drive to where you will be camping for your hunting trip. These tents are not made to be backpacked due to their weight and size. A canvas tent will typically weigh between 50-70 pounds. Not only is a canvas tent more comfortable but they are incredibly tough. They are made of a thick canvas fabric which can handle rain, snow, and heavy winds. They can also handle snow loads without tearing or having the tent collapse. Any canvas used on these tents is treated to be waterproof and fire-resistant but is still incredibly breathable so you can also use this tent all year round. The only downside to canvas is it has to be completely dry when packed up – otherwise, you run the risk of mold. Regardless, having a comfortable base camp to come back to after hunting in wintry weather is the best way to hunt.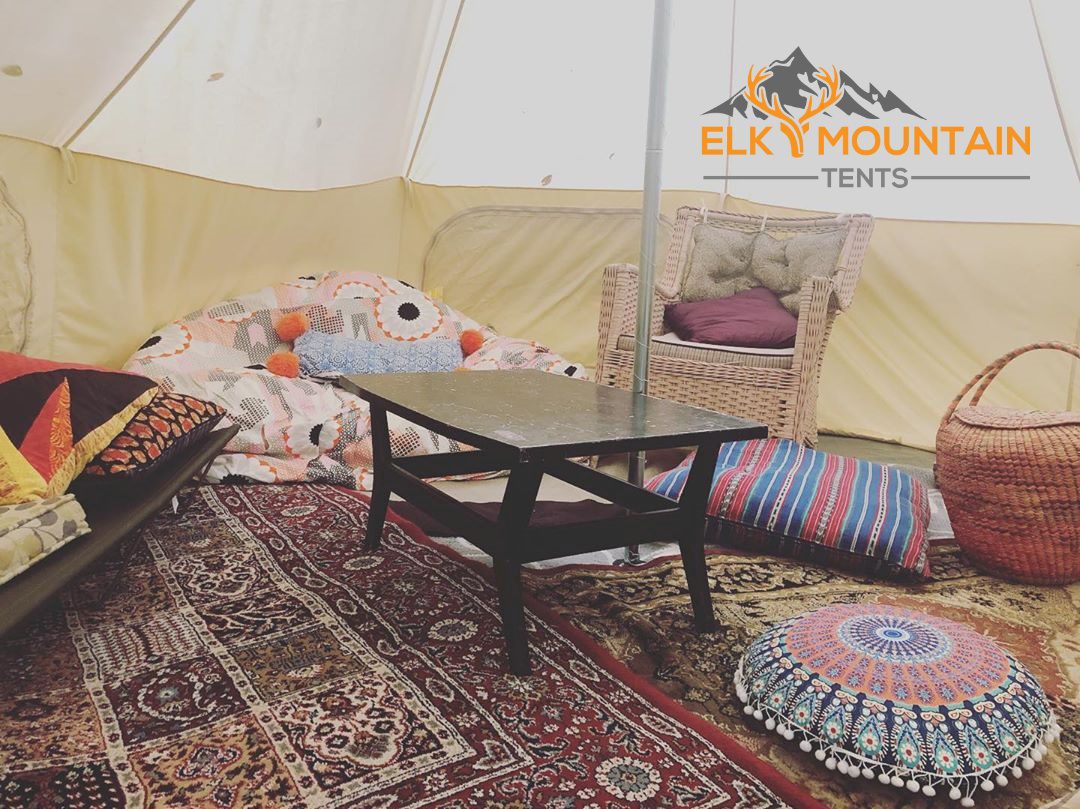 Elk Mountain Wall Tent
One of the best canvas tents on the market is the Elk Mountain Wall Tent. This tent is unique from other canvas tents on the market in that its canvas is an advanced 100% polyester canvas. This canvas not only makes it lighter than traditional canvas, but it is also tougher. Their 11-ounce canvas has a breaking strength of 449 pounds (warp direction) and 382 pounds (fill direction), compared to traditional 12-ounce canvas that has a breaking strength of 382 pounds (warp direction) and 241 (fill direction). Since it is polyester and not cotton you also do not need to worry about mold and mildew. Of course mold can grow on any surface but it won't be able to eat this tent since it's fully synthetic. Polyester canvas also requires no rain or UV sun treatments making it the perfect canvas.
This tent is incredibly spacious as well. It comes in three different sizes 13X13, 13X16, and 13X20 all will give you and your group plenty of room to sleep, eat, relax and store your gear securely. Not only that, but you can easily stand tall in these tents since the sidewall (the lowest part of the tent) is five feet tall. You can easily get plenty of rest in this tent so you can be ready to hunt in the morning. It also comes with an uncut stove jack which can be cut for a 4-6 inch opening depending on the stove you get. Having the option of a stove will ensure no matter how cold the weather gets that won't stop you from hunting. It also allows you to easily dry your gear out. This luxurious tent will cost around $845-$1095 (depending on the size) on the Elk Mountain website. This tent is an investment worth making, especially if you plan to hunt frequently.
Hunting is truly one of the best pastimes out there, especially if you enjoy being outside among nature. But you don't have to rough it to become a good hunter. Hunting should be a fun experience. If you want to have the best experience possible be sure to pick the tent that best fits your needs – whether it be a backpacking tent, a mid-size tent, or a high-quality canvas tent.
Sources:
https://www.americanhunter.org/articles/2018/6/23/how-to-choose-the-right-hunting-tent