Sheepherder Tent for Glamping
When you hear the word glamping, what comes to mind? Do you know what glamping means, or better how to do it? Though the word glamping came into use in the mid-2000s, the concept of glamorous camping is actually quite old. When ancient royalty went out to war with their armies or went on hunting trips they would often have to camp. But you wouldn't expect a king to simply sleep on the hard ground like everyone else? They would often bring many comforts from home like large tents, rugs, comfortable bedding, and plenty of servants to pamper them. This tradition of luxurious camping was revived during the 1920s when safari were all the rage with rich American and British travelers. These travelers wanted to have an adventure of their lifetime: seeing the animals of Africa, and on many occasions, the opportunity to hunt the variety of animals that were native to Africa (like lions, leopards, rhinoceroses, elephants, and cape buffaloes). But they were not willing to do this if it meant they could not have the comforts of home. Many of these safari campsites had things like electric generators, large beds, Persian rugs, and folding baths. And now today everyone wants to experience nature and see new places without having to rough it same as their ancestors did in times past. If people anciently sought their camping experience to be more comfortable shouldn't you do the same?
There are many ways to go glamping but it comes down to either: you can pay for someone to set up all the bells and whistles for you like an all-inclusive vacation, or you can learn to do it yourself. Learning how to go glamping yourself will make it not only more affordable but also possible for you to go anywhere to do it. To take your trip from simply a normal camping trip to a glamping trip requires several important things. What you need is a luxurious tent, a comfortable mattress, soft bedding, some sturdy camp chairs, decorative mats or blankets, a table, a portable stove to cook with, electric lighting (possibly a generator), and any decorations that make your living space feel less like a tent and more like home.
The Glamping Tent
The biggest investment in order to make yourself a pro glamper is having a large and luxurious tent. You can't be very comfortable on your trip if the tent you are staying in requires you to be hunched over when standing. Glamping trips are supposed to be a home away from home. One of the best kinds of tents you can invest in getting is a Sheepherder tent. If you've never heard of a sheepherder, tent then you might be more familiar with some of the other names it goes by like canvas army tent, wall tent, or bell tent. A sheepherder tent in its modern design we know today was invented in 1856 by Henry Hopkins Sibley. A year after this tent being invented they were commissioned by the United States government to be used by soldiers who were part of the Utah Expedition or also known as the Mormon War. The United States military continued using this style of tent during the Civil War. Now, this style of tent can be used by anyone who simply wants to be comfortable on their glamping trip.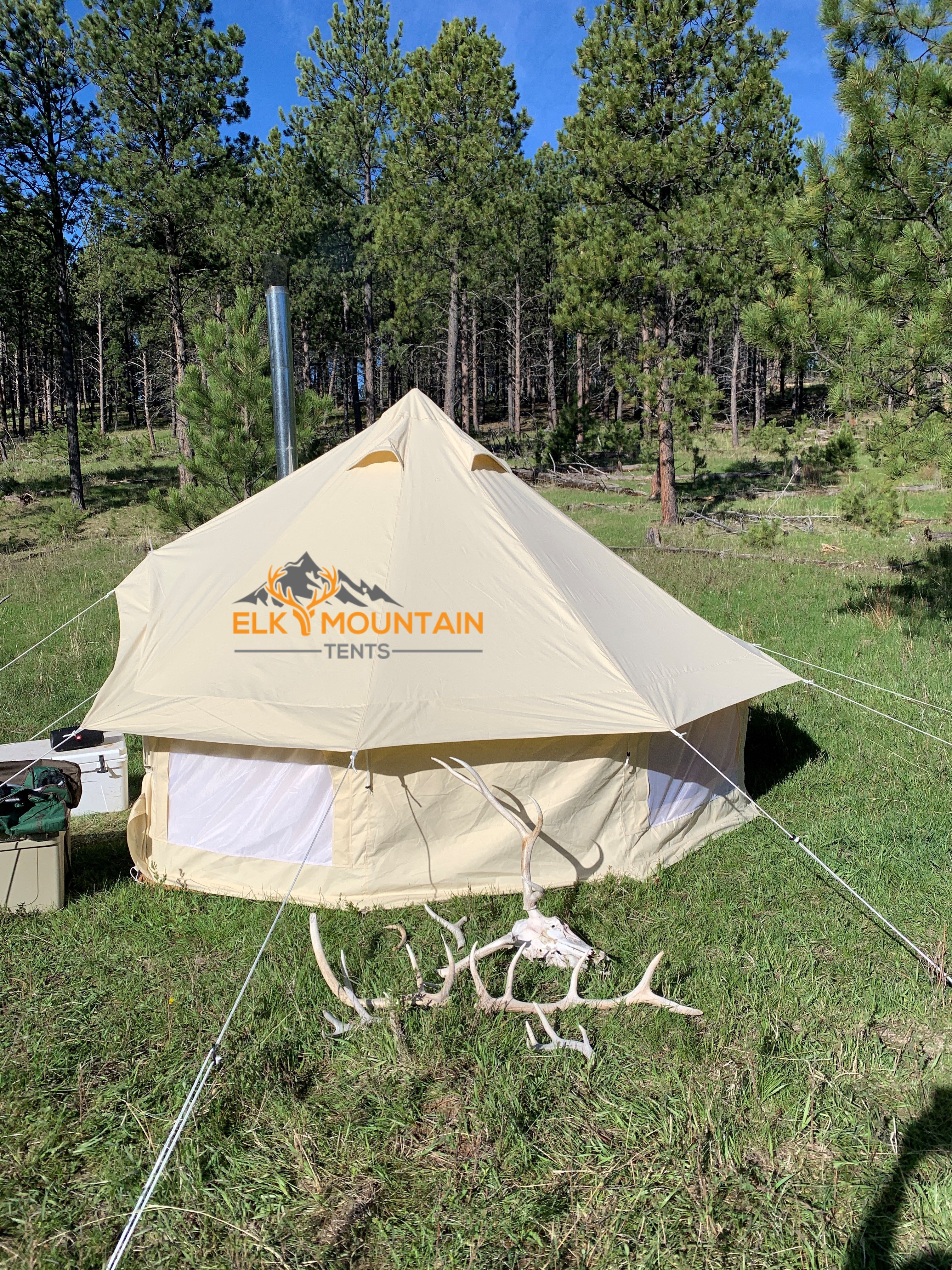 The Elk Mountain has two great options, their wall tent and their bell tent. The Yukon Bell tent will likely fit what you are looking for in a glamping tent. This tent comes in three different size diameters 13 foot, 16 foot, and 20 foot. The bell tent looks somewhat like a yurt on the outside. The big difference between a bell tent and a yurt is the bell tent doesn't have heavy wood lattice-work. Instead, it is supported by galvanized steel poles which makes it not only lighter but easier to set up. Without the wood lattice-work, it does mean the side walls are a little lower at three feet. But this tent can have a pole height (which holds the center of the tent up) between 8-11.5 feet tall (depending on which size of bell tent you choose). There will be no need to slouch in this tent. You can feel right at home with its many sizes available.
Traditionally this style of tent used cotton canvas which could shrink, become moldy, or get covered in mildew. This is not a problem with the Elk Mountain Yukon Bell tent. The 11-ounce canvas that's used in these tents is 100% polyester-based with a breaking strength of 449 pounds (warp direction) and 382 pounds (fill direction). That is so much tougher than your traditional canvas which has a breaking strength of 382 pounds (warp direction) and 241 pounds (fill direction) for 12-ounce canvas and about 210 pounds (warp direction) and 140 pounds (fill direction) for 10-ounce canvas. Not only is Elk Mountain canvas tougher than your average canvas it is also lighter and water-proof and just as breathable as cotton canvas. Traditional canvas can be heavy and cotton will absorb the water making it even more cumbersome. Why is their canvas so important for your glamping trip? If you want to do years of glamping trips then you want a tent that is large, comfortable, and is built to last. The Yukon Bell Tent fits those requirements. The waterproof canvas will also help you stay warm and dry if you get caught in an unexpected storm while glamping. Nothing ruins a trip faster than finding yourself in a wet tent.
The Yukon Bell Tent doesn't just have high-quality canvas it also includes four screened windows, one screened door and four screened peak air vents. This will keep your tent well ventilated and allow plenty of natural light into your tent while keeping unwanted bugs out. So you can just relax in your large tent but still be able to see nature from the many windows in your tent. Which is the peak of glamping being comfortable while enjoying the wonderful vistas of nature. If you are feeling particularly adventurous you can even go winter glamping in this four-season bell tent. This tent was made to be used in all seasons. It comes with an uncut stove pipe jack with cover. This will allow you to have a wood stove inside your tent. That way even on the coldest of winter days you can stay warm and comfortable.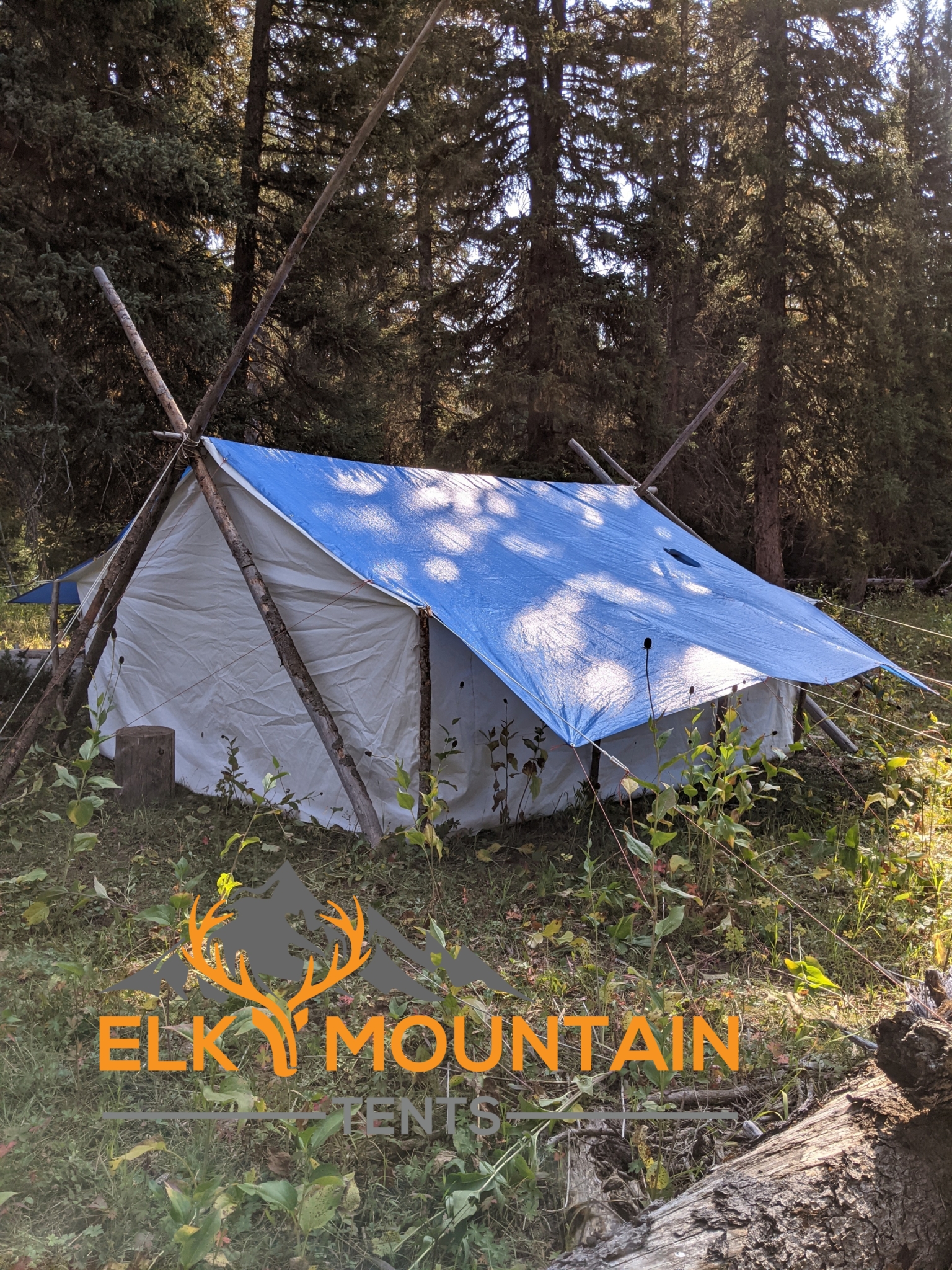 A Bed for Glamping
A bell tent is the way to go when you want to bring comfort on your glamping trip. But no matter how nice a tent you have it won't be truly comfortable until you get a proper bed in there. No more sleeping in a sleeping bag and waking up stiff and sore. With the space a bell tent will provide, you can fit an elevated cot, a large cushiony camping mattress, or a queen-size air mattress. No bed is complete without plenty of fluffy pillows and soft bedding that you burrow into at night. You can also add other additional features, like side tables and rugs to make your sleeping area as homely as possible. Another important item you will need in your tent is some kind of lighting. Whether you choose to bring a generator to power strings of lights, flashlights, or a camping lantern. This will only add to the feeling of complete comfort within your tent.
A Gathering Place for Glamping
Once you have the inside of your tent as comfortable as possible you need to focus on making the outside of your tent just as inviting. After all, you aren't going to go on a glamping trip just to spend all your time inside your tent (though you might be tempted to). You need to set up an area where you can eat and sit down and just put your feet up after a day of fun. This can be easily done with a few sturdy camping chairs, a small table that can be used for eating or playing games, and a fire pit. Nothing makes a glamping trip more inviting than sitting around a fire.
A Stove for Glamping
The final item you need to have to complete your outdoor setup outside the tent is a portable stove. Unless you plan on only cooking over an open fire from your fire pit, you will need a stove. It is the only way you really make your glamping trip a complete experience. You not only should spoil your eyes with the natural world around you, but you should also spoil your stomach by making delicious gourmet meals.
Glamping is an experience that is worth having. While having someone else or a company do all the preparation work for you is convenient, it can quickly get very expensive and limit you to where you can go and how often. But if you choose to invest in your own glamping gear you can go wherever you want on your glamping trips. Once you get a bell tent you will wonder why you ever just camped in an ordinary tent.
Sources:
https://outlandliving.com/blogs/news/glamping-gear
https://glampinghub.com/blog/history-of-glamping/