Tents for a Large Group
The right tent when camping with a large group can make or break your trip. You want to end this trip still talking to the people you went camping with. Therefore, before you go anywhere with either a group of friends or family extensive planning needs to be done to decide what kind of tent you will need to have a successful trip. The first decision is whether your group will be camping together at one campsite or scatter among a selected camping site. The second decision that needs to be made is if your group will have each person bring their own tent or will you camp together in one large tent. Regardless of which combinations of these options you need at least one large tent to gather together as a group. If you think are thinking to yourself why do I need a large tent won't a canopy do. The short answer is no, it won't work. A canopy is something you can bring on a camping trip. It will provide shade and is a great place for people to gather under. However, it won't be as effective as large tent if the weather unexpectedly turns either cold, windy, rainy or all the above. No matter how well you plan you cannot plan the weather. It is better to be prepared for bad weather than have to cut your camping trip short. Another reason to bring a large tent is if someone's tent begins to leak during a storm. It is vital to have somewhere else they can sleep. Here are some highly-rated tents that will make your trip both successful and unforgettable.
Elk Mountain Wall Tent
The Elk Mountain Wall Tent is a four-season tent which means regardless of the weather it will hold up to rain, sun, wind and even snow. This is made possible because its material is a unique breathable polyester canvas it is strong and able to hold up to most anything. It has a breaking strength of 449 pounds (warp direction) and 382 pounds (fill direction). This canvas also is resistant to mold and mildew. This will make it easy to store. Another great feature about this material is it is waterproof. But it is highly recommended by their website to get a rainfly in order to extend the life of the tent. This tent can have a very lightweight frame so you can set up the frame first than move it to the best location at your campsite (the frame is not included with the tent and must be purchased separately). Since it does not have a traditional floor like most tents this means the space within the tent is extremely versatile. You can set up chairs and tables without worrying about ruining the floor. If you do want a floor you can purchase a tent floor that is made of heavy rubberized PVC material from the Elk Mountain website. The other reason it does not have a traditional floor is if you camp during the winter you can have a tent stove in your tent. Every size of tent includes an uncut stove jack opening so you can easily customize the opening you need for your stove. Another feature that makes the tent unique from others is it has six windows that have mesh but the window flaps can only be open from the outside. These flaps can be rolled rather than be zipped open like other traditional tents. This will ensure that no moisture can come in through the windows when they are closed. Their wall tents come in a range of sizes (13X13, 13X16, and 13X20) depending on how big of a group you have either sleeping or congregating. The cost for a standard wall tent will range between $845.00-$1,095.00 on their website. This may seem like a steep price tag but a four-season tent is an investment that will last you many years.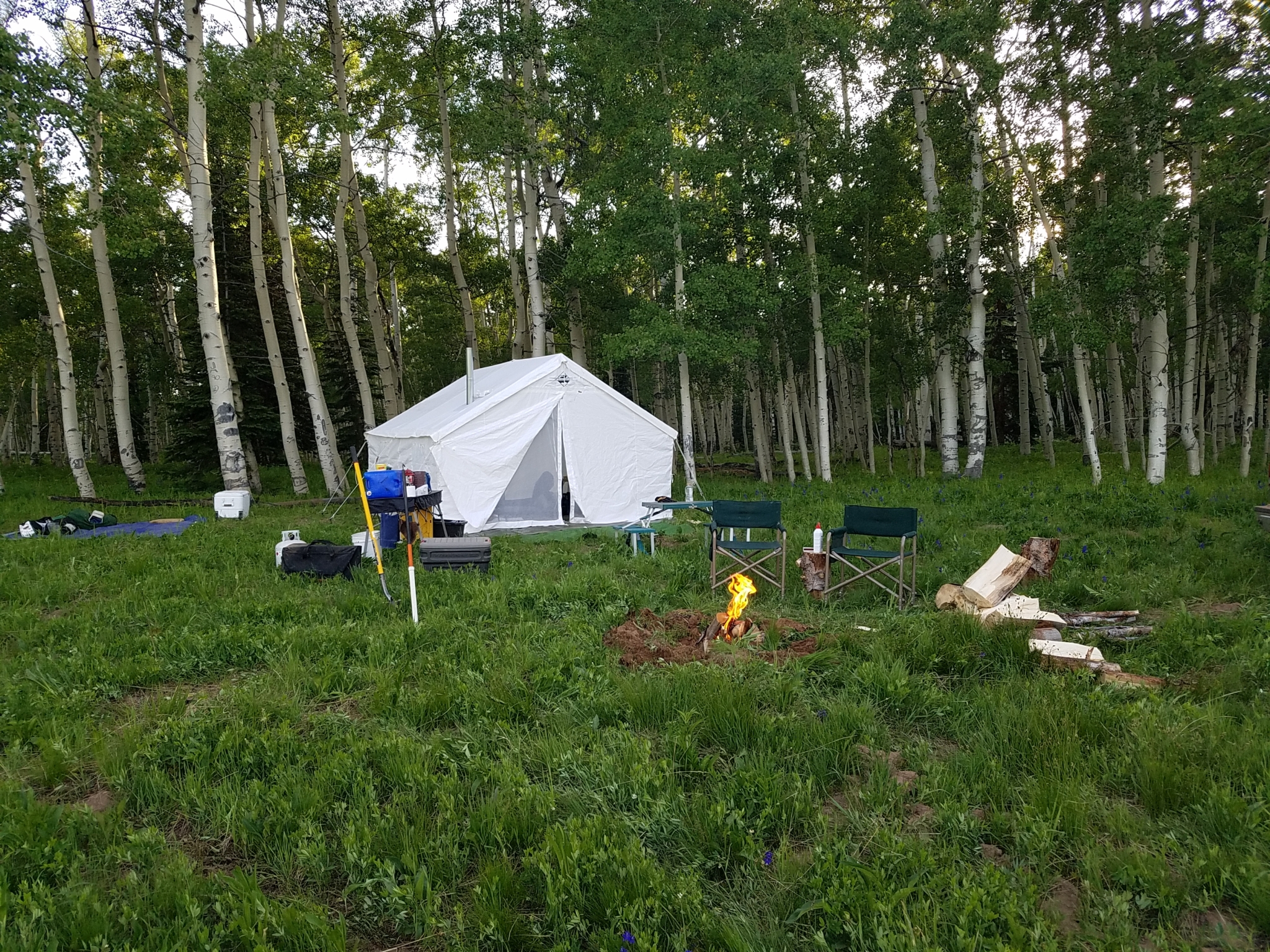 Coleman Red Canyon 8-Person Tent
The next option to be considered is the Coleman Red Canyon 8-Person Tent, it is a dome-style tent. With its dome shape it should be able to withstand most types of weather you will face whether there is rain, snow, or wind. The drawback to dome-shaped tents is they are not designed for tall people. This tent height is only 72 inches. This is at its highest point which is in the center and it will slope off to be even lower as you get closer to the walls. So, if you do spend a lot of time in this tent be prepared to do a lot of sitting or sleeping. It does come with a rainfly so if it is a beautiful night you can take the rainfly off and open the two large mesh windows to be able to enjoy the view while lying in your tent. The material of this tent is made is a Polyguard fabric which is known to be extremely tough and durable. This tent has room dividers to divide the tent into three rooms which is nice if you want a little privacy from your group. However, if you are in the two side rooms the side windows can't be zipped up so you don't get complete privacy. Overall it is a decent three-season tent and its listed online price is $340.83.
Kodiak 8-Person Canvas Tent Deluxe
The next option to be considered is the Kodiak 8-Person Canvas Tent Deluxe. It is a four-season tent so it will hold up well to all kinds of weather similar to the Elk Mountain tent. This is due to it also being a canvas tent which is much tougher than your traditional tent. The material of its walls and ceiling is a duck canvas with Hydra-shield which will make it both breathable and water-resistant. However, its floor is a reinforced vinyl while fairly durable but won't hold up as well as the rest of the tent. This tent is fairly spacious on the inside standing at a height of 78 inches. You can easily walk around this tent without having to duck your head at all. It also has four large windows with No-See-um mesh keeping those bugs, even gnats, out of your tent while allowing your tent to stay well ventilated. While it does not have any room dividers like the Coleman tent it does have four windows (two of them are on the doors) which can be zippered up to give you plenty of privacy. This deluxe tent price online will cost you $669.99. The deluxe version includes an awning which is a good reason to purchase this model of the tent. The awning will provide additional shade and protection for the tent. Overall, it is a tent with a lot of good qualities but the downside of the canvas is it can mildew if not properly dried before being rolled up.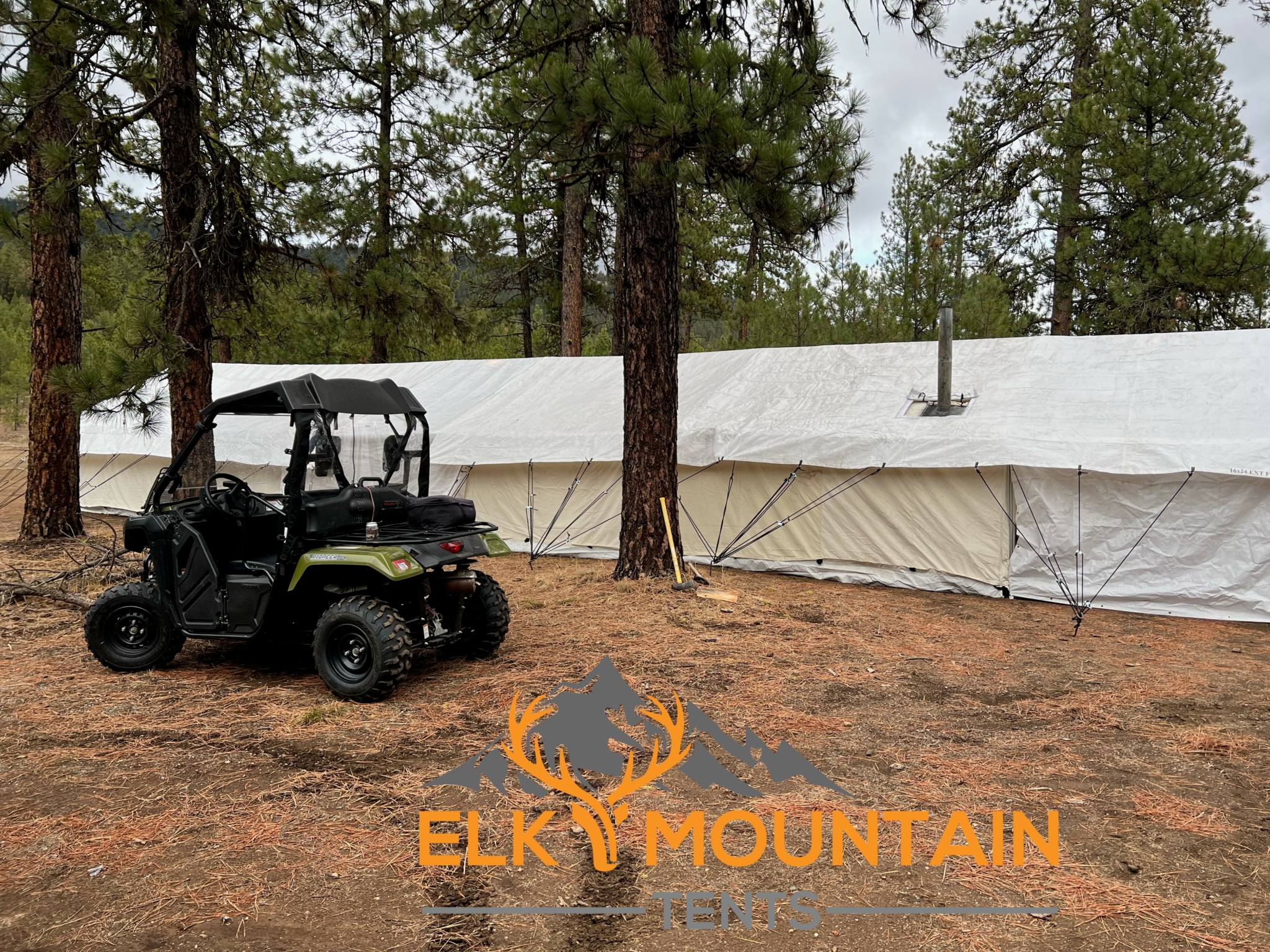 Browning Big Camp Tent
The final option to be considered is the three-season Browning Big Horn Camping Tent. It is a cabin-style tent which means its walls are straight and vertical. This makes for an extremely roomy tent. Its peak height is 87 inches so you can easily walk around this tent without having your head rub against the top of the tent. However, since the tent is quite tall it is important to stake this tent down especially if there is any chance for wind. Otherwise, your tent will be soaring like a kite. In order to address this problem, this tent does include steel stakes and guylines. This tent has six windows (two of which are on the doors) that have mesh on the outside and a waterproof panel on the inside. In order to avoid rain coming in this tent does come with a rain fly. It is not very big but it is effective in helping the tent stay warm and dry. The fly is also designed to keep UV rays off your tent which can damage it. This tent does include a room divider to give some privacy for its occupants. In addition, when the room divider is up each room has its own door to make it easier to get in and out of. The price tag for this large tent online is $399.99 which is quite affordable for this large three-season tent.
Any of the above-mentioned tents will help make your next camping trip with your family and friends successful. All of these tents provide enough space for up to eight people to comfortably sleep in. They provide several windows for excellent airflow to keep your tent from getting too hot and stuffy while keeping bugs out. The material that each of these tents is made out of should be able to withstand most weather you will face while camping. They are all made by companies, who each have an excellent track record for making good quality tents. Once you have decided on what kind of camping trip you will be doing one of these tents are sure to fit the bill for what you will need.
Sources:
http://familycamptents.comhttps://wildernesstimes.com/best-large-tents/