Canvas Tent Accessories and Gear
So, you want to go canvas tent camping? Get ready for a great time, as canvas tents provide plenty of comforts and are sure to keep you protected from the elements while maintaining breathability better than any other tents on the market. Whether you are planning on going on a hunting trip with a large group, looking for a warm way to camp out during the winter, or desperately seeking a glamping getaway, canvas tents are the way to go!
To have a genuinely great outdoor camping experience, you need to make sure you have all the right gear and materials. If you have all the things listed here, you will be prepared for fantastic adventures for years to come.
Best Tent Accessories
The first thing you need to know is where to get a canvas tent. Elk Mountain Tents has some of the best options for canvas wall tents (ideal for fishing, hunting, and camping trips) as well as bell tents (perfect for glamping). Starting from $700 for a bell tent or $800 for a wall tent, these are some of the cheapest and highest-quality canvas tents on the market, with a variety of sizes and options available. Each of these models is made from a breathable polyester canvas fabric, which is much longer-lasting, more breathable, and stronger than traditional cotton canvas. Each model also includes a stove jack so that you can stay warm and comfortable inside even during the coldest time of the year.
Some additional accessories come built into Elk Mountain's tents, depending on the option you purchase. For a little bit extra cost, you can purchase a canvas wall tent with an awning included, a front screen door, or both. These can make your camping trip just that extra bit more luxurious and enjoyable.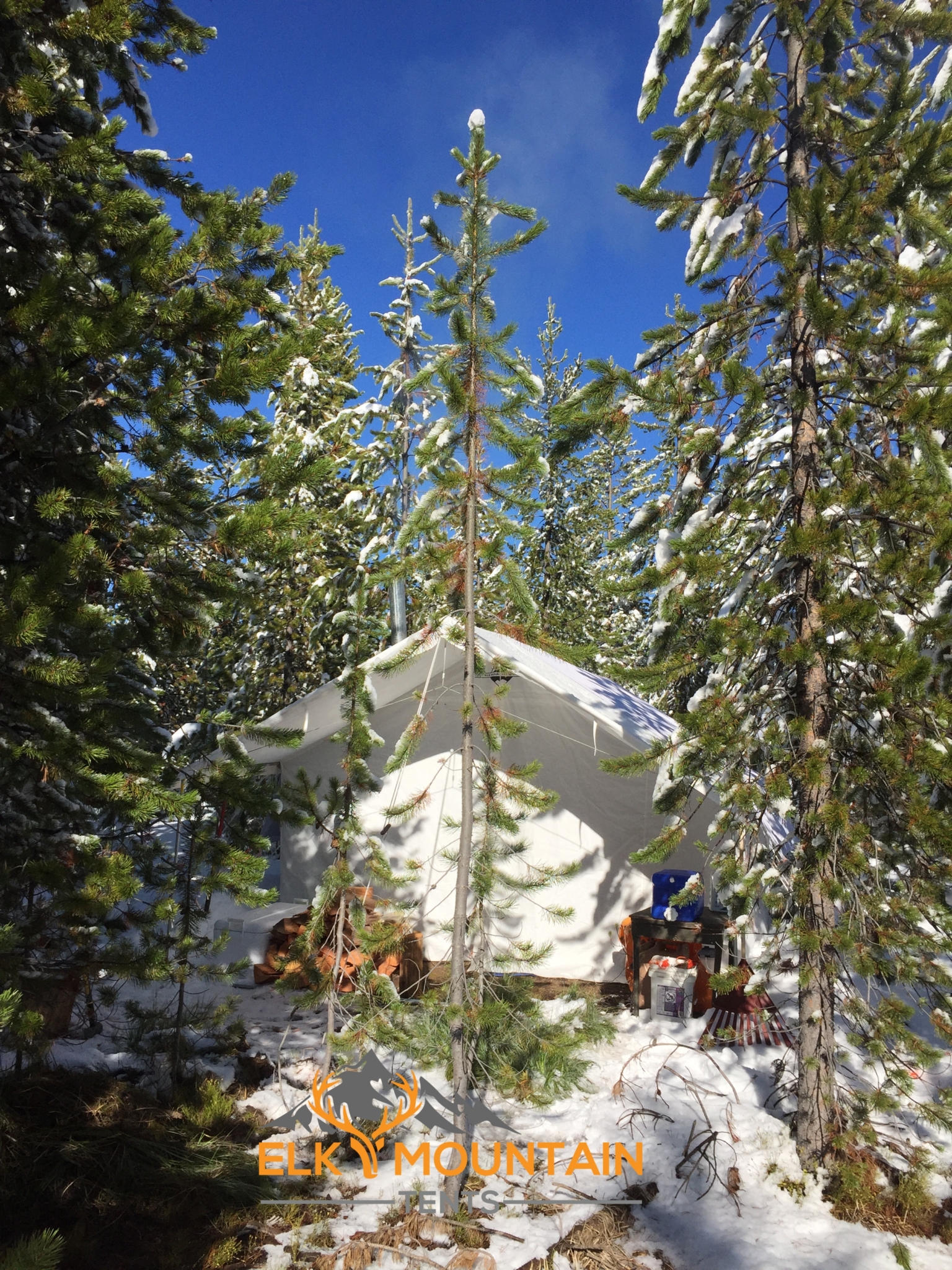 Poles
Many canvas tent campers build their own tent frames to cut down on cost, so the wall tents from Elk Mountain do not come with a frame, but they do have ¾ in. frames available to purchase that are made to fit their tents perfectly if you don't plan on making your own. The advantage of buying frames rather than building is that these are specially made to fit inside Elk Mountain's tents already, so you don't have to make the perfect measurements yourself, and you won't have to purchase all the materials that you would need to build a frame. They are all included. These are much less expensive than the tents themselves, costing between $300 and $395 and ranging from 3-5 rafters, depending on the size and model you decide on. Bags are included for the poles to allow for easy transportation (one bag for each size), and the poles already have clips attached to make securing the tent fabric easier. If you do wind up building your own frame but still need a way to transport the poles from place to place, you can purchase pole bags from the website for $45. You will receive 3 bags, one for each pole size, and there are adjustable straps included. These bags are sure to last a long time because they are made from the same durable canvas material as the tents themselves.
Rain Fly
One thing that will help keep you protected inside as well as help your tent last longer is a tent fly. A fly will give you that extra protection from rain and stormy weather because while Elk Mountain's canvas (as well as many other canvas tents) are waterproof, it is recommended that you still use a fly to keep the tent material from being damaged and help it maintain its waterproofing for longer. Elk Mountain's website sells rain flies for both their canvas wall tents and Yukon bell tents. These flies are made to perfectly fit Elk Mountain's tents, and they include stove jack cutouts to line-up with the tent you purchase. They also include grommets so that you can tie the fly down with ropes. The waterproof material they are made from is lightweight enough to carry through the backcountry if you need to. The fly extends two feet past the roof of the tent, keeping the water from running down the walls. The wall tent fly costs $120-$180, depending on the size of tent you have, and the Yukon bell fly costs $130-$195, again depending on the tent's size.
Tent Floors
Something else that you may want to purchase to go with your canvas tent is a tent floor. Many canvas tents don't come with a sewn-in floor, making set-up much simpler. Elk Mountain Tents does have a floor that you can purchase separately for $125-$165 that can fit perfectly inside their wall tent models. The heavy-duty material it is made from is comfortable, rubberized, and built to last a long time. You can tie it to the frame so it will stay in place and you can easily remove it for convenient cleaning.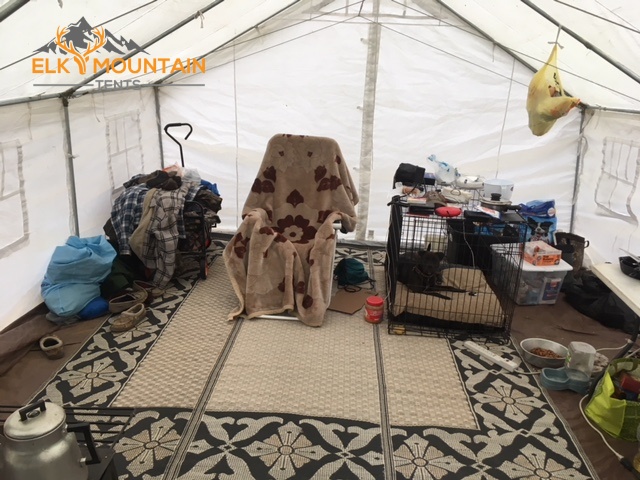 Wood Stoves
If your canvas tent has a jack for a wood stove, as Elk Mountain's do, you should take advantage of that! There are some fantastic wood stoves out there that will keep you warm throughout the night and can even heat water or cook food. You can buy the Alpine Heavy Duty Cylinder Stove from Elk Mountain's website for $250, as well as free shipping. This stove has a wide shelf/drying rack, it is easy to transport since all of the components can be stored inside. The strong steel construction of the stove is built to last a long time, and it includes brackets that allow you to attach a water heating tank (sold separately on the website). The height of the stove legs can be adjusted in case you are camping on uneven ground as well. Additionally, you can purchase a 3 x 5 ft. silicone fiberglass blanket that acts as a stove mat to prevent the floor and tent walls from being damaged by the heat. It includes grommets in the corners so you can hang it up as well, allowing it to act as a heat shield, protecting ashes from hitting the wall. This is available for $45. For extra protection from fire, you might even want to purchase two, so both the floor and the wall will be covered.
Tent Bag
While whatever canvas tent you purchase will usually come with a bag, it is often a tight fit (for shipping purposes), making it difficult to stuff the tent back inside after taking it out. Elk Mountain's tents are no exception to this. Luckily, they (as well as other retailers) do offer larger bags that you can purchase separately. Their large tent canvas bag is 12 inches larger, offering much more room to fit the tent inside with relative ease. They also have an option for a stuff sack that you can simply stuff the tent into and cinch up instead of worrying about folding it. Both of these options are available online for just $40.
Coat Rack
Retailers like Wall Tent Shop also have plenty of gear to help make your canvas camping experience better. One item on their website that will help you keep things organized on a long-term camping trip or even while you are glamping is a coat rack. This can be purchased for around $45 on walltentshop.com, though if you buy it along with a tent on their website it is a little cheaper. The 32 in. long coat rack includes 2 clamps to fit it on the tent frame and 5 pegs for hanging your clothes, hunting gear, and other items. If you want to get rid of clutter in the tent, you may want to get enough coat racks for every cot in the tent to have one.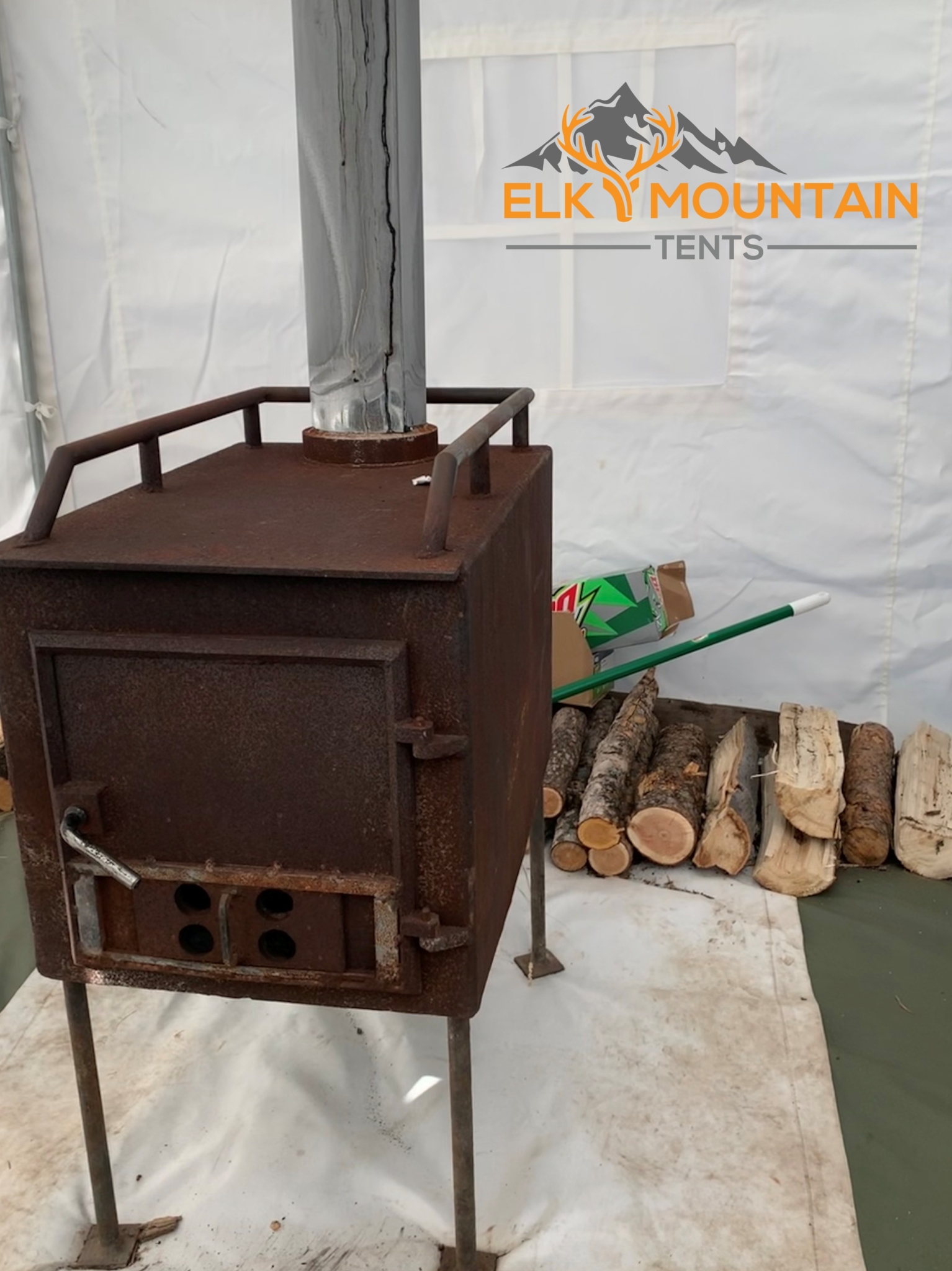 Bedrolls
If you want to do everything you can to keep warm during the winter, you may want to get a canvas bedroll that you and your sleeping bag can keep comfortable and snug inside of. Bedrolls are usually made from durable, treated canvas just like a tent. It is easy to get in and out of thanks to a zipper that goes all the way up both sides, and it is easy to transport thanks to nylon straps and buckles that keep it securely rolled up. The bedroll can be purchased for just $120 online, and if you are hunting or winter camping and want to stay as warm as you can, it is a must-have.
There is a lot you can do to help make your outdoor adventures as comfortable, relaxing, and enjoyable as possible. There are all kinds of great accessories and gear out there that are sure to enhance your experience, and these are just a few popular options. Get a canvas tent and even just a few of these accessories and you are ready to have an amazing outdoor adventure. Take a look for yourself and take into consideration all the things that will best fulfill your needs. Buy what you need, buy what you want, and on the way, you may just find plenty of other great accessories!