Finding the Best Tent for Hunting
Tents serve all kinds of purposes. They can be excellent for staying comfortable while camping in the great outdoors, they can be perfect for a multi-day backpacking adventure, and they can be a great source of shelter for while you are hunting. The kind of tent you purchase very much depends on what purpose you plan on using it for. (You aren't going to want to bring a backpacking tent with you on a group camping trip.) This article can be a helpful guide in knowing what to look for in buying a good tent for hunting.
Tents for Mobility
---
If you plan on moving from place to place during your hunting trip, you will likely want to buy something light and easy-to-carry. Many hunters go for a tent that is 4 lbs. or less. There is a lot of heavy stuff that you will probably want to take with you while on the hunt, so a lighter tent can help remove a lot of hassle that often comes from lugging things around. There are plenty of ultralight 1-2 person backpacking tents available that would be perfect for hunting.
Find a Tent With Good Weather Rating
---
Another thing you should consider when buying a hunting tent is its ability to help you stay warm. Hunting season happens to be in the fall months, so it will be a lot colder than when you go on a big group campout in the summer. Keep that in mind and look for a tent made of a material that is good at retaining heat. You should find a lightweight tent with thick enough fabric to keep you warm at night, especially during storms. Some of the best backpacking tents have two walls built-in, one of them a waterproof tarp and one of them a mesh layer to keep condensation from building up inside.
Great Tent Reviews
---
One great option is the Topnaca 2 backpacking tent. It is a lot more spacious than other similar tents, and it can easily fit two people inside as well as your hunting gear. It is made of poly-nylon material, and the groundsheet is built to be waterproof, a very good thing to have during hunting season. The ALPS Mountaineering Lynx is a great tent to bring with you if you are hunting alone. It is remarkably easy to set up and it offers great ventilation and a good amount of room to store your gear.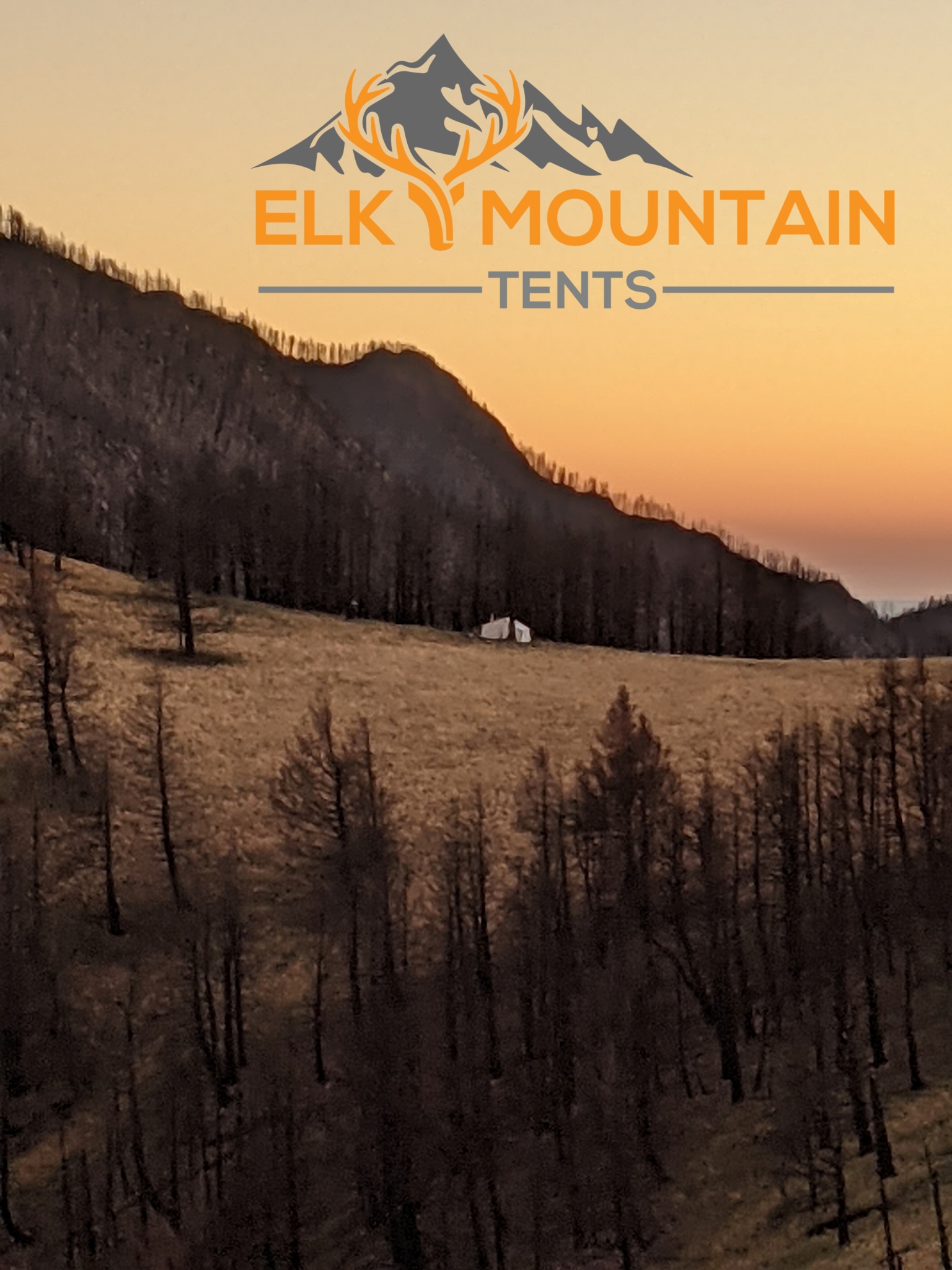 One more good tent is the Weanas Backpacking tent. It is versatile, very easy to set up, and very high quality for this type of tent. It has a comfortable design with two doors that can roll up and down for ventilation if needed. It can be used during any season of the year, which is what makes it so excellent for hunting. Many other high-quality tent brands have excellent options for backpacking tents, including Tarptent, Kuiu, and Hilleberg. To stay lightweight, many of these tents just have one pole, so it can take some used to trying to set them up, but once you get the hang of it, it should be relatively simple.
If you are going to be more stationary during your hunt, and you can keep your gear in one place, you might be better off having a midsized tent to keep your gear inside and have another person inside if necessary. Just like you would with a backpacking tent, try to find one with a two-wall construction to protect yourself and your gear from bad weather. This is also the most common type of tent, so you very well might already have a tent that meets these requirements. Make sure it is durable enough to use during fall weather though, as these tents vary drastically in price, and therefore, quality.
One good option for this kind of tent is the Slumberjack In-Season 2-person tent, which is great for getting in and out of easily, with three passageways. The tent is sturdy and durable enough to be considered a 4-season tent, so it can be a great one to bring with you no matter what the weather has in store. It also includes three vestibules, offering plenty of space to store all the things you will have with you while hunting. One of the most versatile mid-sized tents on the market is the URPRO Family Tent. It is great to take with you camping, hiking, picnicking, or of course, hunting. It can protect efficiently against the sun as well as water and can easily fit 1 to 3 people inside. The tent can be folded and unfolded with ease. Other things that make this tent great is the mesh screen that opens up at the top to make for excellent ventilation (as well as stargazing), a double door for easy entrance and exit, and convenient places to store your things.
One rather unique tent is the Tigris Black Orca Smokey HUT Ultralight hot tent. This thing was made for hunting. Not only is the tent lightweight, but it is highly waterproof and quite spacious, with enough to easily accommodate two people. It is very simple to set up because it doesn't have a bottom (Though you should be able to find a bottom that can attach separately). Air flows through the tent with relative ease, with a zippered door and 2 windows at the top. The best part is that it is barely over 2.5 lbs, making it easy to transport from place to place.
If you are anticipating really bad weather while you are out camping, you may want to invest in a tent that will offer maximum comfort. Your best bet in those circumstances would probably be a wall tent.
Amazing Wall Tents
---
Canvas is some of the best material you can get, and a great option for this comes from Elk Mountain Tents. Their canvas wall tents are built to withstand tough weather and are naturally waterproof, so you won't need to worry about using a rainfly. They also come with a stove jack included, which is truly the best thing you could ask for when trying to stay warm during tough weather. Unlike many other cotton canvas tents, Elk Mountain Tents uses a polyester canvas and therefore cannot rot. Polyester canvas is also lighter and more durable, with a much higher break and tear strength than cotton canvas and does not require rain or sun treatments. A long time ago breathability use to be a concern but modern technologies have made polyester canvas have excellent breathability as well.
Larger wall tents can often fit 6-10 people, so if you like the idea of taking a large group hunting, this could be the right way to go. Wall tents are also commonly used during elk hunting trips.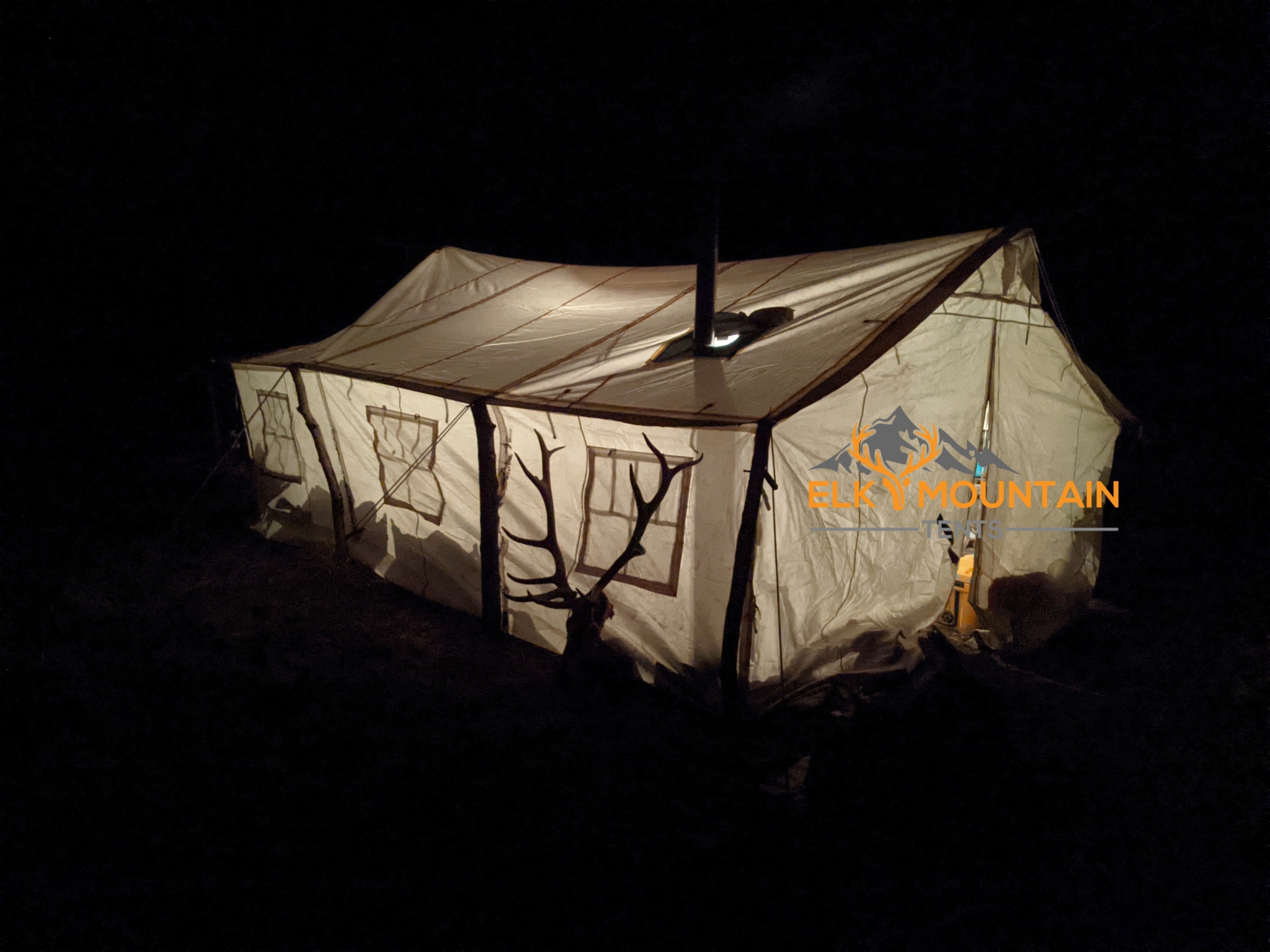 Truck Tents
---
A lot of people like to travel long distances on their hunting adventure, and to avoid setting up and taking down a tent repeatedly, they will get a truck tent. These can comfortably fit onto the bed of a pickup truck and can be a convenient and comfortable way to hunt on the road. One great example of a truck tent is the one made by Kodiak. Not only is this tent inexpensive at just $350, it includes 5 windows and can be adjusted to fit the bed of any full-size pickup truck.
Many other great tents might be ideal for your unique hunting situation. If winter is starting to kick in and there is a lot of snow, you might consider the Russian-Bear Winter Tent. It is different than many other tents in that it takes on an umbrella shape when it is pitched. The setup for the tent is quite simple, and it can be accomplished in just a few minutes. As the name suggests, it is built to withstand the cold and whatever else the winter might throw at you. The tent material is highly waterproof, and the windows and doors are reinforced with mesh to keep insects outside, making it a great tent to use during the hotter times of the year as well. It includes a stove that can be great for drying clothes, keeping you warm, or boiling water to make coffee or hot chocolate in the morning. If you invest in this tent, you will see why it is recommended by all kinds of hunters.
There are so many things one should consider when looking into buying a hunting tent. It is important to consider what kind of hunting you are going to be doing, what the weather is going to be like, and the location you are going to. There are hundreds of great options out there, hopefully, this list has given you an idea of where to start looking. Take a look at some of the most popular hunting tents on the market, and you are guaranteed to find one that will suit your needs. Good luck and have a good time hunting!
Sources:
https://www.americanhunter.org/articles/2018/6/23/how-to-choose-the-right-hunting-tent/