Preparing to Go Winter Camping
It is quite common for people to want to go camping during the summer, spring, or even fall months, but many people don't love the idea of winter camping. However, if you prepare properly and know what you are getting into, a winter campout can be an enjoyable and rewarding experience. There is a lot to take into consideration before heading out on your winter adventure. You should know how heavy the snowfall will be, you must make sure you have all the materials necessary to help you stay warm, and you need to have a tent that is durable and high enough quality to use during the colder months of the year.
The risk of it snowing on you will vary based on where you choose to go camping. If you are camping in a place that will likely receive heavy snowfall, be sure to look at the weather forecasts for the days you will be camping before heading out, so the snow doesn't take you by surprise. Depending on what kind of weather you expect, you may want to have a safe place to keep your gear dry and bring extra layers of coats and bedding to keep yourself warm if necessary.
Where to Go Winter Camping
---
First off, you need to figure out where you will set up camp. There is a lot to consider when choosing a camping spot during the winter, including protection against wind and how close a source of water is (trudging through the snow to get water can be a pain, so avoid having to do that if possible). If no water source is nearby, you may need to melt snow over a fire. It is best not to camp on or below a slope since snow might slide down onto you while you are trying to enjoy your campout. Make sure you don't set up under damaged trees that could fall. Though it isn't required, try to find a place that is exposed to sunrise to help you warm up more quickly in the morning and help you stay warmer throughout the day. Snow can make it very difficult to find your camping spot if you leave, especially during a snowstorm or in the dark, so try to point out some landmarks that will help you find your way back more easily.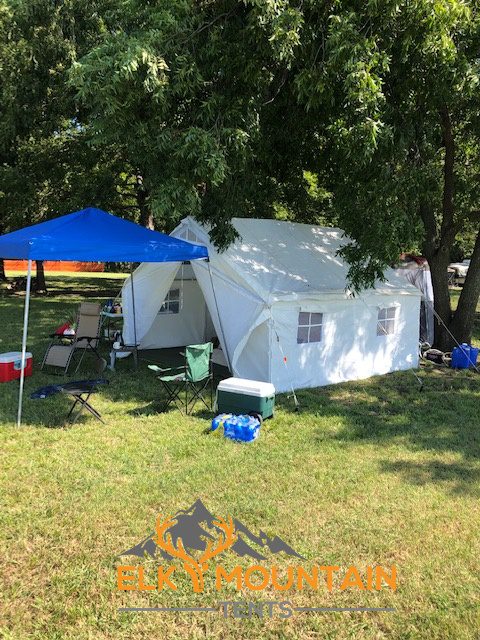 If you do have to set up camp on top of the snow, there are a few things you should do first. Pack down the snow with snowshoes or boots to keep it from being melted by your body and making sleep more uncomfortable. If it's windy, try to build a wall out of the snow if possible. You might also find it helpful to get snow stakes for your tent, as typical tent stakes will rarely be able to do the trick.
One neat advantage of snow camping is that you can form the snow into comfortable seating to use while eating your meals. You could dig out a bench and a table, and if you so desire, cover the table with a tarp.
Equipment for Winter Camping
---
There is a lot of gear that you won't need during warmer months of the year but are necessities when camping in the winter. You should have multiple layers of clothing, such as lighter jackets along with heavier coats, and thermal underwear under your clothing. Nothing can protect you from getting your clothes and socks wet like snow pants and snow boots. Make sure you have these things with you to keep your clothes dry as well as keep your legs and feet warm. You want to make sure you have enough to cover as much of your body as possible. Have plenty of hats (and/or earmuffs), scarves, and snow gloves. Goggles can be very helpful to help you see during potential snowstorms. Even more than in summer camping, in winter you will likely want to stay in a place where you can have a campfire. To take advantage of this, bring a pot with you to heat water to warm yourself up in the morning with coffee or hot chocolate, and bring cooking supplies to warm yourself up throughout the day with hot meals.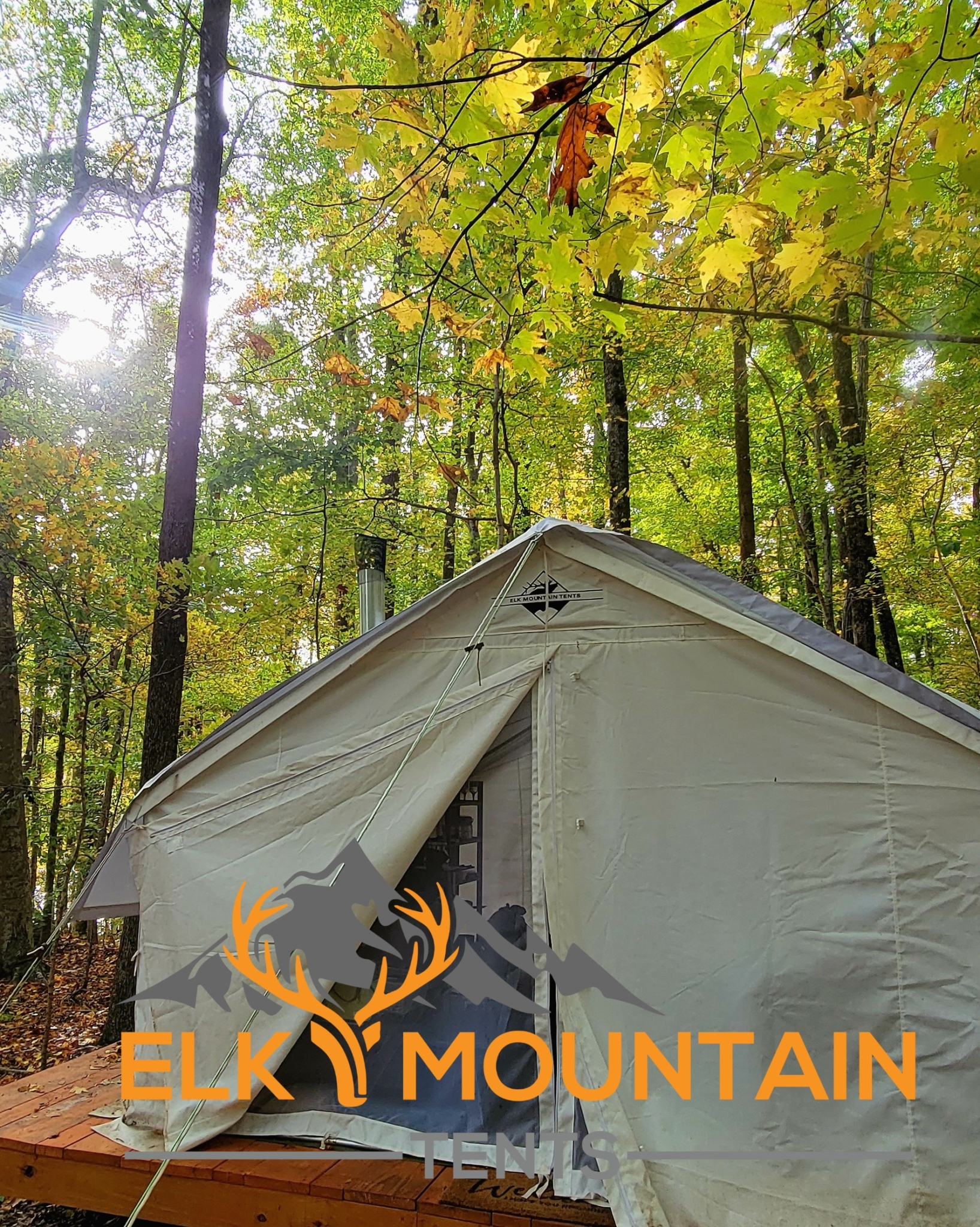 There are a lot of other things you will want to have with you to help you keep warm while you are sleeping, especially since it will be even colder during the night. Have a sleeping pad or cot to sleep on top of so that you aren't sleeping directly on the cold, hard ground. There are so many kinds of sleeping bags out there, so you should make sure the ones you have are made for winter weather. If they aren't, there are several things you can do. You can purchase new ones that will be sure to keep you cozier, or you can bring several layers of warm blankets (enough for everyone). You can also rely on your body heat by packing yourself in as tight as possible to your sleeping bag. Do this by packing your clothes and gear around you inside of your sleeping bag (as a bonus, this will keep your clothes and gear warm for you to use the next day). If you do end up wanting to purchase warmer sleeping bags, look for some that are rated at 0 degrees Fahrenheit (-18 degrees Celsius) or better, as they are built to handle the worst cold weather. A tent heater can also be a nice thing to have to help everyone feel comfortable if they need to get out of their sleeping bag for whatever reason.
There are plenty of things you can do to stay warm. Some tips include eating food since digestion helps your body generate heat. Putting waterproof layers between your sleeping pad and the ground can also be a helpful way to keep the cold ground from bothering you. You can also exercise before going to bed to help warm yourself up before hopping in your sleeping bag. Keep electronic devices like GPS and cell phones in your sleeping bag since the cold will cause their batteries to die faster. Lastly, change into clean clothes before getting into bed if possible, since oils, sweat, and dirt can keep your sleeping bag from insulating as well as it should.
In finding the right tent for winter camping, you will want to get one that is built to withstand varying weather and one that will be able to keep warm. If you aren't anticipating very rough weather, you should be safe bringing a 3-season tent, but if you feel that snowstorms or other difficult weather may come your way, you might want a 4-season tent.
There are a lot of great wall tents that make for the perfect place to stay while you are camping out during the winter. What makes these so popular during this time of year is that they can keep you warm, and they are roomy enough that you can stay inside during an extended period if it gets bad outside.
Canvas Wall Tents for Winter Camping
---
The best option when it comes to wall tents is Elk Mountain Tents. These canvas wall tents are built to last with the highest-quality canvas material possible. These tents are made from 100% polyester canvas which is excellent to use during the winter because of its durability – a break strength of 382 lbs. (fill direction) and 449 lbs. (warp direction) and a tear strength of 40 lbs. (fill) and 67 lbs. (warp) it is much stronger than traditional canvas. For how strong it is, the material is very lightweight, which is quite helpful if you must trudge through heavy snow to reach your campsite. The material is also made from waterproof fabric and has sealed seams to keep water from getting in, meaning you don't need a rainfly to protect from the snow outside. Lastly, you should note that the polyester canvas used by Elk Mountain Tents has the same breathability as cotton canvas.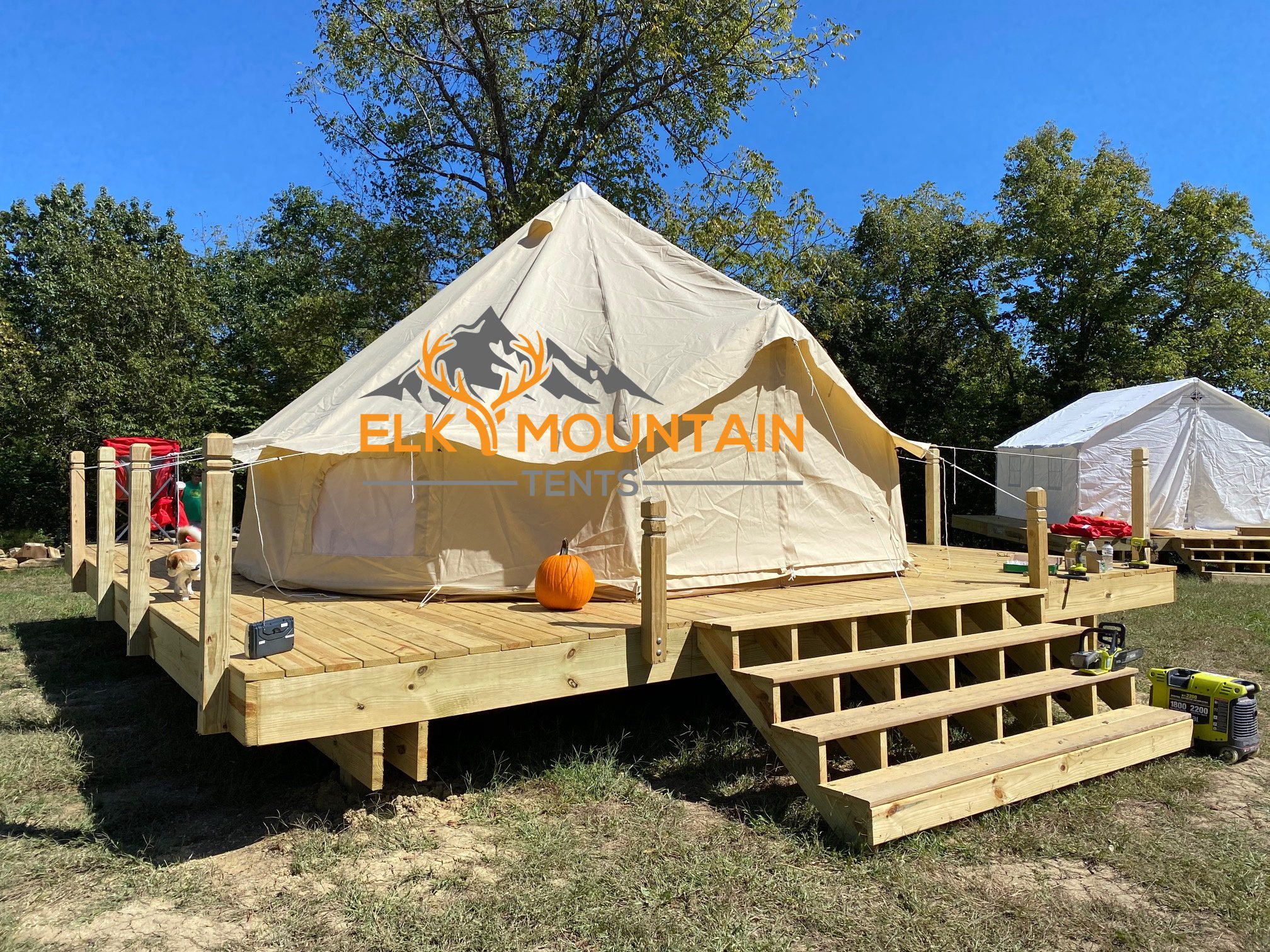 Many other things make wall tents ideal for winter camping. The design of wall tents capitalizes on space as much as possible, and therefore you will find plenty of room to store all the winter gear you bring with you as well as move around comfortably.
Perhaps the main reason wall tents can be such an attractive option during the winter months is that they can comfortably and conveniently keep a wood stove inside. A wood stove can greatly enhance the experience of going camping during this time of year, as you can keep the tent warm and cozy throughout the night, and in the cold morning, you can use it to heat water before you even step outside. Elk Mountain ships a wood stove with your tent at no additional cost. There is also a versatile stove jack included so that you can cut the hole to be 4, 5, or 6 inches, depending on the size of your stove's pipe.
These are just a few helpful tips to help you get more enjoyment out of winter camping. Take these ideas into consideration to make sure you are properly prepared to spend some nights out in the cold, and you are sure to have a good time.
Sources: