Great Tents with Stove Jacks
Elk Mountain Tents has a few great options, with both their canvas wall tent and Yukon bell tent having a stove jack. The stove jack on these is adjustable, including a 4, 5, and 6-inch circle, allowing you to cut it to whatever size the pipe on your stove happens to be. Elk Mountain's tents work excellently during any season of the year, but the accommodations for wood stoves make them especially fantastic during the colder season. On the Elk Mountain website, you will also find useful wood stove accessories, including a stove mat/tent shield, a 3 x 5 ft. fiberglass blanket that protects the walls and floors from heat. It also has convenient grommets in every corner to allow the mat to be hung. There is also a hot water tank available that can fit perfectly on the Alpine Heavy-duty Cylinder Stove (also available on the website). You can also purchase an additional stove jack with a gasket if you would like another one installed in your Elk Mountain Tent. In addition to the placement of a stove jack, both the Canvas wall tent and Yukon bell tent are made of a unique polyester canvas material that is very well-insulated, offering more ways to keep the tent warm during the winter. These tents won't have a problem with getting wet from rain or snow since the material is naturally waterproof (no rainfly required), it doesn't absorb water like cotton canvas, and it has sealed seams. The wall tent also has an extra 6 inches of material at the bottom, sealing the bottom of the tent with a sod cloth that keeps the inside of the tent dry. The canvas wall tents are available in 13 x 13, 13 x 16, and 13 x 20 sizes, starting at just $795, a truly unbeatable price for a tent of this quality. The Yukon bell tent is available in 10 ft. and 13 ft. diameter options, both of which offer plenty of room for a large group of people to sleep inside even with a wood stove taking up space, and can be purchased from the website starting at $649.
Awesome Tents with Stove Jacks for Sale
---
If you want a high-quality backpacking tent that is light enough to transport from place to place but also has a spot for a wood stove during colder nights, look no further than the OneTigris Smokey HUT hot tent. This 4-season tent only weighs 2.6 lbs., perfect for backpacking, and quite impressive considering it also contains a stove jack. It has a tipi design, using only one center pole and a few guy lines to stand the tent up. This allows one person to set up a tent with relative ease. The tent is quite safe to use during the winter, as the nylon fabric is coated with 20D silicone, the zippers are waterproof, and the seams are treated, keeping you dry during any rough weather.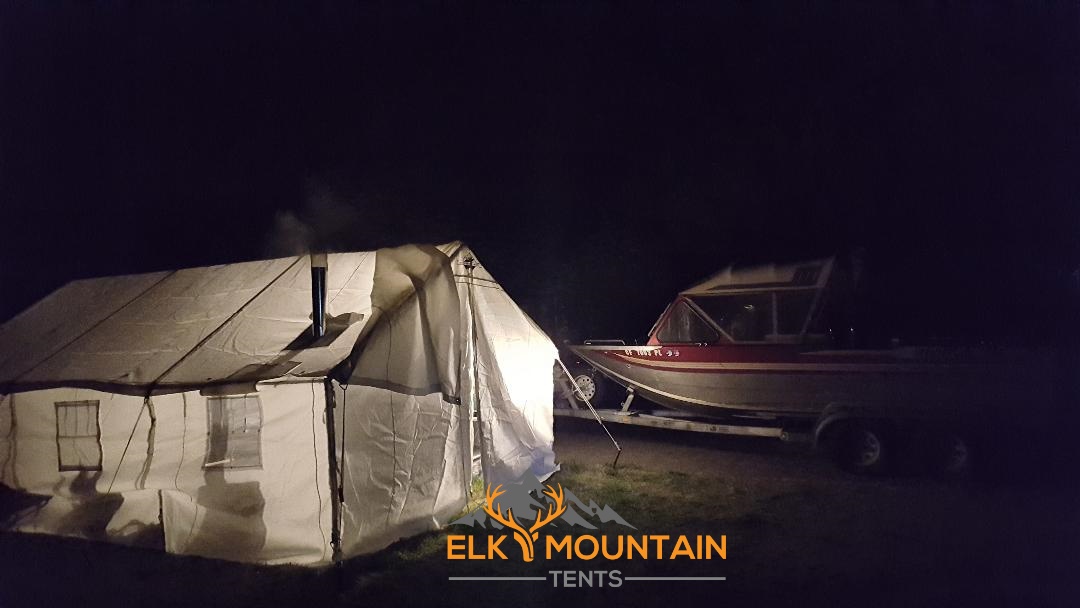 The full-coverage rainfly is what gives it the status of a 4-season tent though. You may not think of a wood stove as a commodity you would often have with you while backpacking, you might be surprised at the compact, lightweight wood stove options you can find that would work perfectly with this tent. The stove jack is 8.6 inches, large enough to accommodate most stoves. There is a flap included to cover up the stove jack when not in use, making the tent convenient to use for backpacking even during the summer. It is important to note that the tent doesn't include a floor, so you may want to bring a tarp or footprint along with you to protect the ground, especially during winter. The OneTigris Smokey HUT can be found online for around $150, a real bang for your buck among backpacking tents!
The Preself Tipi Tent with Stove Jack is a fantastic durable tent that can handle rough weather and keep warm and toasty inside with a wood stove. The tent can easily accommodate 3 people, but with a weight of just 3.4 lbs. it can also be a handy backpacking tent for one or two people to use with plenty of space for all the gear you'll be carrying. It can also pack down small enough to fit in a backpack, and the material is anti-tear, so it can handle rough hikes. Despite its weight, it is plenty strong enough to endure winter weather with 4 heavy-duty guy ropes and sturdy aluminum stakes. The stove jack is just the icing on the cake to make this tent perfect for cold weather camping. One of the best things about the stove jack is that it is adjustable, so you can change it to fit your wood stove without needing to worry about smoke leaking in. Though the opening isn't naturally fireproof but wrapping a silicone sheet should help avoid any risk of fire. It may not be able to protect against thunderstorms, but it is more than capable to keep you dry during a moderate rainfall.
The Russian-Bear Yurt Tent with Stove Pipe hole is built to keep you warm and toasty no matter what the weather looks like outside. In addition to a stove jack, this high-quality hot tent comes with an entire wood stove. The walls are made of heat-resistant ceramic glass, with protective shielding on the sides of the tent as well as the bottom, so there is no need to worry about it catching on fire. The fire can also be completely closed off, and the vent for the stove pipe has a fire-resistant covering providing extra security. The domed tent has a unique camouflage design which makes it look great whether there is a lot of snow outside or whether it is surrounded by nothing but trees. It is double-layered, offering increased insulation during winter, and the inner layer can be removed when you are camping in warmer weather. There are plenty of spots that provide excellent ventilation, and they can be covered up with a 5-layer storm flap when the weather starts getting rough. Without the stove inside, the tent can comfortably sleep 5 people, and with the stove, it can fit 2 or 3. The Russian-Bear Yurt Tent is certainly one of the best options out there if you are all about comfort, warmth, and durability. The fire-resistant fabric in the tent can withstand up to 1200 degrees, has a full coverage outer layer that protects against all kinds of weather, has heat-insulated flooring, and comes with a stainless-steel stove. The tent can be purchased online for about $2500.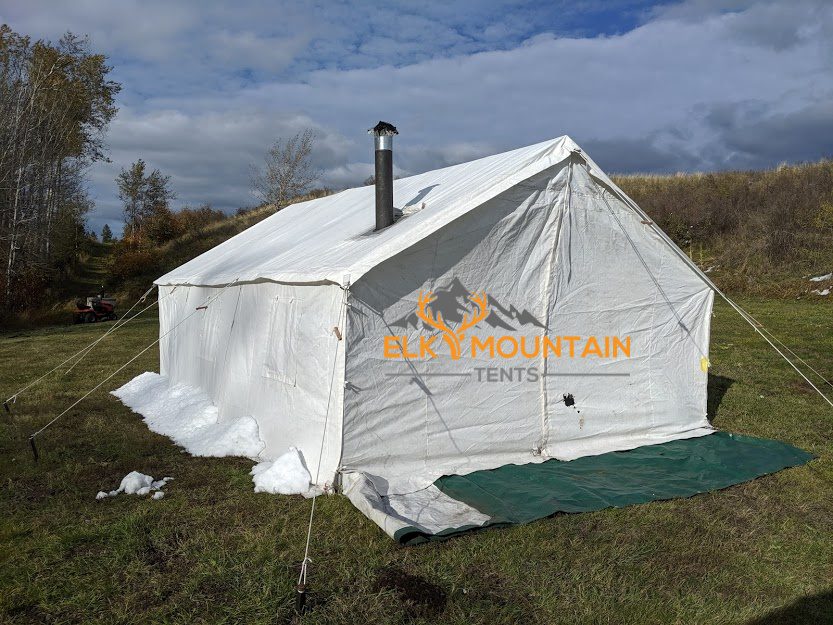 Some of the greatest tents with stove jacks included are bell tents. Another great bell tent option is the DANCHEL cotton canvas tent, which includes 2 stove jacks, one on the sidewall, and one on the top. It is built of high-quality cotton and it can endure the toughest of weather conditions. It has plenty of room inside for two wood stoves as well as several people to sleep inside comfortably. The tent is designed as a 4-season tent, being extremely resistant against wind, rain, and snow. There are several different sizes available to accommodate any size of group you plan on taking camping with you. Other things that help the tent keep resistant to weather include a bathtub floor, strong anti-leak zippers, and a rain cap on the pole of the front door. Screened windows and mesh panels make this tent a well-ventilated option during warmer times of the year as well.
There are so many excellent tents out there that feature stove jacks, and therefore are perfect for cold weather camping. Taking a wood stove with you on a winter camping trip adds so much comfort to what can otherwise be a pretty miserable time outdoors. Go winter camping the right way and find the best tent to fit your needs!
Sources:
https://thetenthub.com/camping-tents/tent-with-stove-jack/