Best Waterproof Tents
There are all kinds of high-quality tents on the market that serve various purposes. One of the biggest problems you can come across during a camping trip no matter the time of year is rain, especially in the mountains. Luckily, there are some excellent tents available made for that exact purpose. Waterproof material is something you should look into before buying a tent, particularly if you plan on camping a lot during times where it could rain. Take a look at the tents listed here for an idea of what you should purchase that will last a long time and keep you dry during rainy days.
Finding the right waterproof tent does require research, as many tents that claim to be waterproof on the label aren't quite as effective as others. Waterproof tents can either be single-walled and have a rainfly integrated into the material or be double-walled and have a removable rainfly. Rain flies are usually made out of polyester or nylon, which are not naturally waterproof, so they are typically treated with a polyurethane coating, often abbreviated as "PU" on the specs. To get a good idea of how well a tent or rainfly can withstand water, look at the Hydrostatic Head measurement, which is typically shown in mm. 1500 mm and above are considered waterproof. While 1500 mm can withstand light rain, you should look for material that is at least 2000-3000 mm to protect against heavier rainfall. The tent floor should also be in that range since it needs to withstand the humidity on the ground.
---
Tent Floor Material
There are a lot of things to take into consideration before deciding on a tent, one of which is the floor of the tent itself. To be truly waterproof, a tent floor should be tough and able to keep water from leaking inside. This is why most tent floors are made of polyester, nylon, PE, or PVC, which all usually have high mm ratings. The most effective tent floors for keeping out water have the sides turn up at the edges, offering reinforcement and keeping water from leaking in at the seams and from spilling over onto the floor from the ground. This is what is referred to as a bathtub floor.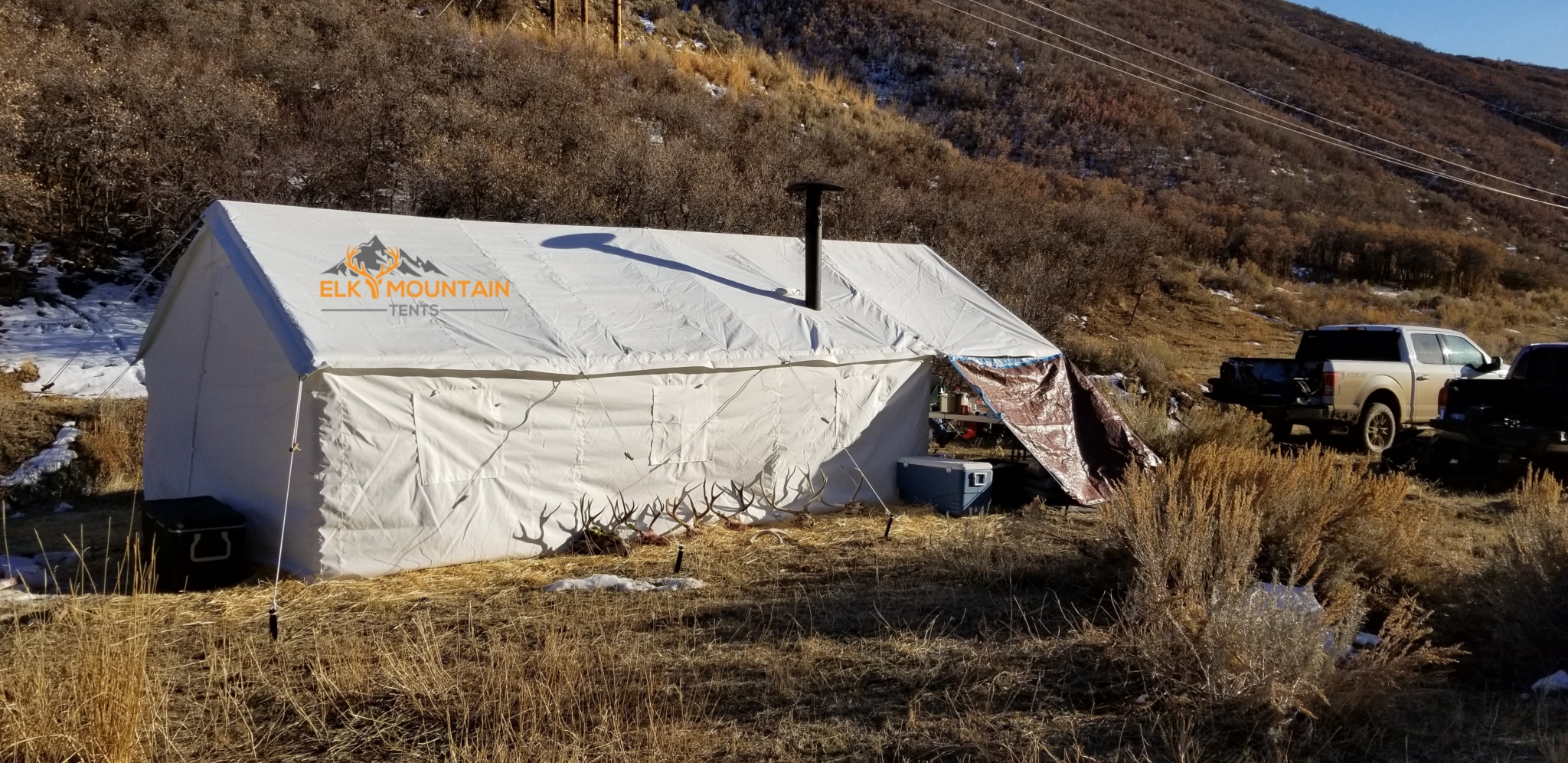 Another way to keep water from leaking in is to buy a tent with taped seams. This is ideal because seams are typically the weakest part of the tent and the main access point for water, especially when poles tear the seams. When producers reinforce the seams with tape, they are much less likely to tear. There are even some models of tents without seams, which can be another excellent option to consider when looking for ways to keep water out.
Similarly, zippers that aren't sealed properly can also be a weak point where water can leak inside. Ideally, you would want a tent with taped zippers, covered on the outside so that rain will just go right over them.
---
Single Wall vs Double Wall Tents
As mentioned before, there are single-walled and double-walled options for waterproof tents. They each have their advantages and disadvantages. Single-walled tents are much more convenient, as the whole thing can protect against water and you don't need to set up a rainfly. These tents are also much less breathable, however. Double-walled tents do require additional setup for the rainfly, they are also more versatile. The inner layer is much more breathable, ideal for the times when it isn't raining, and the outer layer is more protective. You can safely open the inner layer windows and doors while being protected by the rainfly.
Another thing that can be useful when trying to keep out water is a footprint, which is a piece of fabric kept under the tent. This is excellent for keeping water on the ground from finding its way in, which is something to consider when camping somewhere with a lot of humidity.
---
Elk Mountain Canvas Wall Tents
One great tent option when looking for something waterproof is a canvas tent from Elk Mountain Tents. These are some of the best quality wall tents on the market, and they are built to be durable and resistant to water. The seams and corners in these tents are reinforced, keeping the material from tearing and letting water in. The roof also creates and eves by extending beyond the walls, allowing water to run off the roof onto the ground rather than down the walls of the tent, keeping water further away from you.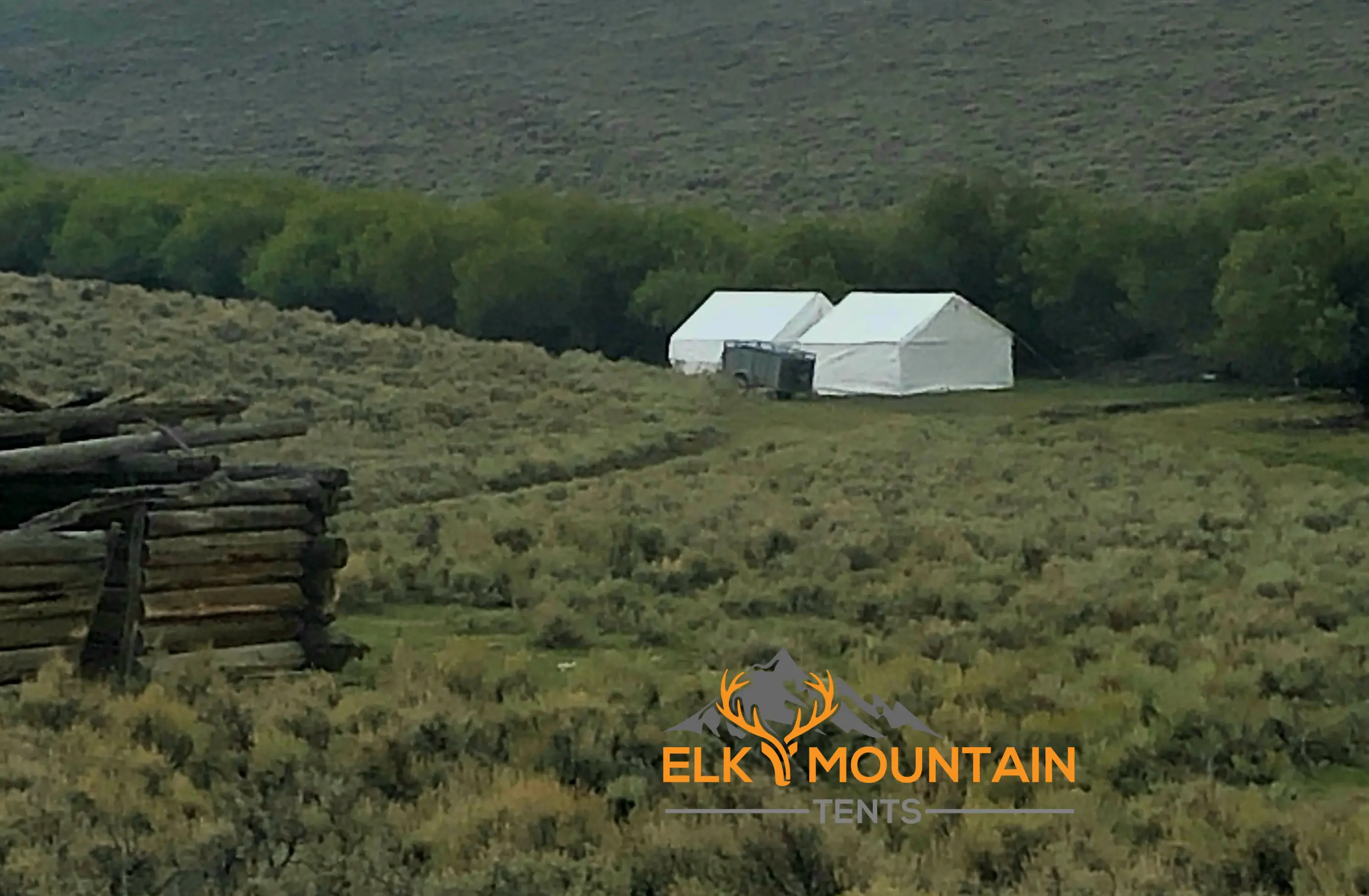 The canvas material the tent is made out of is 100% polyester, allowing it to be waterproof. As a result, unlike most cotton canvas tents, it does not require a rainfly, it doesn't absorb water, it has sealed seams, and the unique fabric is a lot stronger and less likely to tear than most canvas tent material, so you won't have to worry about water finding its way inside through a tear. There is also an extra 6 inches of material on the bottom, forming a sod cloth. This keeps the bottom of the tent sealed, reducing the chance of water getting in at the bottom. The windows of the tent close with Velcro, offering plenty of protection from rainfall. These tents can fit between 6 and 10 people, depending on the size you get, so Elk Mountain Tents should be taken into consideration if you are looking for a good water-resistant tent for your whole group to stay inside of.
Another great group tent option to look at when trying to find something waterproof is the Coleman Cabin Tent, which can fit 10 people (and 4 queen-size air mattresses) inside. It allows for plenty of privacy as well, with room dividers inside. The tent poles have a telescopic design, making setup and takedown very easy for a tent of its size. The fabric is thick and built to withstand anything that nature might throw at you, using a fabric found in other Coleman tents called Polyguard. The seams of the tent are very well-protected, keeping any leaks from getting in, and the rainfly is vented, allowing for a breathable yet protective experience. The tent also does everything it can to keep the floor dry, allowing for a more comfortable sleep experience. It does this with a bathtub floor and welded corners. The Coleman Cabin has many other advantages to it, including darkroom technology, keeping the tent shaded and cool during the day, a free-standing design, and a hinged door.
A great tent for a smaller group is the Wnnideo Instant Family Pop-Up Tent, which can fit 4 adults or 6 children inside comfortably. This is a great tent if you are looking for something quick and convenient. It opens up and closes down easily, folding like an umbrella, and it can be set up in less than a minute (and can be taken down just as quick). The inner layer, made of polyester material, is strong and protective, yet breathable. The outer layer has a polyurethane coating, making it remarkably protective against water for how easy it is to set up. There is also a cap that can clip onto the top, adding additional protection against the elements. The strong poles are meant to withstand the heavy winds that often accompany rainfall. With mesh windows, this tent is one of the more well-ventilated options when it comes to waterproof tents.
The Night Cat Camping Tent is a great 3-4 person option to consider. While it would be a little uncomfortable for 4 adults, one could easily fit two adults and two children inside of this tent. The rainfly provides full coverage of the tent while staying just off the ground, allowing air to still get inside. The fly is also very versatile, as it can be used as a separate pavilion area to picnic in during the nice weather. The poles are already inside the tent, so all you need to do is fix it in place. Because of this, it only takes a minute or two to set up. The standout of this tent is the rainfly, which provides more than enough protection from the weather.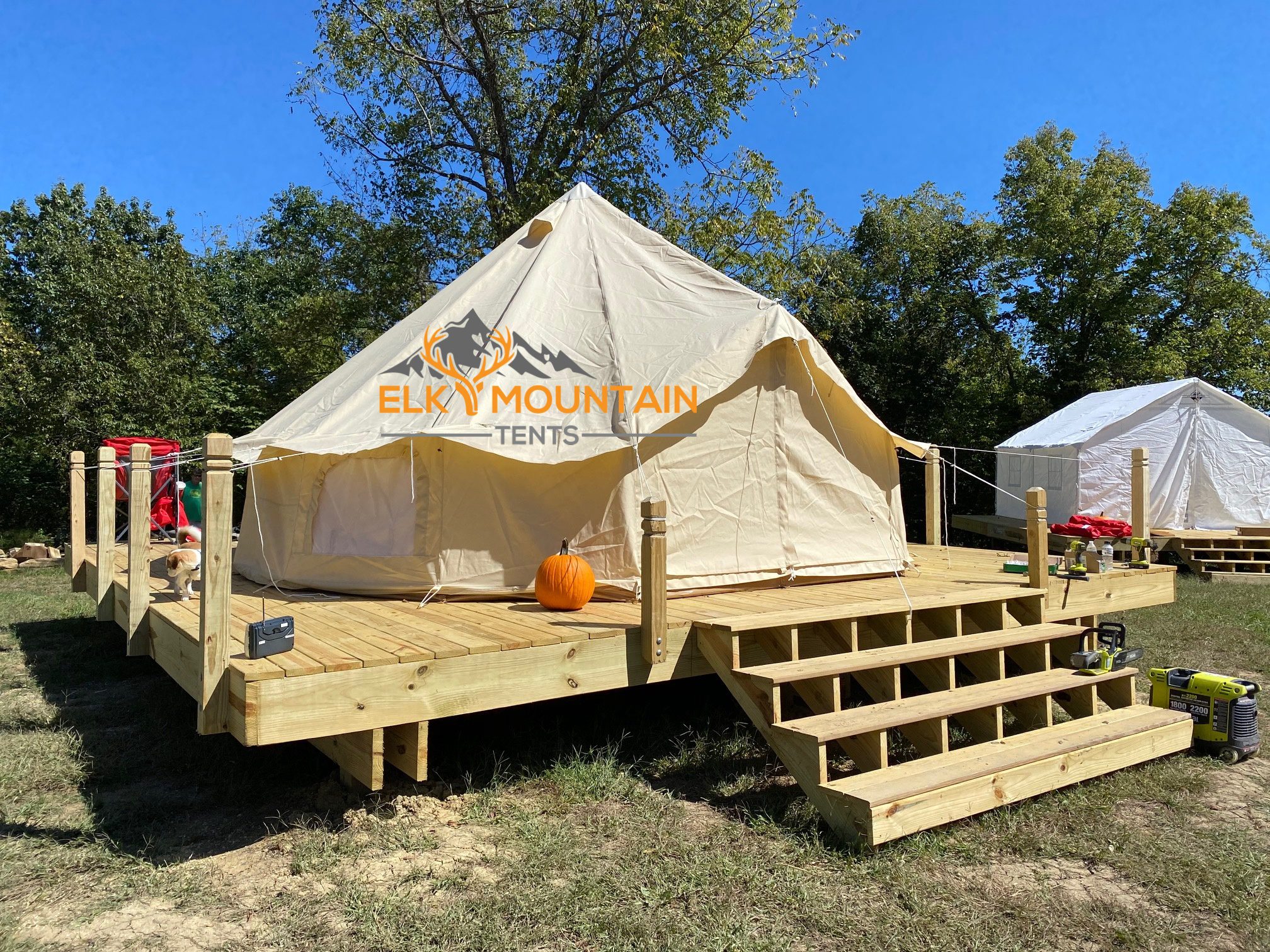 If you are looking for a great tent to take on a backpacking trip, look into the Hyke & Bike Yosemite Ultralight tent. It has enough room inside to fit two adults and is only 5.5 lbs., ideal for anyone going for a hiking trip. It has a bathtub floor and taped seams, so you won't have to worry at all about water coming in through the bottom, and the rainfly is very protective, heavily coated with polyurethane. All of these aspects together make the tent a safe place to be even during heavy storms. There are mesh walls that provide excellent ventilation when the weather is nice as well.
These are just a few of the many amazing options to consider when looking for a waterproof tent. Decide for yourself what will work best for you. Get a tent that you know you will be comfortable using no matter what nature throws at you, offering the best possible camping experience.
Sources: