Best Easy Assemble Tents
Camping can be a fun and exciting activity at any time of year, but it does have its drawbacks. One of the major cons to any camping trip is fumbling with poles trying to set up and take down the tent. This can take a lot of time away from your outdoor adventure and can be a bit of a fun-killer. Luckily, with new tent innovations happening all the time, there are now plenty of fantastic options that are designed to be set up in just a few minutes or less, without any hassle. Take a look here at some of the best easy-to-assemble tents on the market.
If you are just looking for a small tent that 1-2 people can enjoy, the Quechua 2-Person Waterproof Pop-Up Tent is a durable option worth checking out. One person can set it up with ease in just a few seconds, a great quality for anybody who wants to spend as much time enjoying the great outdoors as possible. Even better, it can be taken down just as quickly thanks to its easy-folding system. In addition to being able to set itself up instantly, the tent can also stand on its own without a need for guy lines or stakes. It is very lightweight and easy to transport from place to place, but it still holds up excellently against the elements, so you shouldn't need to worry about unexpected weather. In addition to standing strong against heavy winds, the tent has a waterproof rating of 2000mm, so you will be able to sleep well knowing you will stay dry. The breathable fabric and mesh panel provide ample ventilation, prevent condensation issues, and keep the temperature cool. 2 people can fit inside comfortably with all their gear, and they can get in and out of the tent easily thanks to the wide door.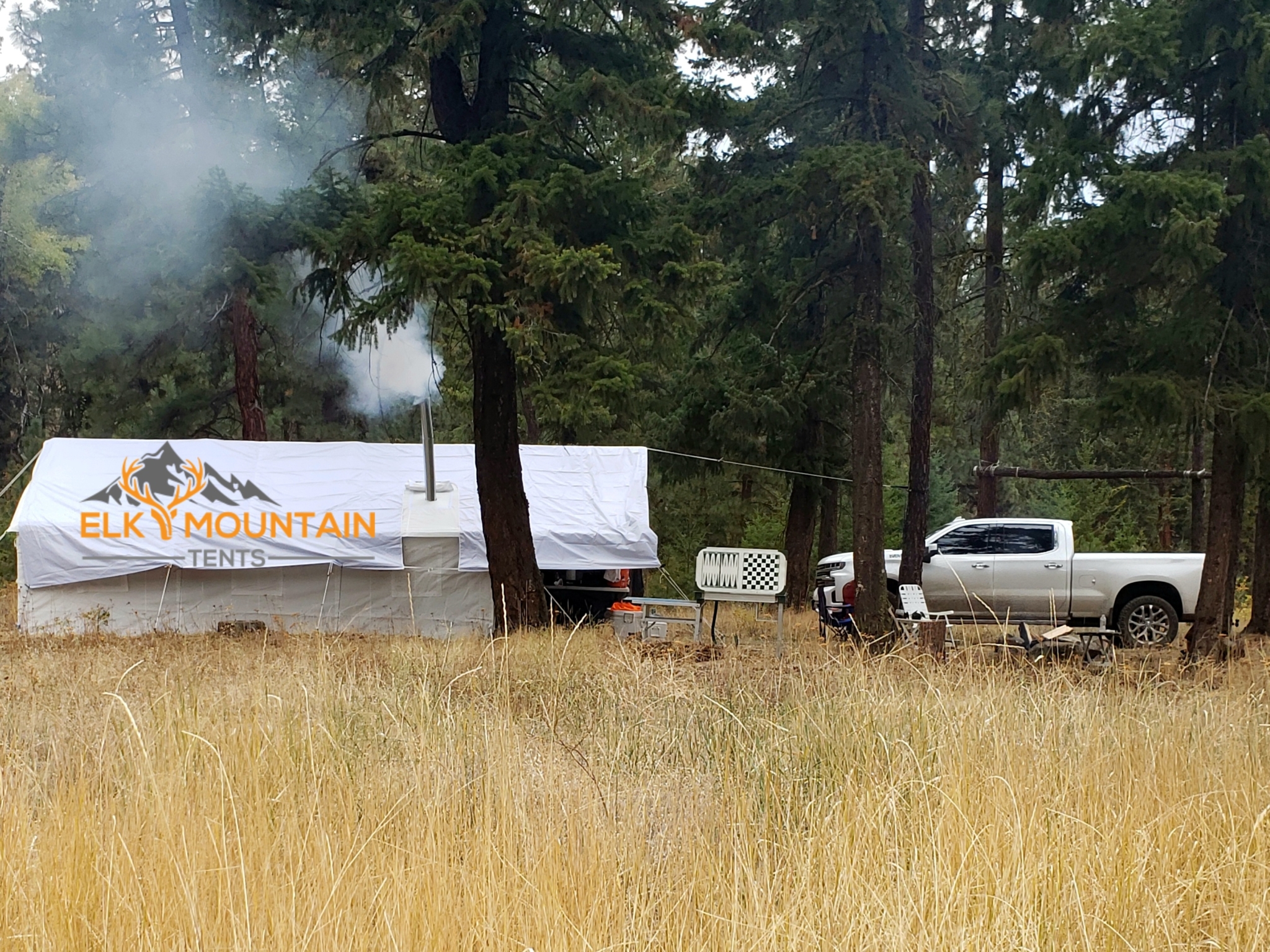 As its name implies, the Hewolf Instant Pop-Up Tent can be set up in a matter of seconds. After laying the tent down on the ground, all you need to do is lift the top and click the built-in poles into place, which are conveniently marked in yellow wherever you need to press. Another great aspect of this tent is its durability in rough weather, thanks to its tent material with a waterproof rating of PU2000, so you shouldn't have to worry about wind and rain. Additionally, the tent's 6-angle structure helps it keep stable when the heavy winds come in. It also performs well during the hot summer months, with a strong resistance to ultraviolet rays. There are two large doors in the tent to provide ample ventilation as well. As a bonus, extra poles are included to allow you to create an awning out of the door cover. The tent can comfortably fit 2-3 people inside, and it can be purchased online for less than $100.
The Toogh 2-3 Person Instant Pop-Up Tent is another excellent small easy-setup option to consider. This tent is designed in such a way that even a novice camper can pitch it with ease in just a few minutes. The silicone-coated 210D Oxford fabric in the tent itself and 210T material in the floor with 5000 mm waterproofing are extremely high-quality and should hold up to most of the rough weather and rain that you might come across during your trip. It is also quite well-ventilated thanks to the net system built into the roof. The tent's design includes a large built-in doorway, storage pockets built into the walls on the inside, and a place where a camping lantern can conveniently hang. The carry bag that comes with the tent makes for convenient transportation as well as storage. This tent and all the great things included with it are available online for just $100!
A great option for a smaller group is the ZUMIT Instant Pop-Up Tent, which can fit 3-4 people inside. The Pop-Up design of the tent allows you to just throw it in the air and watch it unfold itself in just a few seconds, with no need for poles. In addition to having such an easy setup, the ZUMIT has plenty of other advantages as well. The anti-tear polyester combined with the PU coating makes this a durable option in any weather. It is quite breathable and well-ventilated, making it a comfortable option when it gets really hot outside as well. This is thanks to the breathable material as well as mesh windows and 2 large doors. Another great feature of the tent is the poles included that allows you to turn the door covers into awnings.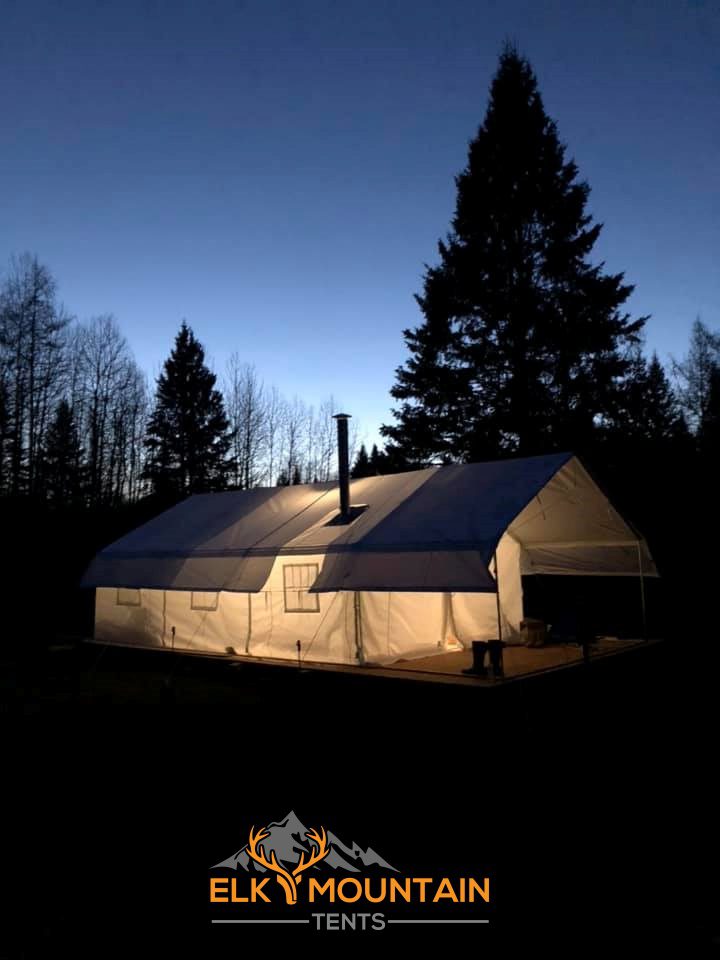 Another fantastic 4-person instant tent is the Coleman 4-Person Pop-Up Tent. The poles are already assembled inside the tent, allowing it to pop up in just 10 seconds. The structure and material of the tent hold up quite well during most weather conditions that you will experience. The rainfly can be adjusted to give you the best protection in any situation or allow more ventilation if needed. Reinforced seams at the bottom of the tent prevent any water from leaking in through the floor as well. The frame of the tent itself is strong against wind, so you can count on the tent holding up against unexpected heavy winds. There are dividers inside the tent as well, splitting it into 3 rooms if you would like some privacy from the group you are camping with. There are 2 storage pockets inside to help you keep clutter off the floor. Taking the tent down is just as easy as setting it up, as it can quickly and conveniently fold down flat. This also allows you to store it easily! This tent is a fantastic option for anyone on a budget as well, as you can purchase it online for around $100.
You might be happy to hear that easy-assemble tents aren't limited to small tents, as there are tents like the Alpha Camp Instant Cabin Tent, which takes only a minute to set up and can fit 6-8 people inside! There is plenty of vertical space in the tent, thanks to its ceiling height of 6 ft. 4 inches. The material is durable and high-quality enough to hold up against rainy weather, and the reinforced floors keep any water from leaking in at the bottom. The tent has a sizable D-shaped door as well as 5 mesh windows that are great for keeping insects out while offering plenty of fantastic air circulation. With a larger group, there tends to be more gear that needs to be stored inside the tent, so luckily there are gear pockets inside to help keep clutter off the floor. There is also a built-in electrical port that can be covered when not being used. The tent is easy to transport thanks to the included carry bag. You can find this model online for around $150.
Another excellent 6-person option is the Coleman Cabin Tent with Instant Setup. This sturdy option can be set up by just one person in under 2 minutes, giving you plenty of extra time to spend enjoying nature and relaxing. It has a center height of 6 ft., so most people will be able to stand up comfortably. What makes this tent stand out among other instant tents is a durable material, which is a strong, weatherproof Polyguard fabric. Coleman's WeatherTec system with taped seams and sealed floors as well as a built-in rainfly combine to make this tent one of the best you can find for holding back bad weather. The tent has great airflow thanks to the vented rainfly, mesh-paneled windows, and double doors. One of the best features of this model is that it uses darkroom technology that can block out sunlight. This is great for anyone who wants to sleep in for a while, and it can also help the tent stay cool inside. It is available online for around $150.
If you want to go camping with an even larger group, you might want to consider the CORE 9-Person Instant Cabin, which can be set up in under 1 minute! There is plenty of space inside, with a center height of 6 ft. 6 in. and spacious enough for a large group to sleep inside with plenty of room left over for gear storage. The divider included inside the tent can split it into two bedrooms or one bedroom and a gear storage area. The tent holds up quite well against tough weather thanks to H20 block technology included in the tent material. This will make sure that even heavy rain won't leak inside. It is extremely well-ventilated, with mesh screens covering the large windows and doors and a ground vent that can be adjusted to change the temperature inside and adjust how much air gets in. This also helps prevent condensation from building up inside. There are plenty of gear pockets inside the tent as well that offers extra room for storage, keeping you from having a cluttered floor. One more nice touch is the port built-in to the tent that allows you to feed an electrical cord inside. You can buy this excellent option online for just $270.
These are just a few of the best easy-assemble tents on the market! Don't worry about the hassle of pitching tents anymore, get one of these instant options, and have a relaxing outdoor adventure!
Sources:
https://dopeoutdoors.com/camping-hiking/easiest-tent-to-set-up-by-yourself/