Keeping Your Tent Warm While Camping
Camping can be a lot of fun as long as you prepare correctly. A huge part of proper preparation is bringing the right stuff to help you stay warm. No matter what time of year you go camping, you are sure to experience some chilly weather. During the summer you need to have things to keep you warm during the night, and a winter campout will be miserable if you are not properly prepared. It is always important to bring the right equipment to keep you warm both inside and outside of your tent.
Wood Stove for Tents
---
One of the best things you can get to help your tent keep warm and cozy if your tent is capable of having one is a wood stove. Canvas wall tents are some of the best tents you can get to accommodate a wood stove, and Elk Mountain Tents has one of the best options for these on the market. In addition to being high-quality yet inexpensive, Elk Mountain's canvas wall tent comes with an excellent wood stove at no additional cost. The stove that it comes with is the Alpine Heavy-Duty Cylinder Stove, which is designed for easy transport, as the legs can easily fit inside, removing the hassle of fumbling around with all the stove's parts. The heat can be controlled with the included door damper as well as a spacious cooktop. It is also designed to fit most water heaters, which is a must-have during winter camping or hunting adventures. It is made of strong steel and includes adjustable legs (ideal when camping on uneven ground) and a wide shelf that doubles as a drying rack. From Elk Mountain's website, you can also purchase a stove mat and hot water tank that perfectly fit the Alpine Cylinder Stove. You will find that there are plenty of other great wood stoves available once you get searching, including heavier duty ones that are made to last a lifetime, lighter ones for more convenience during your trip, or even ones that will make cooking a breeze.
One excellent lightweight option when it comes to wood stoves is The Winnerwell Woodlander Medium Tent Stove. This stove is made of stainless steel, designed to be packed up and transported easily, and is remarkably compact, really capitalizing on functionality just as well as performance. The chimney pipes detach, the legs fold up, and the racks make a convenient handle to move the stove from place to place. This option can be purchased for around $350.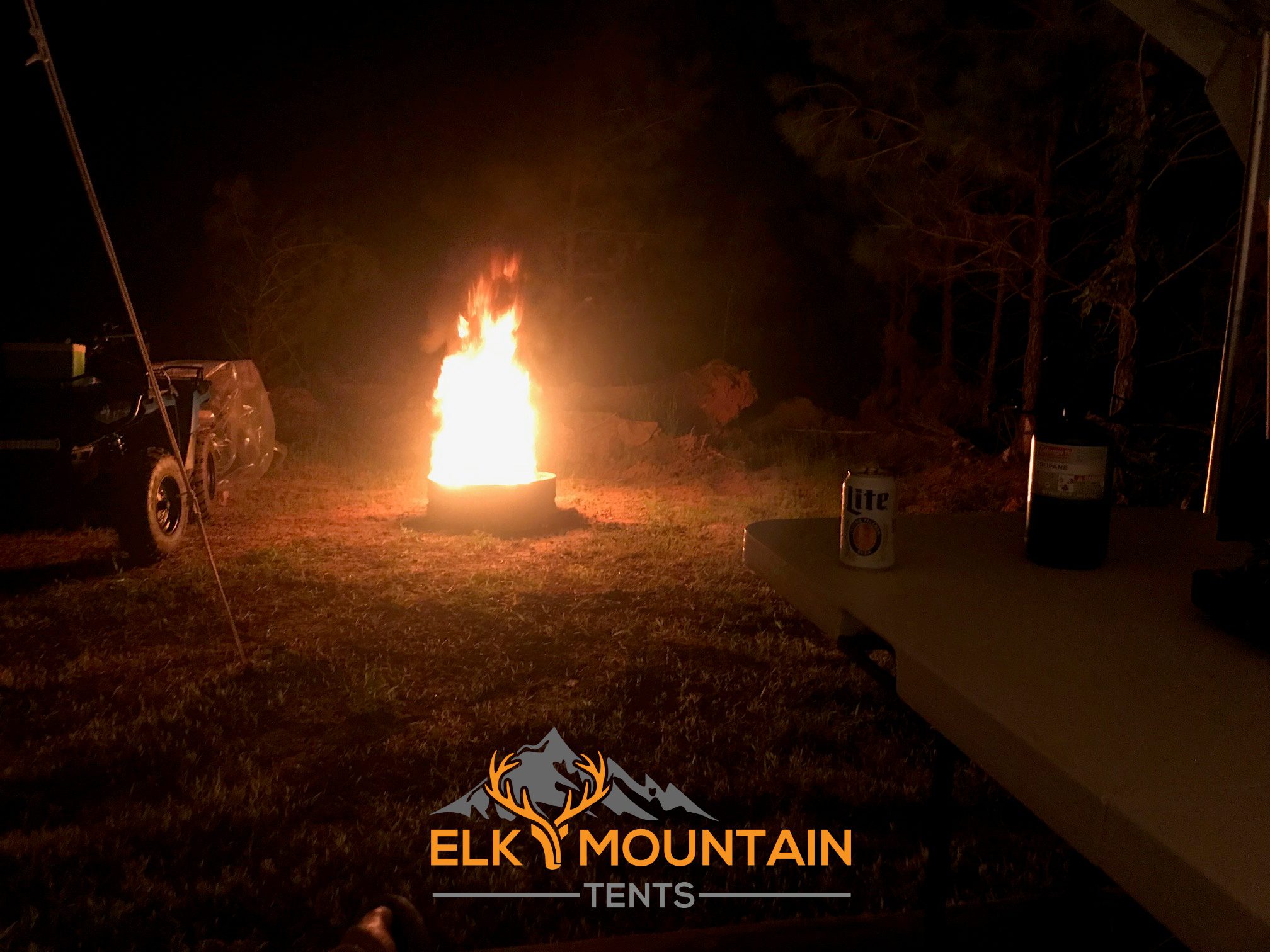 A rather unique option when it comes to wood stoves is the Bruntmor Camping Rocket Stove. This stove is the option to go with if you want to keep yourself warm with a lot of hot foods. Bruntmor is known for their kitchen and cooking supplies, so they knew what they were doing when they designed this thing. It is very strong and can easily handle the toughest of camping conditions, and it feeds itself, so you only have to put firewood in every once in a while. The surface is made to be large for cooking, so large pots and pans can fit on top of it. This stove is a popular option for fishers and hunters. The best part is that it costs less than $100.
Propane Heaters for Tents
---
However, some tents cannot accommodate a wood stove, which may tempt you to turn your back on winter camping. There is an excellent alternative though. If your tent wouldn't fit a wood stove inside or if you just don't want to deal with the hassle, you can always get a propane gas heater to keep the inside of the tent toasty. The reason propane heaters are typically better than other heaters is that they pack enough heat to keep several people comfortable while running on cheap fuel. There are things you should consider before purchasing a heater, however, particularly regarding BTUs. A good rule of thumb is to buy a heater with at least 3,000 BTUs to keep you sufficiently warm. You also need to make sure you bring enough propane to last you during your trip. A 1 lb. cylinder should last you about 6 hours, so if you are camping for several days, make sure you bring a large tank with you.
One great option that you can purchase from Elk Mountain's website is the Mr. Heater 20,000 BTU model. All you need to do is set the temperature and let the propane do its work, quickly heating your tent with a blower that quietly circulates hot air. You can sleep well without worrying about the heater, as it will turn off automatically if oxygen levels get too low. Like with the wood stove, there are other great options for heaters, whether they be small, easily transportable ones to just keep you from freezing or large ones that are certain to make any sized tent a haven from the cold and windy outdoors.
The best-selling portable heater on the market also comes from Mr. Heater, the MH9BX Buddy, which has a BTU of 4,000-9,000. Like other heaters from this company, it has safety features like an automatic shutoff. It only has two temperature settings, but it is much less expensive than other heaters and it is very easy to transport. You can either connect a 1 lb. propane cylinder or attach a hose to a 20 lb. cylinder. Because of its compact size, this is the best heater to get for small or midsized tents. It can be purchased online for right around $80.
Texsport's Portable Outdoor Propane Heater is another great option to look into. This is a very cheap option, available for just $35. It is also one of the most easily transportable propane heaters on the market. It has an output of 2890 BTU. Like Mr. Heater, this option has an automatic shut off feature. It can use 14.1 oz or 16.4 oz disposable cans of propane. This heater is recommended to be used outside rather than inside a tent, but it can be a fast way to warm you up first thing in the morning or before you hop in your sleeping bag.
One of the safest options when it comes to tent camping heaters is the Zodi Outback Gear X-40, which has a very unique design compared to other heaters. It is essentially a heating block with two metal pipes coming out of it. One of these pipes is a fan meant to be fed into the tent and provide ample heat, and the other is meant to emit propane combustion safely outside. It is also quite heavy-duty, with its BTU level reaching 40,000. Because it safely releases CO2 outside, there is no need to worry about fumes, and the heater won't have to turn itself off during the night, keeping you warm and safe throughout the night. It relies on a 5 lb. propane tank, which should last about 8 hours. While the price tag is a bit higher than most at $600, it is well worth it if you go camping in the cold often and you are trying to keep yourself (and those with you) extremely warm and comfortable.
Electric Heaters for Tents
---
Another option for a source of heat is an electric heater, but this should only be considered if you frequent camping locations that have access to electricity.
There are plenty of other simple tips to keep in mind when trying to keep yourself and your tent warm. These include stuffing your sleeping bag with the clothes you will wear the next day, which will help them to be warm enough to slip into in the morning. It will also help your body to stay warmer inside of your sleeping bag. To keep electronics warm (and thus keep the batteries from dying quickly), keep those close to your body as well. Make sure you bring all the things you will need to have with you to stay comfortable during the night, including plenty of blankets (you can never have too many) as well as light jackets as well as heavier coats, allowing you to slowly take off layers as it starts to warm up. Thermal underwear can be especially handy to have with you during the winter and don't be afraid to pack plenty of extra socks. Being forced to wear wet socks can dampen the mood on a fun camping trip.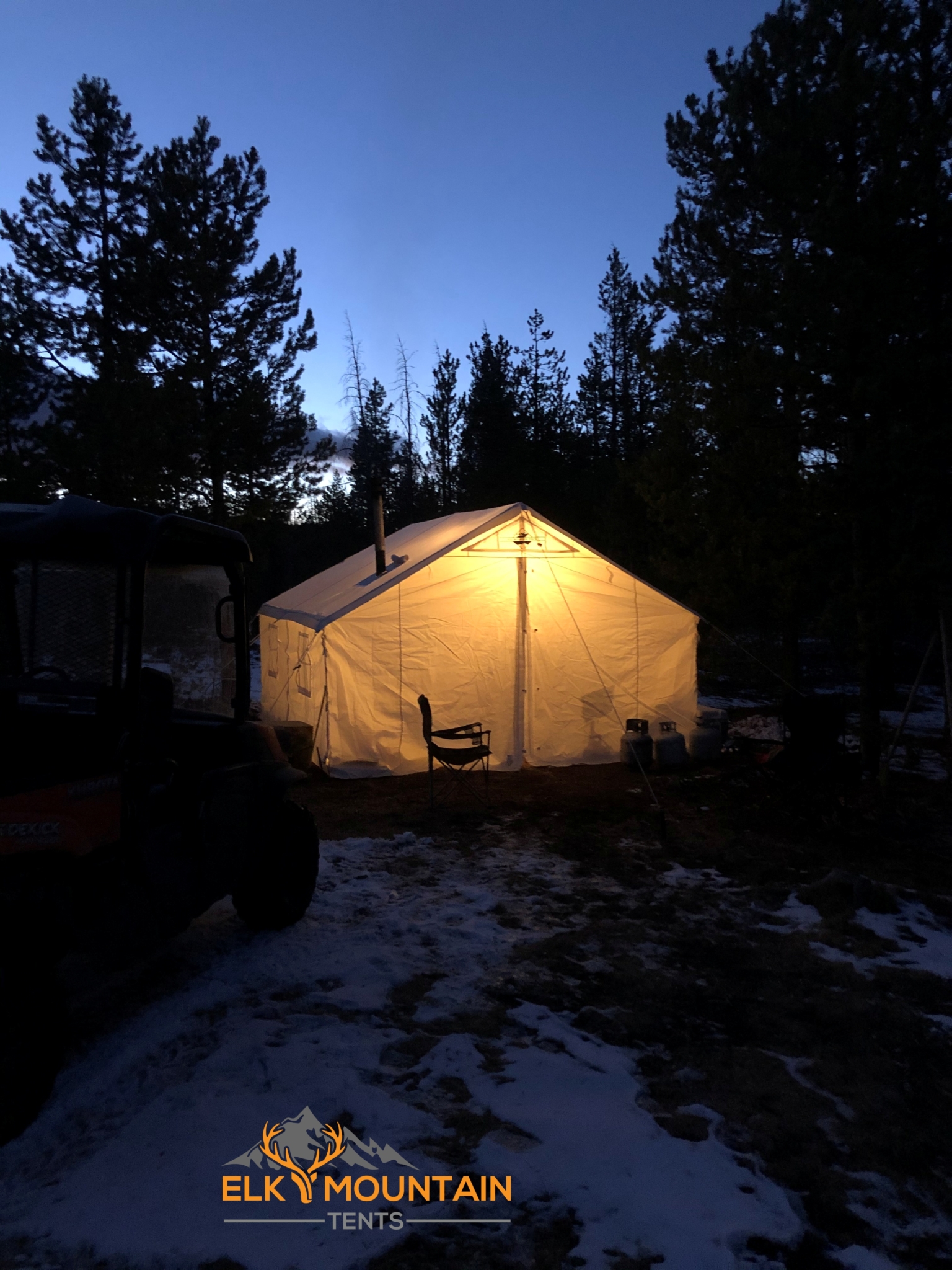 There is a lot to take into consideration when looking for ways to keep you, your group, and your tent warm while you are on a camping trip. Some of these things are quite simple and don't cost anything extra, and they should be the first techniques you plan on using. Others, such as having a wood stove or a propane heater, can be a bit pricy but can also be worth it if you plan on camping or hunting much during the colder seasons of the year. Figure out what will help you have the best time in the great outdoors and go for it!
Sources: