What Tent and Accessories Should I Buy?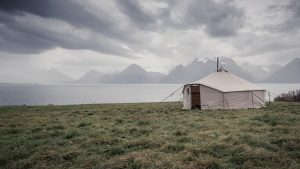 Choosing what kind of tent you want to get to have the best outdoor experience can be a really tough decision, especially since a lot of really great tents are quite expensive. Luckily, the mission of Elk Mountain Tents is to help you to get the best bang for your buck. Elk Mountain has high-quality, strong, durable, reasonably priced wall tents that are sure to last you a long time. It may seem like quite an investment at first, but if you love spending time outdoors, you will be glad that you bought one of these.
There are plenty of advantages to having a wall tent instead of a dome tent, since they have much more room, allowing you to stand up straight in your tent and even cook inside if you have the right materials!
If you are looking for a wall tent, you'll likely find that the ones that you can get at Elk Mountain are much less expensive than many other tents of similar style (they can easily run from $300-$700 cheaper than the leading competitors!). That's because Elk Mountain cuts out the middle man and sells the tents that they make to you directly rather than through a retailer!
The tents at Elk Mountain have all kinds of great advantages (in addition to being so inexpensive)! For starters, they explusively use polyester in their tents. This means that your tent has a greater break and tear strength, a slightly lighter weight, and you won't have to worry about expensive rain, sun, or mold treatments. Polyester canvas now even has the same breathability as cotton canvas.
Each canvas tent has tall 5 ft. sidewalls, is waterproof (no rain fly necessary), and has a sturdy wire system supporting it as well as two doors that easily zip open and closed, A covered fiberglass stove pipe jack, and reinforced corners and ridges. The corners also Velcro and tie so that they won't ever tear out. From the website, you can also purchase a high-quality floor, which is made to fit perfectly in whichever tent you end up choosing. These floors are made of heavy rubber PVC material that adds plenty of cushion between you and the ground, they can tie to the frame so that both the floor and the tent will hold in place, and they can easily be removed and cleaned!
As far as choosing which of Elk Mountain's tents to purchase, consider how much you want to spend, how many people will go camping with you, how much space you need or want, and how large of an area you will have.
---
Best type of tents to buy
There are four different kinds of tents that you can buy (from least to most expensive): The standard model, the model that includes a front screen door, the model that includes an awning, and the model with both an awning and a front screen door. If you can afford it, you'll get tons of comfort and convenience from the awning and screen door, and you'll certainly find the higher price to be worth it. These tents typically run from $1045-$1145 depending on the size you get. If you are shopping on a bit of a budget, however, the standard wall tent might be the best choice for you (with prices usually ranging from $745-945), and you are still guaranteed satisfaction from this sturdy and comfortable tent! Or if your budget is somewhere in between, you can pick and choose which commodities you would like, whether it be a comfortable awning to provide shade or a super convenient screen door.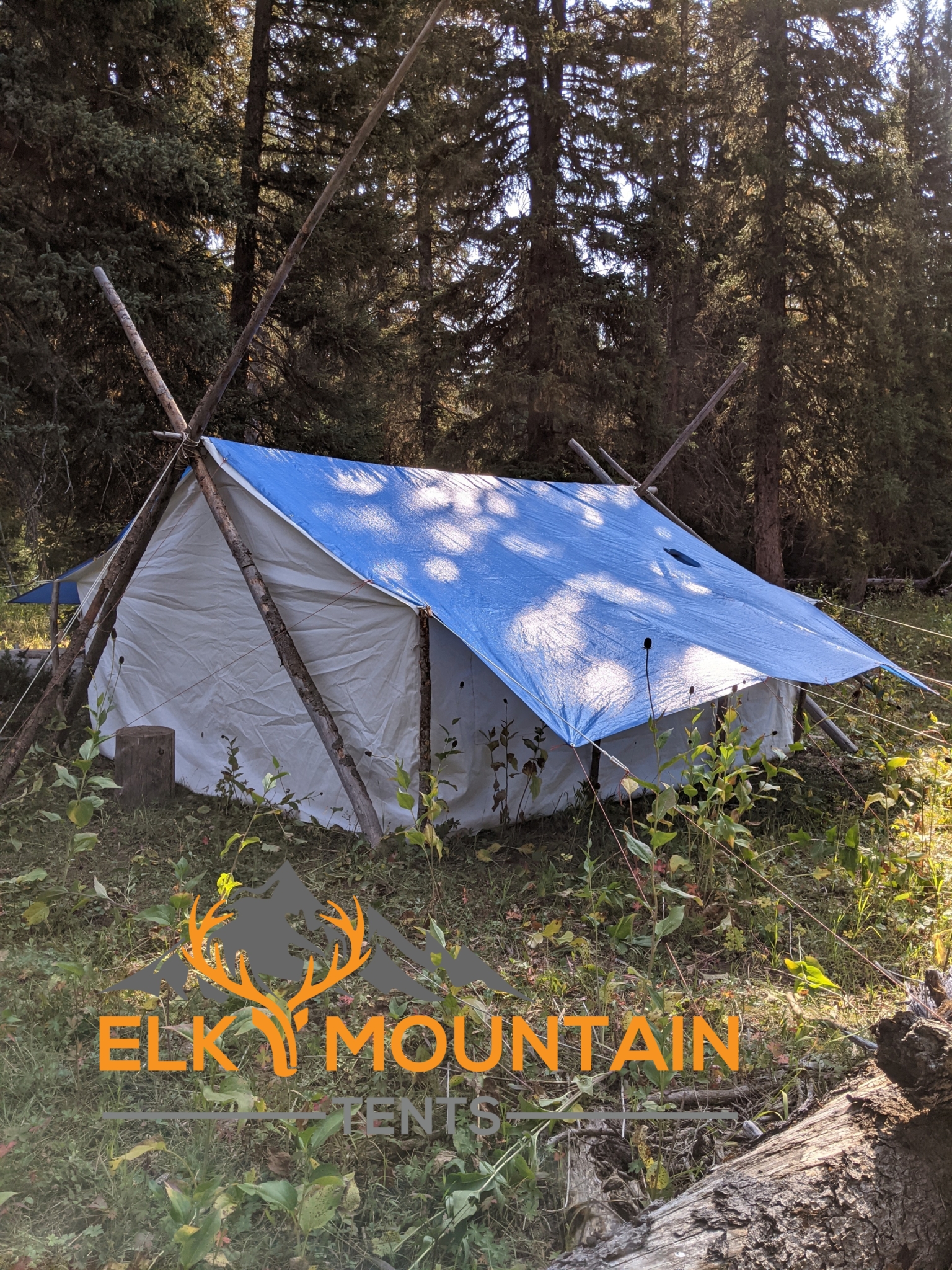 The next thing to consider is the number of people that you will likely take with you on your camping adventures. There are three size options for the tents without awnings, (13×13, 13×16, and 13×20) and two for the models with awnings (13×16 and 13×20). If there are just a few people in your camping group, a cozy 13×13 tent is sure to please you, and it comes with 4 screen windows that will help the tent feel much more open and comfortable. A 13×13 tent should fit 3-4 people with relative ease if you have a wood stove, or as many as 5-6 if you do not have a stove. If you want more space or have a few more people that will go with you, the 13×16 or 13×20 tents will surely give you all the room you need to have the best experience on your camping trip. These larger tents have 6 screen windows and allow much more room for air mattresses and cots. A 13×16 tent can comfortably sleep 5-6 people with a stove and 7-8 without. If you decide to get as much room as you can and go for the largest 13×20 size tent, you will be able to have 7-8 people sleep with plenty of room if there is a stove, or as many as 9-10 if there is no stove!
Having more space in your tent also gives you tons of options for accessories and things to put in your tent in addition to more room for people to sleep, many of which can be purchased at excellent low prices from Elk Mountain Tents. You can buy a great cylinder stove right from the website, as well as a mat to keep under it (with grommets in the corners to allow for easy hanging). The stove available for purchase is sturdy, heavy-duty, and above all, easy to transport, as the legs can easily be stored inside. The chimney pipe included with the stove fits perfectly with the tent's already included stove pipe jack, and the length of the legs can be adjusted to account for uneven ground. The website shop also offers a hot water tank that is designed to attach itself easily to the stove and includes a spigot valve for convenient dispensing. If you aren't interested in carrying a wood stove, you can alternatively purchase a space heater that is much lighter and runs on propane.
---
Canvas Tent Accessories
There are also plenty of great accessories available at good prices that aren't necessarily required, but are sure to enhance your camping experience! While your tent will come with a bag, it is quite compact (to save you shipping costs) so the Elk Mountain website sells canvas and stuff sack bags that are much larger to allow you to more easily store your tent. The canvas bag is 12 inches larger, giving you more wiggle room when folding up your tent, and the stuff sack bag is large enough to allow you to roll up the tent and stuff it into the bag without a hassle. Both of these bags can be purchased for a reasonable $35. While the tent you buy is waterproof, it may not stay that way forever, so if you feel the need to have extra protection from the weather, you can buy one of the company's tent flies for just around $100. They are specifically designed to fit Elk Mountain tents, so there is already a cutout for the stove pipe. Buying a screen door tent will give you a screen door for the front, but if you'd like a screen door on the back as well you can buy a removable one separately from the shop or pay a little extra to have one sewn in. The website also offers storm buckles to keep the door more secure during a storm.
One more important thing that you need to consider in buying a canvas tent is the amount of space you estimate that you will have during your camping trips. If the spots you like to go camping have plenty of room, you should be in the clear to get a larger tent, but if you think you might not have as much space, a smaller 13×13 tent should suit you nicely. It is never a bad idea to look into the places where you are planning to go camping before getting supplies, and that could be the decision-maker in which tent you feel would best meet your needs.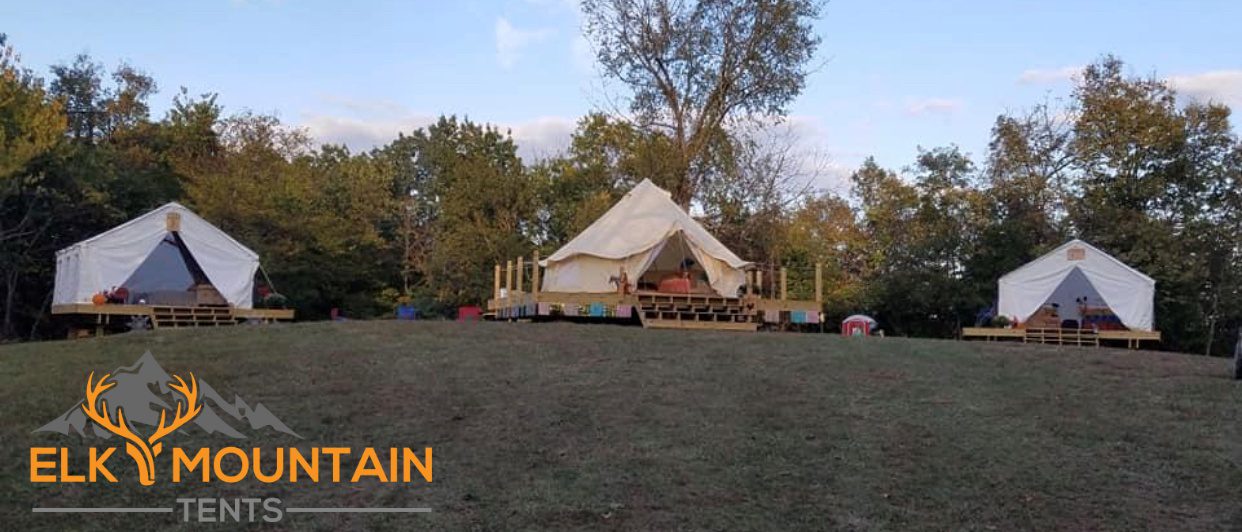 ---
Why Elk Mountain Tents are Best
What makes Elk Mountain tents (as well as their other accessories) so great isn't just their unbeatable prices, it is their unbeatable quality and excellent variety. Since these tents are made with care and attention, they have plenty of durability and you won't have to worry about ripping or tearing in the canvas. With tons of satisfied customers, excellent features, very strong warranties, and extremely fast deliveries (typically about 4 days), purchasing from Elk Mountain tents is a no brainer!
There are a lot of things to consider before investing in a tent. Take some time to think about all the various factors that go into having the best possible camping experience. Figure out how many people you will be taking with you, consider what accessories you will be needing, determine the amount of space you will have, and (most importantly), buy the tent that feels like it will be best for you! Check out the website's shop and buy everything that you will need, as just about all of your tent supplies and accessories can be found at Elk Mountain Tents for an amazing price! Now go and have the camping trip of a lifetime!