Easy Setup Canvas Tents
Canvas tents are often heavier and bulkier thannylon varieties, which often makes them more difficult to set up and pack down. While some argue that this is well worth it since canvas is a much higher-quality material, there are canvas tents out there that are designed for easy setup. If the idea of a strong, durable, canvas tent that can be pitched with ease sounds appealing to you, then you have come to the right place! Take a look at this list and you may find your new favorite camping shelter!
TETON Sports Mesa Canvas Tent
The TETON Sports Mesa Canvas Tent can be set up in just 5 minutes, which is remarkable considering its size. It is a 6-person tent with 100 sq. ft. of floor space and a ceiling height of 78 in., high enough for even the tallest campers to stand up straight. The tent fabric is 100% cotton and completely waterproof, so you can feel safe taking this one out during the rainy season and staying completely dry inside. The material is also made to be extremely durable, making this tent a long-term investment. It will likely last you your whole life, so if you are looking for something to last you for the long haul, you may want to take a look at this option. There are 2 exceptionally large doors, offering easy entrance and exit and providing ventilation when you need it. The biggest downside to the TETON Mesa is that the stakes aren't the greatest quality, so if they do cause you grief you may want to invest in some stronger ones. The tent is available online for $550, with an 8-person option available for just $100 more if you think you will need a bit more space.
SpringBar Highline Canvas Tent
The SpringBar Highline Canvas Tent is quite similar in design to the Mesa, with a 10 x 10 ft. size for the 6-person option and a peak height of 78 in. The walls are vertical, capitalizing on indoor space and allowing you to stand up and move around comfortably and easily. The high-quality duck canvas material making up this option is some of the best out there and is sure to last you for years to come. If you do come across substantial rips or tears during your adventures though, you can take comfort in SpringBar's lifetime warranty. It is treated for water and mildew and has a high thread count, so it is made with both waterproofing and breathability in mind. You are sure not to experience any leaks inside, so you'll be able to keep dry and cozy even during the heaviest thunderstorms. The tent is intended for easy assembly, with a straightforward and uncomplicated design as well as easy-to-follow and detailed instructions included. You likely won't experience the confusion that can sometimes come with tent setup thanks to this, and one or two people should be able to get it done in just a handful of minutes. There is an 8-person version that you can purchase as well, with all these same great features, so you can decide what you need based on how many people you plan on taking camping.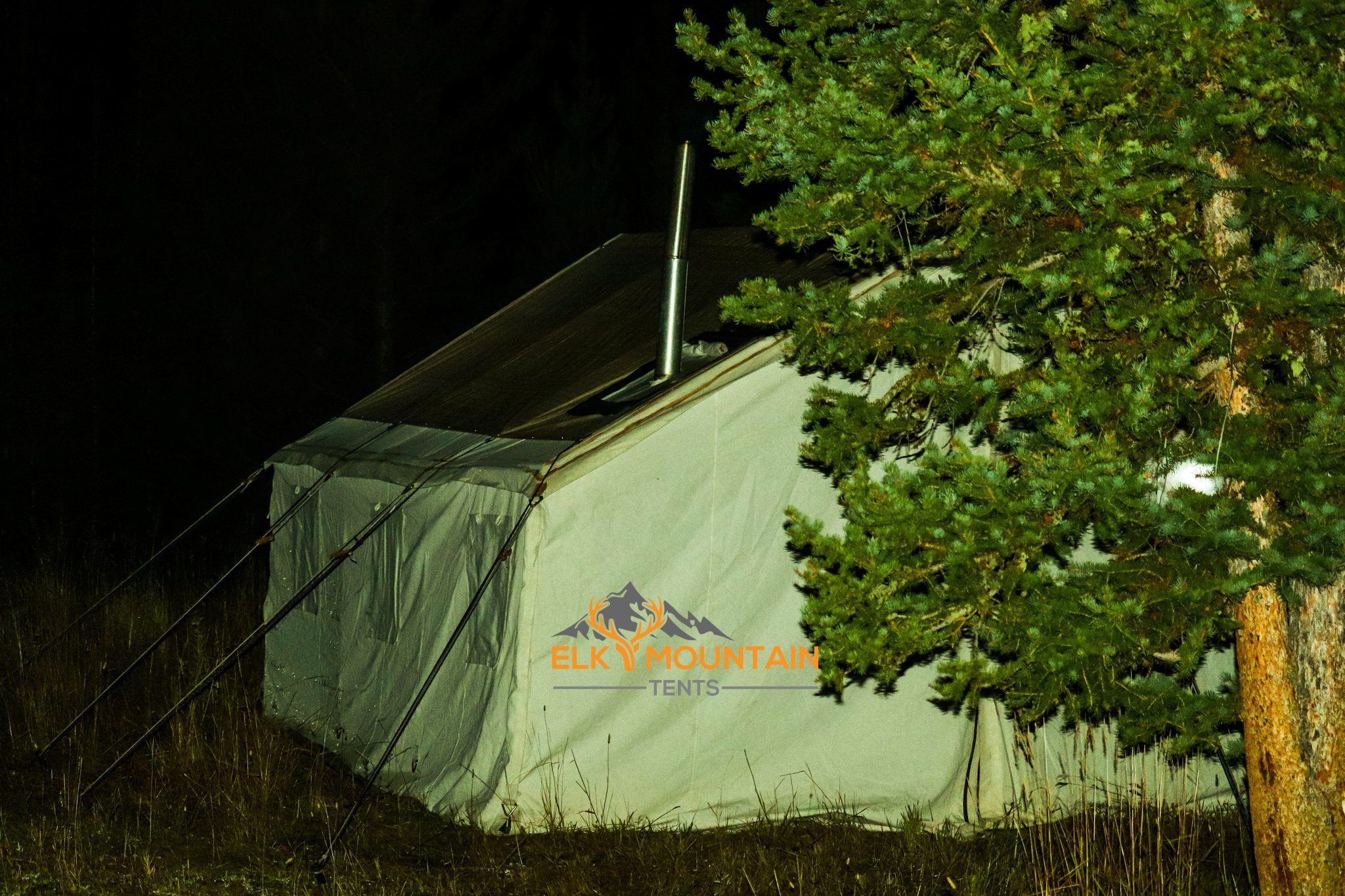 OzTent 30-second Expedition Tent
The OzTent 30-second Expedition Tent RV 5 is an instant setup canvas tent, and (like the name implies) a single person can pitch it in just 30 seconds! It achieves this by having the poles and frames already attached, only requiring you to snap everything into place. It is a genuinely great option if you want to get the tent setup out of the way so you can spend more time in the great outdoors enjoying nature. There are downsides to this design, however. Because of the built-in frame, it is big and bulky when packed down, so you may only want to opt for this if you have a car large enough to fit it inside. The instant design also makes it a bit pricier than other tents, but it could be worth the investment if you consider the other advantages as well, including its 72 sq. ft. space allowing for 5-6 people to sleep inside, and plenty enough headroom to stand up straight. The poly-cotton blend material that makes up the tent is durable enough to withstand rough weather during any season of the year, and is also quite breathable, allowing for nice airflow when it is hot outside. Additional ventilation is provided by the large door, as well as mesh windows on all other sides, all with panels. In case the weather is such that you need to keep the windows and door shut, there are 2 vents above the door as well, which also have flaps to keep them closed if necessary. The tent is completely waterproof, thanks to the material as well as the bathtub floor that keeps any water from leaking in at the bottom. It is freestanding as well, so there is no need to stake it down, though the included awning will need to be if you choose to use it. This awning, like everything else, is already attached to the tent, so you can easily roll it out or roll it back.
Robens Aero Yurt 8-Man Airventure Tent
One rather unique design is the Robens Aero Yurt 8-Man Airventure Air Tent. Judging by its size and sturdiness, you would think this would be a tough one to set up, but it is quite simple, thanks to the use of air beams rather than poles to form the tent frame. The tent can quickly and easily be inflated by one person, thanks to all 8 air beams being connected to one valve, and it is freestanding, so no need to worry about stakes or guy lines. It is made of a ripstop polycotton blend that will withstand any kind of rough weather that might come your way. With a floor area of 181 sq. ft., there is plenty of room for 8 adults to sleep inside, with room left over for all their gear. It has a center height of 106 in., giving plenty of space to stand up and walk around without feeling cramped. The  floor has a waterproof rating of 10000 and a bathtub floor, so you can be sure that no water will leak in at the bottom. This is one of the most luxurious easy-setup canvas tents you can find, so if you are looking for something convenient to bring on your next glamping trip, you may want to check this option out.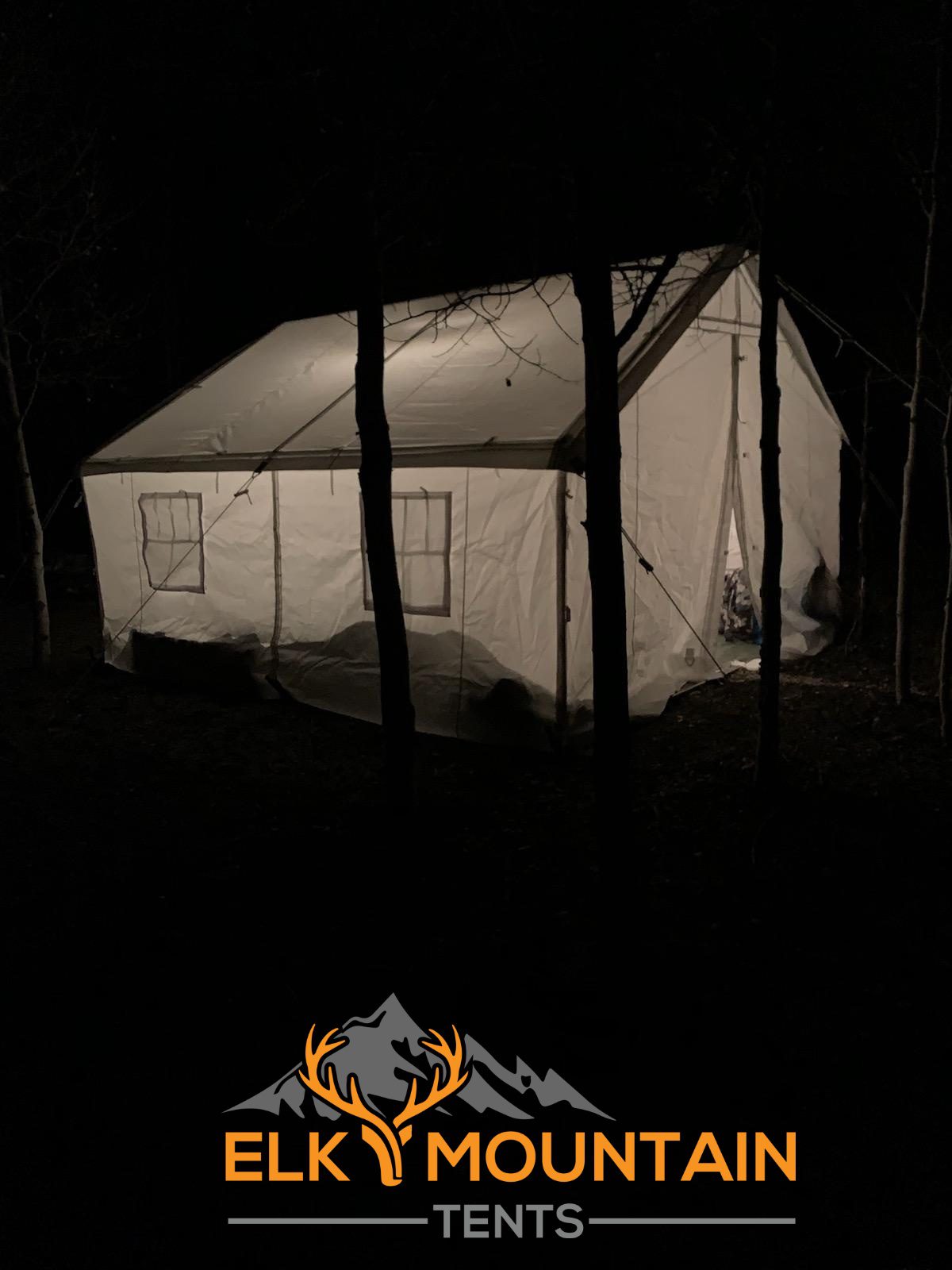 Wildcat Family Tent: the Bobcat 500
Another great inflatable option is the Wildcat Outdoor Gear Premium Family Tent Bobcat 500. Like the Airventure, set up for this tent is quick and easy enough for one person to take care of it in a matter of minutes, since rather than fumble with the poles, figuring out where they need to go, you only need to inflate the beams. These beams keep it stable enough that it can stand up on its own, without the need for stakes or guy lines (though they are included in case the wind starts to pick up). The high-quality polycotton ripstop canvas material that makes up the tent qualifies it as a fantastic 4-season option, so you can enjoy using it no matter what time of year it is. Other great features of this tent include its 4 separate rooms, giving you plenty of privacy, 2 large doors, 3 sizable vents, 7 tinted windows, 2 mesh windows, and breathable fabric, giving you plenty of comfort, ventilation, and easy entrance/exit. It also includes a port for electronic cables, as well as a detachable awning, which is wide enough to provide your whole group with shade. It is on the more expensive side, at $1500, but it is massive and extraordinarily comfortable in addition to being so easy to set up.
Elk Mountain Tents' Yukon Bell Tent
As stated in the introduction to this article, canvas tends to be more complicated and bulky, so easy setup and canvas tent don't exactly go well together. However, if you want the best of both worlds, the best option would be getting a bell tent. Bell tents provide tons of floor space and usually only use one center pole, which means setup doesn't require an elaborate frame or wire system. What makes the Elk Mountain Tents' Yukon Bell Tent so special is that it uses the same canvas used in their wall tents. Elk Mountain Tents exclusively uses a 100% polyester canvas. Polyester is better than cotton because it is slightly lighter, significantly stronger, and doesn't require UV, mold, or rain treatments. Modern technology has also allowed polyester canvas to be just as breathable as cotton canvas.
These are a few easy-set-up canvas tents that you can purchase right now, so find the one that is right for your camping needs, and get out there and enjoy the great outdoors!
Sources: